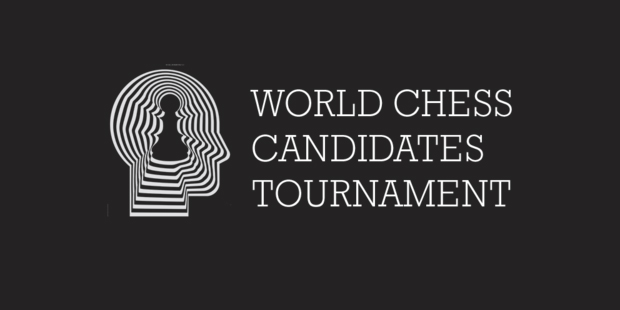 The 2016 Candidates Tournament, continued with round 3 on Sunday the 13th of March. It would be the last round before the first rest day. These can always be unpredictable, with some players looking to make the extra push in anticipation of a recovery day; or to consolidate their position; or to try for a quick draw and in essence have an extra day off.
Veslelin Topalov would love to start the tournament again, I think. He dropped his second point in 3 games. The Bulgarian can count himself a little unlucky, perhaps, given that he was drawn with two Black games to start the tournament; however, in game three, he would have White and therefore a chance to control the game.
Unfortunately for Topalov, he chose unwisely, and his English Opening did not work at all for him. His opponent, Levon Aronian, equalised almost instantly and was soon better and two pawns up.
From the diagram, above, it can clearly be seen that Black has the best of things. Not only considering the material imbalance (Topalov being pawns down for the second time in the tournament) but piece quality also. And this proved decisive, Topalov was unable to find an active plan in order to resist his opponent, and could only wait while his opponent prepared the push. He was a bit of a sitting duck in all honesty, and although he made the game last for 50-moves, they were futile moves and his opponent dictated the game. One which Topalov will want to forget in a hurry I should think.
There could have been a second decisive game in this round, with Peter Svidler doing his very best to take a point from Hikaru Nakamura. Nakamura had of course lost in the previous round, but few would be surprised in that he came out boldly with White, looking to bounce straight back. He very nearly shot himself in the foot, with Svidler turning the game around and seeming to out-prepare him. With mistakes being exchanged as well as pieces, the game was a perfect illustration of how chess positions can turn on a knife-edge — one minute White was better, and then, in the space of a move or two, Black.
As it was, Svidler had a huge advantage in the endgame, with a Kingside pawn majority advancing towards the White King. He will be quite disappointed to have only come away with half a point, crucially not taking some opportunities to bring his King in to the action. This allowed Nakamura the chance to use his own and he caused just enough complications in order to make his opponent slip up. A fighting draw in 64.
Anand-Caruana was a Berlin Defence in which White was better throughout. The problem of the opening (reducing many chess fans to groans at its mere utterance these days) is that if Black doesn't want to fight, it can be very hard to make any progress and this is how the game went. The players basically set out their stalls and then swiftly took them in again, exchanging down into an endgame that neither saw the point in pursuing.
Sergey Karjakin was in consolidatory mood against Anish Giri. Joint leader going in to the round, the Russian chose the Queen's Indian against the Dutchman's 1.d4. Solid and sure, but not hugely entertaining. Neither player seemed up for it really, and the game ended rather swiftly in a straight-forward repetition.
The players now have a day off, with play continuing on Tuesday.
Standings after 3 rounds:
Aronian, Anand, Karjakin – 2
Giri, Caruana, Svidler – 1½
Nakamura – 1
Topalov – ½
Round 4, 15 March, 15:00 local time
GM Peter Svidler – GM Levon Aronian
GM Fabiano Caruana – GM Veselin Topalov
GM Sergey Karjakin – GM Viswanathan Anand
GM Hikaru Nakamura – GM Anish Giri