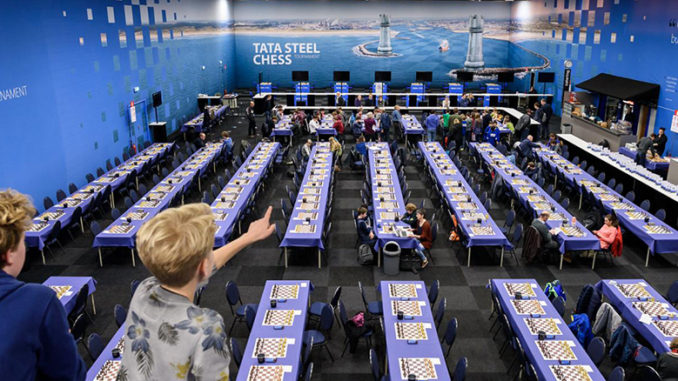 Round 8 of the Tata Steel Chess Tournament, was played on Sunday 19th January. The round would be the last one before the second rest day, what would it bring?
Well, the answer is, some exciting chess, which resulted in pleasure for some and pain for others.
The round saw 4 decided games, with Black and White getting 2 each. Winning with Black, was Vladislav Kovalev, who after 4 losses from the previous 7 rounds, got his first point on the board. This was at the expense of Jeffery Xiong, who dropped his second point in a row. Xiong had lost to Alireza Firouzja in the previous round and will have been looking for a nice, confidence-restoring game as White in this one. Unfortunately, it wasn't to be.
The game is a very interesting one to take a look at. It saw Xiong go for a confident exchange sacrifice, 28.Nxa7(!?), giving knight for pawn. However, obtaining two very nice passed pawns on the a and b files were his real motivation. There is no question that there were threats towards Kovalev's position, but I don't think the sacrifice was quite valid. There is not a lot in it, but there just doesn't seem to be enough initiative for White to do his investment justice.
The other winner with Black, was Jan-Krzysztof Duda, who gave Yu Yangyi his 3rd loss of the tournament.
Winning as White, were Fabiano Caruana, who got his second win on the spin, by beating Viswanathan Anand. This would see Caruana join Alireza Firouzja in the lead of the tournament going into the rest day. Firouzja himself drew his game, playing Black against Jorden van Foreest.
Elsewhere, World Champion, Magnus Carlsen, was using the white pieces very effectively against Nikita Vitiugov. The game would produce Carlsen's first full point of the tournament and I think he badly needed this if he has serious desires on the tournament this year.
There is not really a great deal to say about the game, other than it was a bad day at the office for Vitiugov. He was very quickly in a tough situation, but resigned rather early. That speaks volumes I think.
This win, sees Magnus move to within a point of the lead. Now he will have a rest day, before he plays one of the leaders, namely Alireza Firouzja. With all the excitement around at the moment, regarding Firouzja's obvious potential, this will be a highly anticipated tie. Firouzja will have the white pieces, roll on Tuesday!
Masters Group, round 8 Results:
Dubov ½-½ So
Giri ½-½ Artemiev
Yu 0-1 Duda
Xiong 0-1 Kovalev
van Foreest ½-½ Firouzja
Carlsen 1-0 Vitiugov
Caruana 1-0 Anand
Masters Standings after Rd 8:
Firouzja, Caruana — 5.5
So, van Foreest — 5.0
Carlsen, Duda — 4.5
Dubov, Giri, Artemiev — 4.0
Anand — 3.5
Xiong — 3.0
Yu, Kovalev, Vitiugov — 2.5
The Challengers group is still being led by Pavel Eljanov. The Ukrainian drew his game, playing black against Nodirbek Abdusattorov. Luckily for him, those winning their games, were merely improving their place in the standings, rather than being any threat to his.
I have to say, it is good to see Vincent Keymer getting another point on the board. His win over Jan Smeets with black, puts him on 4/8. That is much more like it after a bumpy start.
Challengers Group, round 8 Results:
Mamedov 1-0 Warmerdam
van Foreest ½-½ Smirnov
Abdusattorov ½-½ Eljanov
Saduakassova 0-1 Grandelius
Anton Guijarro 1-0 Sarin
Smeets 0-1 Keymer
Ganguly ½-½ l'Ami
Challengers Standings after Rd 8:
Eljanov — 5.5
Anton Guijarro, l'Ami, Ganguly, Grandelius — 5.0
Mamedov — 4.5
Abdusattorov, van Foreest, Smeets, Sarin, Keymer — 4.0
Smirnov — 3.0
Saduakassova, Warmerdam — 1.5
Round 9, Tuesday 21st January, 13:30 local time.
Masters: Anand vs Dubov, Vitiugov vs Caruana, Firouzja vs Carlsen, Kovalev vs van Foreest, Duda vs Xiong, Artemiev vs Yu, So vs Giri.
Challengers: l'Ami vs Mamedov, Keymer vs Ganguly, Sarin vs Smeets, Grandelius vs Anton Guijarro, Eljanov vs Saduakassova, Smirnov vs Abdusattorov, Warmerdam vs van Foreest.