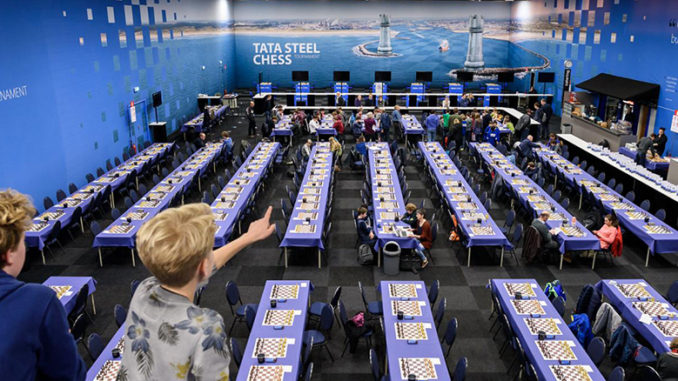 Round 10 of the Tata Steel Chess Tournament, was played on Wednesday 22nd January. With the final rest day coming on Thursday, it would be interesting to see how the players would approach the round. Would those wanting to make their final push start now, or would they take it easy and come out all guns blazing after a day off?
Well, while there were a couple of uneventful games, namely Anand-Vitiugov and Dubov-Giri, which drew in 30-moves and 22-moves respectively, there was some action on the other boards. This action produced 3 decided games.
Deciding one of them, was World Champion, Magnus Carlsen, who was giving yet another demonstration in supreme strategy. Having already won his previous two rounds, against Nikita Vitiugov and Alireza Firouzja, his victim in this round, was Vladislav Kovalev.
As in the previous round against Firouzja, it is difficult to know what to say about this game (for me, anyway) other than it was hardly a game at all. The Queen's Gambit Declined went some way into theory, and once out of it, Black soon found himself in trouble.
It is a very interesting game to play through, and instructive, because it is filled with good, strategic chess by White. Unfortunately, the same can not be said for some of Black's decisions, which end up going against him. In the end, everything just culminates with the World Champion in absolute control.
This win moved Carlsen up to within half a point of the lead, which is currently still occupied by Fabiano Caruana. Caruana used the white pieces to take another point from Alireza Firouzja. How quickly things can change in chess, it was not too long ago that the Iranian was leading the tournament with Caruana, but his loss to Carlsen in the previous round, and now this one, has dropped him down to the middle of the standings. That's where Carlsen was a few rounds ago.
The other point went to Jeffery Xiong, who won a nice game as white against Vladislav Artemiev. Both players got a second Queen in the game, but unfortunately for the Russian, his promotion left him to get mated.
Masters Group, round 10 Results:
Dubov ½-½ Giri
Yu ½-½ So
Xiong 1-0 Artemiev
van Foreest ½-½ Duda
Carlsen 1-0 Kovalev
Caruana 1-0 Firouzja
Anand ½-½ Vitiugov
Masters Standings after Rd 10:
Caruana — 7.0
Carlsen — 6.5
So, van Foreest — 6.0
Duda, Firouzja — 5.5
Giri, Dubov — 5.0
Xiong, Anand, Artemiev — 4.5
Vitiugov, Yu — 3.5
Kovalev — 3.0
The Challengers group sees David Anton Guijarro setting the pace. After a bit of a quiet start to the tournament, the top seed has won 3 rounds on the spin. In this round he defeated Pavel Eljanov, who had been joint leader with him along with Erwin l'Ami. Erwin himself was held to a draw by Vincent Keymer.
Challengers Group, round 10 Results:
Mamedov ½-½ van Foreest
Abdusattorov 1-0 Warmerdam
Saduakassova 0-1 Smirnov
Anton Guijarro 1-0 Eljanov
Smeets ½-½ Grandelius
Ganguly ½-½ Sarin
l'Ami ½-½ Keymer
Challengers Standings after Rd 10:
Anton Guijarro — 7.0
l'Ami — 6.5
Abdisattorov, Ganguly, Eljanov — 6.0
Grandelius — 5.5
Smeets, van Foreest, Mamedov, Keymer, Sarin — 5.0
Smirnov — 4.0
Saduakassova, Warmerdam — 2.0
Round 11, Friday 24th January, 13:30 local time.
Masters: Vitiugov vs Dubov, Firouzja vs Anand, Kovalev vs Caruana, Duda vs Carlsen, Artemiev vs van Foreest, So vs Xiong, Giri vs Yu.
Challengers: Keymer vs Mamedov, Sarin vs l'Ami, Grandelius vs Ganguly, Eljanov vs Smeets, Smirnov vs Anton Guijarro, Warmerdam vs Saduakassova, van Foreest vs Abdusattorov.