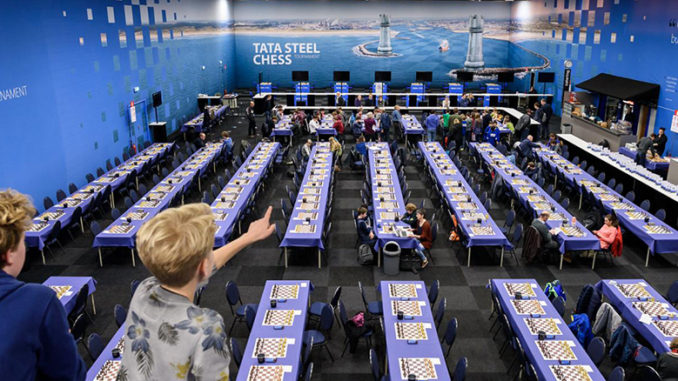 Round 6 of the Tata Steel Chess Tournament, was played on Friday 17th January. After playing round 5 in Eindhoven, it was back to normality, as the Masters group returned to Wijk aan Zee. This year, there is only one 'Chess on Tour' location, (there have usually been 2), so the players will now stay in Wijk aan Zee for the remainder of the tournament.
Round 6 had been a highly anticipated round, because it would see Magnus Carlsen taking White against his 2018 World Championship challenger, Fabiano Caruana. Unfortunately, the game was pretty dull and anyone who put themselves out at all especially for it, will have been sorely disappointed. It was half theory, half not much else, and drawn in 28.
With all due respect to GM's Carlsen and Caruana, I don't know what it is with these two. They seem to just not want to get down to it with each other. I am beginning to suspect that it has become a matter of pride now, with neither wanting to be the first to crack.
Elsewhere in the group, there was some comfort for the largely Dutch crowd, as the home favourite, Anish Giri, got a point on the board. He had of course lost to Alireza Firouzja in Eindhoven. This result will have smarted somewhat, not only because elite chess players (any chess player worth their salt really) hate to lose. However, with it having been in Eindhoven, no doubt many Eindhoven locals, who don't usually get to Wijk aan Zee, (seeing as it is a (give or take) 90 mile, 90 minutes trip away), will have come especially to see Giri.
And if that wasn't enough, the former prodigy, had been beaten by the new prodigy on the block.
Sometimes it can take a loss to kick a player up a few gears and perhaps that is what happened, here. Anish seemed in determined mood against Vladislav Kovalev, who is struggling so far in the tournament, having lost 3 of his first 5 games. I feel that Giri had been set on adding to his misery, especially having the white pieces. The game was a Guioco Piano, in which Anish outplayed Vladislav to take the point. The endgame was especially dominant.
The other win of the round went to Daniil Dubov. He played his countryman, Vladislav Artemiev. Dubov took white in a Caro Kann Advance Variation and got a very nice point on the board. What is very noticeable in this game, is that there is no real 'wham!' until the very end, just steadily building pressure. This is clear indication, if ever it were needed, that the game is full of good, solid, strategic manoeuvring. In this, Black is not quite White's equal on the day.
The other games were drawn, leaving Wesley So and Alireza Firouzja still in control at the top of the standings.
Masters Group, round 6 Results:
Dubov 1-0 Artemiev
So ½-½ Duda
Giri 1-0 Kovalev
Yu ½-½ Firouzja
Xiong ½-½ Vitiugov
van Foreest ½-½ Anand
Carlsen ½-½ Caruana
Masters Standings after Rd 6:
So, Firouzja — 4.0
Caruana, van Foreest, Dubov — 3.5
Xiong, Carlsen, Duda, Anand, Giri, Artemiev — 3.0
Vitiugov — 2.5
Yu — 2.0
Kovalev — 1.0
With the Masters away for round 5, the Challengers group, had seen all but 1 game decided. What would happen now that they were back cramping their style? Well, it was not so bad, with another fighting round of chess, which produced 3 decided games.
These went to Pavel Eljanov, who beat Max Warmerdam with the black pieces, to make the top of the standings his own. His co-leaders after round 5, Erwin l'Ami and Surya Shekhar Ganguly, drew their games, against David Anton Guijarro and Jan Smeets respectively.
Elsewhere, points also went to Nils Grandelius, against Lucas van Foreest, and Vincent Keymer got his first point of the tournament, beating Dinara Saduakassova, who lost her third point in a row.
Challengers Group, round 6 Results:
Mamedov ½-½ Smirnov
Warmerdam 0-1 Eljanov
van Foreest 0-1 Grandelius
Abdusattorov ½-½ Sarin
Saduakassova 0-1 Keymer
Anton Guijarro ½-½ L'Ami
Smeets ½-½ Ganguly
Challengers Standings after Rd 6:
Eljanov — 4.5
Ganguly, l'Ami — 4.0
Anton Guijarro, Smeets, Grandelius — 3.5
van Foreest, Abdusattorov, Mamedov, Sarin — 3.0
Keymer — 2.5
Smirnov — 2.0
Saduakassova — 1.5
Warmerdam — 1.0
Round 7, Saturday 18th January, 13:30 local time.
Masters: Caruana vs Dubov, Anand vs Carlsen, Vitiugov vs van Foreest, Firouzja vs Xiong, Kovalev vs Yu, Duda vs Giri, Artemiev vs So.
Challengers: Ganguly vs Mamedov, l'Ami vs Smeets, Keymer vs Anton Guijarro, Sarin vs Saduakassova, Grandelius vs Abdusattorov, Eljanov vs van Foreest, Smirnov vs Warmerdam.