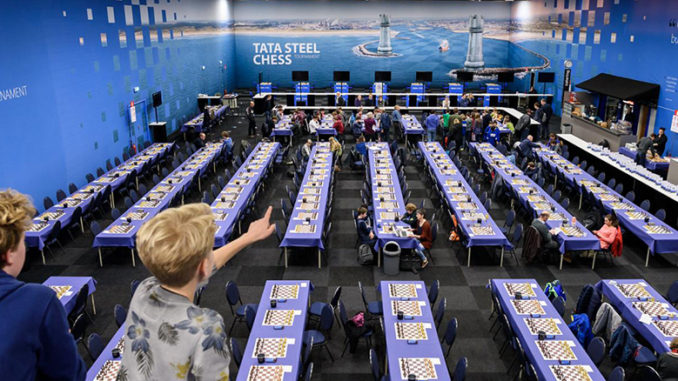 Round 9 of the Tata Steel Chess Tournament, was played on Tuesday 21st January. Monday had been a rest day and as they can affect players in different ways, chess fans everywhere waited to see what the resumption of play would bring.
Without a doubt, the most exciting feature of the day, was Alireza Firouzja taking on Magnus Carlsen with the White pieces. You probably wont need me to tell you, just what a storm the 16-year-old Firouzja has been creating recently. He was runner up at the World Rapid Championships in December 2019 and sixth in the World Blitz Championships, also in December last year.
And here at his first Tata Steel Chess Tournament, in the spotlight Masters group, he was joint leader (along with Fabiano Caruana) with 5.5/8.
Understandably, whispers had started about the possibility of Firouzja being the future challenger to Magnus Carlsen's World Title. This is not only because of Firouzja's results, but also his playing style. He is fearless, tactically sharp, and a cool decision maker. We have seen this kind of 16-year-old before. He went on to conquer elite chess and has been dominating it for the last decade. The two meeting on such a stage, for their first competitive game of classical chess, was just too hot a prospect.
16 y 7m 3d Alireza Firouzja is facing The World Champion for the first time in a classical game on January 21st 2020, exactly 13 years after Carlsen's (16 y 1m 23d) first meeting with then World Champion Vladimir Kramnik in Wijk aan Zee 2007 (draw). #TataSteelChess #stats #2sjakk

— Tarjei J. Svensen (@TarjeiJS) January 21, 2020
With the strike of the gong in the hall of the Moriaan, (the tournament's venue), it was time for the hype to stop and for the players to do the talking. This, unfortunately for Alireza, saw Magnus totally outclassing him with the black pieces.
Quite frankly, the game turned into a bit of a rout in the end. Carlsen, playing the Black side of a Berlin Defence, got the better out of the opening. A big feature of the position, was the open b and c files. Unfortunately for Firouzja, he just couldn't get his pieces developed with any quality. This gave the World Champion a stranglehold on the position, and that always means trouble.
Trouble arrived in no small measure, positionally and on the clock, And then Alireza worsened matters by launching pawns on the Kingside. I think that this was either down to time pressure or perhaps the youngster was a little fed up. Anyway, he seemed to surrender the Queenside and this led to an unstoppable push by Magnus.
So what can we take from this game? Well, on one hand, Magnus made his point as well as scoring one. He had nothing to prove, he has done pretty much everything that there is to be done in chess, but he proved it anyway. He is (to coin a phrase) da man. For now, the hype about Firouzja being a possible threat, is answered.
On the other hand, I don't feel that Aireza should be too cut up about the result of the game. He should be absolutely mortified at the way it came about, though, he really did not do himself justice at all. However, it is one game, and his first, against the world's very best. He has graduated into a whole new chess world, in this game he got schooled.
Firouzja is a great player, of that there is no doubt. Yet, he is also young and has a lot to learn. There are obviously holes in his game and temperament that he needs to work on. And no doubt he will and this will make him stronger. Furthermore, the kind of experience that tournaments such as Tata Steel will give him, is invaluable.
What really excites me, is the prospect of him and Magnus playing on the same stage, in a couple of years time. If they want to go at it, boy are we in for a treat.
The other games were drawn, and they range from the 19-mover in Anand-Dubov, to the 79-move, mammoth effort, in Duda-Xiong. All of this left Fabiano Caruana in sole lead of the group.
There is just one more round left and then the players will have their final rest day on Thursday, before the last 3 rounds of the tournament get underway on Friday.
Masters Group, round 9 Results:
Anand ½-½ Dubov
Vitiugov ½-½ Caruana
Firouzja 0-1 Carlsen
Kovalev ½-½ van Foreest
Duda ½-½ Xiong
Artemiev ½-½ Yu
So ½-½ Giri
Masters Standings after Rd 9:
Caruana — 6.0
So, Carlsen, van Foreest, Firouzja — 5.5
Duda — 5.0
Giri, Dubov, Artemiev — 4.5
Anand — 4.0
Xiong — 3.5
Vitiugov, Yu, Kovalev — 3.0
The Challengers group saw top seed, David Anton Guijarro, beating Nils Grandelius with the black pieces. This meant that he joined the lead on 6/9. And he wasn't the only one, Erwin l'Ami beat Rauf Mamedov to also move up to the top of the standings. They join Pavel Eljanov, who drew his game against Dinara Saduakassova.
The other point of the group went to Nodirbek Abdusattorov, who bested Anton Smirnov, with the black pieces.
Challengers Group, round 9 Results:
l'Ami 1-0 Mamedov
Keymer ½-½ Ganguly
Sarin ½-½ Smeets
Grandelius 0-1 Anton Guijarro
Eljanov ½-½ Saduakassova
Smirnov 0-1 Abdusattorov
Warmerdam ½-½ van Foreest
Challengers Standings after Rd 9:
Anton Guijarro, l'Ami, Eljanov — 6.0
Ganguly — 5.5
Grandelius, Abdusattorov — 5.0
van Foreest, Smeets, Mamedov, Keymer, Sarin — 4.5
Smirnov — 3.0
Saduakassova, Warmerdam — 2.0
Round 10, Wednesday 22nd January, 13:30 local time.
Masters: Dubov vs Giri, Yu vs So, Xiong vs Artemiev, van Foreest vs Duda, Carlsen vs Kovalev, Caruana vs Firouzja, Anand vs Vitiugov.
Challengers: Mamedov vs van Foreest, Abdusattorov vs Warmerdam, Saduakassova vs Smirnov, Anton Guijarro vs Eljanov, Smeets vs Grandelius, Ganguly vs Sarin, l'Ami vs Keymer.