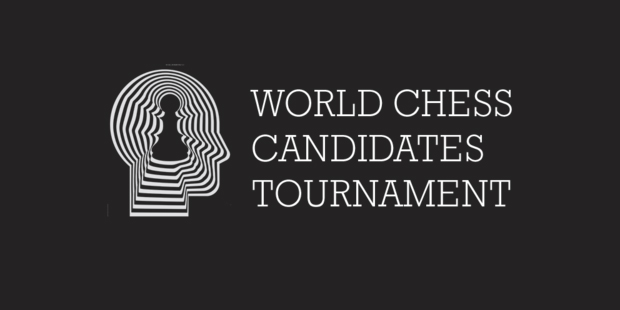 The 2016 World Championship Candidates tournament, got underway on Friday 11th March, in Moscow, Russia. Anish Giri, Levon Aronian, Peter Svidler, Viswanathan Anand, Veselin Topalov, Sergey Karjakin, Hikaru Nakamura and Fabiano Caruana, compete in a 14-round double-round-robin. The winner will face Magnus Carlsen later this year, in New York City, in a match for the World Championship.
Former World Champion, Viswanathan Anand, started his campaign off with a win in round one against another former World Champion, Veselin Topalov. The game was a Berlin Defence, but one in which both players clearly wanted to play. Anand's 12.a4 seems to be a new move, (rather early for a Berlin these days), with Qb3 being the usual move of choice. This led to a slight advantage for him, with a very good grip on the Queenside.
Perhaps Anand's decision to grab the b-pawn on his 18th move was slightly risky, but this was not really made anything of by Topalov, who invested a couple of moves in order to seize the bishop pair. This allowed White to consolidate, and left Black with no compensation for his pawn.
The diagram, above, shows the situation, which might actually seem quite playable at first glance. However, the Black pieces, seemingly ready to pounce, are mere pretenders with little to no potential. Topalov was in trouble. From here, there came 25…Qd8 and it was clear that the Bulgarian was not in a good place and being bossed by his opponent. Anand steadily increased his dominance and it became Anand's game to lose.
He never came close to doing that, but he could have made things a little tricky, here and there. 40.Nd2? was a bit of a slip, and a little too quiet for the situation, 40.Rxc7 or 40.Re4 being much more in context. As it was, Topalov did not find 40…f5! when after 41.Nf3 Bf6 42.Rd7 g5 Black seems to have the resources and resistance to hold.
White soon had serious and direct threats towards the Black King, prompting Black to sacrifice the exchange to try to get to the White monarch first. The hope was for a further slip from Anand, which could lead to perpetual or in extreme cases a mate. This was one hope too far, and Black was soon surrendering. A nice start, then, for India's chess hero.
The other games were drawn. Giri-Aronian took the shape of a Queen's Gambit Declined, Hastings Variation. Both players were well prepared, as one would expect. White obtained a Queenside space advantage and pushed. However, Giri's 29.Rc1 was a little slow, 29.Nb4 being slightly more to the point. This went unpunished, though, and White's advantage held. Frustratingly for Giri, the knight and rook endgame did not really contain enough imbalance for him to push through and regardless of the superior position, the game ended in a theoretical draw in 65-moves.
Karjakin-Svidler produced a rather tame 30-move draw. In a Slav, it was all pretty standard stuff, and the players just steadily exchanged pieces until there were little to no possibilities left in the position. The same can be said for Nakamura-Caruana. The Symmetrical English did not bode well, and even though the players showed willing, it was never really looking like 'game on'. Draw in 31.
Round 2, 12 March, 15:00 local time
GM Peter Svidler – GM Veselin Topalov
GM Levon Aronian – GM Viswanathan Anand
GM Fabiano Caruana – GM Anish Giri
GM Sergey Karjakin – GM Hikaru Nakamura