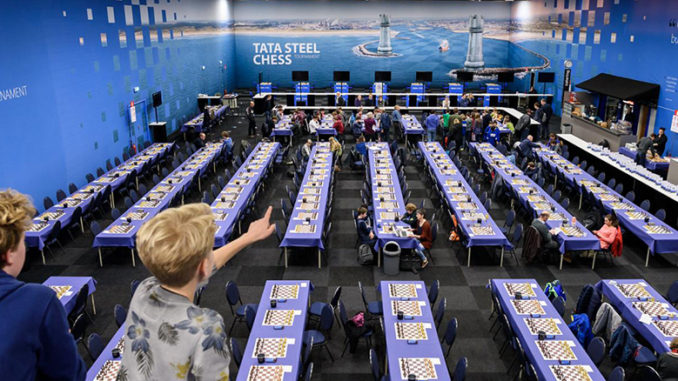 Round 5 of the Tata Steel Chess Tournament 2020, was played on Thursday 16th January. It was the 'Chess on Tour' round of this year, which meant that the Master group left Wijk aan Zee for the day and would play the round at a different venue.
This year, the chosen location, was the Philips Stadium, in Eindhoven, home of the football team, PSV Eindhoven. PSV (Philips Sports Vereniging — translation: Philips Sports Union) Eindhoven, is one of the biggest football clubs in The Netherlands. Founded in 1913, they compete in the Eredivisie, which is the Dutch Premier League. They have won the title 24 times in their history, and the KNVB Beker, (the Dutch FA Cup), 9 times.
The club has seen a lot of well known names come and go, Ruud Gullit, Ronaldo (not Cristiano), and Ruud van Nistelrooy among them. Dick Advocaat, Guus Hiddink, and the former England manager, Bobby Robson, have all spent time at the helm of the club.
Currently, the team is managed by Ernest Faber on a caretaker basis, and are in 3rd place in the Eredivisie, behind Ajax and AZ Alkmaar — the latter of course being one of last year's 'Chess on Tour' locations.
Oh yes, that reminds me, this is a chess site, so let's get back to that, shall we?
It has to be said, that Eindhoven is not a stones throw from Wijk aan Zee by any means, it is 150 kilometres (93 miles) and a good 90-minutes travel. By coach — no doubt with at least one person suffering from a cold. That said, I think it can be a bit hit and miss as to how the players are feeling, their mood (no chance of a lie in for this round), and just how up for it they are to potentially play 5 or 6 hours of chess and then have 90-minutes to travel back home again.
Don't get me wrong, I am not knocking this feature at all, I think it is very inventive by the Tata Steel Chess organising committee, I just wonder if/how it affects the players mentality.
Certainly, Vladislav Kovalev and Wesley So did not seem very motivated, drawing in 21-moves. I think Kovalev will probably be quite happy to get another half point on the board, his tournament not going quite as he will have intended so far. Likewise, Nikita Vitiugov and Yu Yangyi shook hands after 24-moves.
Elsewhere, however, there was action and this saw two games being decided. In one, Alireza Firouzja, was getting the better of Dutch chess favourite Anish Giri, who many fans in the Philips Stadium had no doubt come to see. If so, they were to go home disappointed, as Firouza outplayed him as White in a Queen's Gambit Declined. The young Iranian, would join Wesley So at the top of the standings, on 3.5 points.
The other win of the round, went to India's chess legend, Viswanathan Anand, who bested America's Jeffery Xiong. Xiong chose the Winawer French Defence in response to Anand's 1.e4, but it did not do well for him. For me, his 7…Kf8 needs to be looked at, it seems to give White a clear target and a very natural and free game.
Certainly, Vishy had his tail up and his position steadily grew without him having to do anything dramatic. He could have done, however, had he gone for 22.Rf3(!!) rather than 22.Ne2. This made very little difference to the result, however, in what is a very instructive game to analyse.
A nice win by Anand, which saw him improving his position to within a point of the leaders. He's got to get past Caruana, van Foreest and Artemiev first, however, they trail So and Firouzja by just half a point.
All eyes now turn to round 6, not least because the draw sees Carlsen vs Caruana.
Masters Group, round 5 Results:
Carlsen ½-½ Dubov
Caruana ½-½ van Foreest
Anand 1-0 Xiong
Vitiugov ½-½ Yu
Firouzja 1-0 Giri
Kovalev ½-½ So
Duda ½-½ Artemiev
Masters Standings after Rd 5:
So, Firouzja — 3.5
Caruana, van Foreest, Artemiev — 3.0
Xiong, Duda, Anand, Carlsen, Dubov — 2.5
Giri, Vitiugov — 2.0
Yu — 1.5
Kovalev — 1.0
In the Challengers group, all hell broke loose. With the Masters out of the way, those fighting to join them next year, got it on and produced 6 decisive games. Only Ganguly vs Anton Guijarro was a draw.
As a result, Ganguly finds himself no longer in sole occupation of the lead. He is joined at the top of the standings by Pavel Eljanov, who got one over on Anton Smirnov, and Erwin l'Ami, who will have given the Dutch crowd something to cheer by beating Dinara Saduakassova.
Challengers Group, round 5 Results:
Smeets 1-0 Mamedov
Ganguly ½-½ Anton Guijarro
L'Ami 1-0 Saduakassova
Keymer 0-1 Abdusattorov
Sarin 0-1 van Foreest
Grandelius 1-0 Warmerdam
Eljanov 1-0 Smirnov
Challengers Standings after Rd 5:
Eljanov, Ganguly, l'Ami — 3.5
van Foreest, Anton Guijarro, Smeets — 3.0
Mamedov, Abdusattorov, Grandelius, Sarin — 2.5
Saduakassova, Smirnov, Keymer — 1.5
Warmerdam — 1.0
Round 6, Friday 17th January, 13:30 local time.
Masters: Dubov vs Artemiev, So vs Duda, Giri vs Kovalev, Yu vs Firouzja, Xiong vs Vitiugov, van Foreest vs Anand, Carlsen vs Caruana.
Challengers: Mamedov vs Smirnov, Warmerdam vs Eljanov, van Foreest vs Grandelius, Abdusattorov vs Sarin, Saduakassova vs Keymer, Anton Guijarro vs l'Ami, Smeets vs Ganguly.