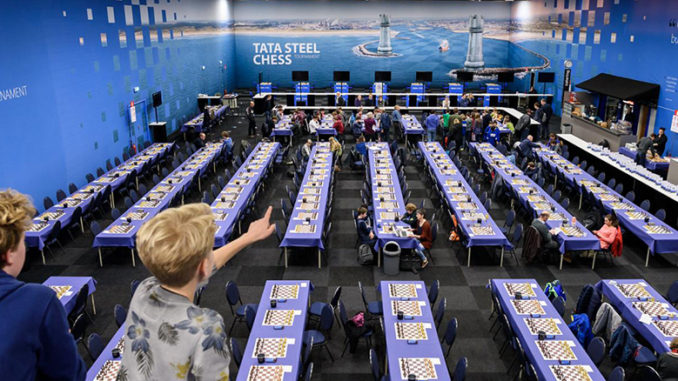 Round 7 of the Tata Steel Chess Tournament, was played on Saturday 18th January. Round 7 marks the crossing of the halfway stage, and after it there will be less rounds remaining than have been played. Therefore, one would expect that anyone with aspirations of winning the tournament, will not be hanging about from here on in.
And indeed, this was quite a spicy round. Although there were 4 draws out of the 7 games, they were by no means non-combative. (That is, however, not counting Duda-Giri, who sort of showed willing for 27-moves in a Ruy Lopez Marshall.)
Scoring a point in amongst all the action, was Fabiano Caruana, who used his white pieces to take the wind out of Daniil Dubov's sails. Dubov had scored a nice point against countryman, Vladislav Artemiev in the previous round, but could not quite repeat that performance in this one. The game lasted for 70-moves, and saw Dubov rather under the thumb in the endgame.
Making a better job with black, was Dutch Grandmaster Jorden van Foreest. He played the French Defence against Nikita Vitiugov, (who out-rated him by 100 points, give or take) and was on top of things rather quickly. Vitiugov tried to recover things, but it was a nice game by Jorden, who didn't let him off the hook, 1-0 in 62.
I would have annotated the van Foreest game, (and I still might for an annotated game on the site, so stay tuned), had I not taken a look at Alireza Firouzja's game against Jeffery Xiong. This game saw another nice point scored by Firouzja, to take sole lead of the group.
I make no apology for 'fanboying' slightly where Alireza is concerned, I think he is a very exciting prospect and his play gives me the kind of appreciative smiles that not many others give. His game against Xiong, is one such example.
If you remember, round 6 had seen Magnus Carlsen taking White against his 2018 World Championship challenger, Fabiano Caruana. In this round, he had yet another White against the man he took the title from in the first place, Viswanathan Anand. They had a topsy-turvy Sicilian, in which Magnus had the better of things a couple of times, but could not make it count. 54.Rb4 instead of 54.Rc1 might have seen more than half a point for him.
Masters Group, round 7 Results:
Caruana 1-0 Dubov
Anand ½-½ Carlsen
Vitiugov 0-1 van Foreest
Firouzja 1-0 Xiong
Kovalev ½-½ Yu
Duda ½-½ Giri
Artemiev ½-½ So
Masters Standings after Rd 7:
Firouzja — 5.0
So, Caruana, van Foreest — 4.5
Carlsen, Anand, Dubov, Giri, Artemiev, Duda — 3.5
Xiong — 3.0
Vitiugov, Yu — 2.5
Kovalev — 1.5
The Challengers group saw only one point scored and this was by Nihal Sarin, at the cost of Dinara Saduakassova. This did not really change things at the top of the standings, Eljanov still leads.
Challengers Group, round 7 Results:
Ganguly ½-½ Mamedov
L'Ami ½-½ Smeets
Keymer ½-½ Anton Guijarro
Sarin 1-0 Saduakassova
Grandelius ½-½ Abdusattorov
Eljanov ½-½ van Foreest
Smirnov ½-½ Warmerdam
Challengers Standings after Rd 7:
Eljanov — 5.0
Ganguly — 4.5
Anton Guijarro, Grandelius, Smeets, Sarin, l'Ami — 4.0
van Foreest, Abdusattorov, Mamedov — 3.5
Keymer — 3.0
Smirnov — 2.5
Saduakassova, Warmerdam — 1.5
Round 8, Sunday 19th January, 13:30 local time.
Masters: Dubov vs So, Giri vs Artemiev, Yu vs Duda, Xiong vs Kovalev, van Foreest vs Firouzja, Carlsen vs Vitiugov, Caruana vs Anand.
Challengers: Mamedov vs Warmerdam, van Foreest vs Smirnov, Abdusattorov vs Eljanov, Saduakassova vs Grandelius, Anton Guijarro vs Sarin, Smeets vs Keymer, Ganguly vs l'Ami.