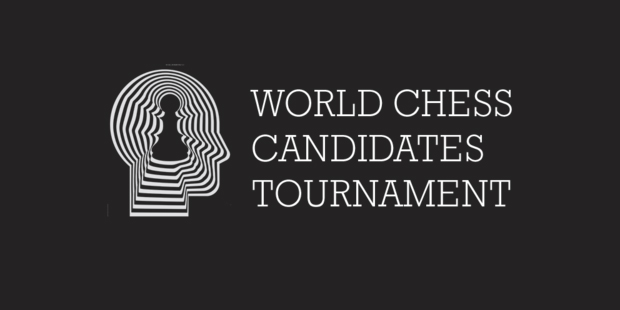 The 2016 FIDE Candidates Tournament, resumed on Tuesday, following Monday's rest day. Chess fans around the world hoped for fighting chess, and were not to be disappointed in the main. As has been the case so far in the tournament, there was one decisive game among three draws.
The full point went to Sergey Karjakin, who chose the English Opening to take it to co-leader, Viswanathan Anand. The Russian's 9.h4 appears to be a novelty, with 9.a3 being the usual move here. This resulted in equal chances, and both players obtained good play and would have been very satisfied with the state of affairs. As often happens, things can turn on a tuppence in chess, and games can be decided upon the slightest of margins. Just as in formula 1, where a fraction of a second can mean winning or not, a piece here or just a move too few can be the difference between winning and losing.
For Anand, he ended up worse having not done an awful lot wrong. It was his c-and-d-pawns that cost him, ultimately leaving him with an isolated d-pawn. In the diagram, above, it is clear to see how Karjakin has rounded up on this pawn. And here, when already in a tough situation, came Anand's error of 41…Rb6. This allowed 42.Rd7 and if …Ke6 was possible, here, Black would be fine, but of course in this position White simply takes on a7, totally winning. Therefore, Anand's 42…a6 was forced, but after Karjakin's 43.Nc3, there was no further resistance possible, the d-pawn is doomed, and he resigned.
Veselin Topalov is having a tough time and was on -2 going in to this round. I for one was very interested to see what this game would bring for him. Well, he struggled again, and was in some trouble against Fabiano Caruana. The former World Champion had the Black pieces, and the game was a Giuoco Piano, following Carlsen-Adams from this year's Wijk aan Zee, which was won by Carlsen. Topalov deviated with his 14…Nc8 (Adams had played 14…Be6)
Topalov's invention did ok for him, actually, and led to an equal game with both players developing nicely, and having a good central presence. Crucially, Black chose not to fight for the open b-file, and instead lined up his rooks along the semi-open f-file instead, which seemed to hand White the better prospects.
The diagram position shows the situation clearly. The initiative is White's – Caruana can do more, and should. And indeed he tried, there came: 37. Rb6 and here Topalov seemed to take his eye off the ball completely with 37…Qe7? (perhaps getting rid of White's well placed knight, with 37…Bxe4 was more advisable) and Caruana pounced with 38. Nxd6. White was winning.
As it turned out, Black had placed his hopes in tactics, but his 38…Nxh3+ did not really cause enough complications. After 39. Qxh3 Rf6, 40. Nc8 kept everything gelling together for the American. 40…Qd8 41. R1b5 Rxf2 (not …Qxc8?? Which fails to Rxf6) 42. Rxg6 Rxf1+ 43. Kh2 Qxc8.
This is probably where Caruana started to lose his grip on the game. He chose to exchange Queens with 44. Qxc8 rather than take the slightly more dramatic route of 44. Qxh6. There followed: 44. Rxc8 and perhaps 45. Rc6 was too slow and should have given way to Rxa5. As it was, Topalov gritted his teeth and fought, not only for his life in this tournament, but also his reputation – not that there would be any disgrace at all in losing to Caruana, but to go -3 in four games would be extremely depressing.
After 45…Re8, Black at least had some counterplay in the shape of his lovely e-pawn. Throwing this pawn into the mix would prove enough to save the point for Topalov and I am sure his relief was matched by Caruana's disappointment at what is surely a missed chance. The rest of the moves were as follows: 46. Rcxc5 e4 47. d6 Rd8 48. Rc6 Rd1 49. c5 e3 50. Rb2 Rd2 51. Rb1 e2 52. Re1 Rf8 ½-½.
Peter Svidler got into an English Opening with Levon Aronian and had some chances. Aronian's 9…Nc5 deviated from Giri-Anand, Bilbao 2015, (1-0 — 9…Ng6 had also been tried, in Wang-Mcedlishvili, Al Ain 2015, also 1-0). Exchanges took place very early on, which left White with the two bishops in the endgame, versus Black's bishop and knight. Many spectators were feeling that the game was heading for a speedy draw, but credit to the players, this was not so. White managed to obtain the best of things, with the more active rook and better situated pawns. But Black had just enough counterplay to throw some spanners in the works and the players split the point in 41. A nice, fighting game.
Nakamura-Giri was a rather quick draw, I tuned in to the live coverage about an hour and a quarter after the start and the game was already over. Not hard to see why, really, it was an anti-meran, which left known ground with 18…Ne5 (…gxf5 having previously been tried). After this, the game spontaneously combusted, really, and the players repeated.
Karjakin's win over Anand, gives him a half point lead, then, going in to round-5. He plays the struggling Topalov in that round — will he go for the jugular as black?
Standings after 4 rounds:
Karjakin – 3
Aronian – 2½
Giri, Anand, Svidler, Caruana – 2
Nakamura – 1½
Topalov — 1
Round 5, 16 March, 15:00 local time
GM Anish Giri – GM Peter Svidler
GM Viswanathan Anand – GM Hikaru Nakamura
GM Veselin Topalov – GM Sergey Karjakin
GM Levon Aronian – GM Fabiano Caruana