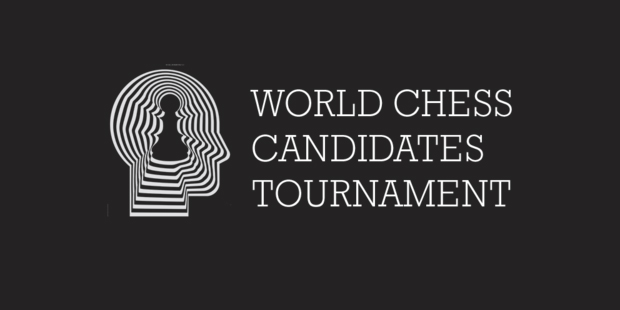 The FIDE Candidates Tournament 2016, is currently underway in Moscow, Russia. Round 5 was held on the 16th of March. So far the tournament had seen a pattern of one decisive game among three draws, but in this round the pattern would be broken and all points would be halved.
Peter Svidler would probably be a little happier with his position in the tournament at this stage than his round-5 opponent, Anish Giri. Along with Fabiano Caruana, Giri is seen as one of Magnus Carlsen's main threats, but has not made any real chances against his opponents so far. In this round, Giri would have the White pieces and Svidler would have the task of holding the young whipper-snapper.
There were no problems, really, though White had a clear initiative just out of the opening, with Black making some 'quiet' moves and allowing his opponent too easy development and activity via the semi-open b-file. Had this been a day where White had come to the board with his sleeves rolled up, I feel that there would have been a lot more chess. As it was, they repeated for a 30-mover.
According to Fabiano Caruana, he had been waiting for a while to play the black side of a Benoni Defence. In his game against Levon Aronian, he was given the chance. I should imagine that he would have liked a longer exploration, however, the game only lasting 30-moves. It was an interesting affair … in that it left everyone wondering what on Earth went on.
The position above occurred with Black having just played 22…Nb6, with equality. Here, White has good options of 23. cxb5 or 23. fxg6 to maintain the equilibrium, but opted for 23. Bc1(?) which seems vastly inferior and allows Black to play quite freely. There followed the natural 23…Nxc4 (with a clear advantage) and a further inaccuracy of 24. d6 (?) and after 24…gxf5 White was in great difficulties. The game soon concluded, though not in the way that most kibitzers were expecting, namely with White realising his folly and resigning. After 25. Rxf5 Nxd6 26. Bg5 Qa5 the players repeated with 27. Bd2 Qd8 28. Bg5 etc. and the game was drawn.
It has to be wondered, why? Especially because the Black Queen had other perfectly legitimate squares to go to than d8 — …Qb6 seems perfectly ok. There does not seem to be anything for White after this, so he is then just material down with a bad position and absolutely no compensation. Whatever the reason, it does seem that Caruana declined the chance of a solid point, here.
Viswanathan Anand had lost quite unexpectedly in the previous round, and I think he is still re-grouping. He didn't seem at all up for a tussle in his game against Hikaru Nakamura. In a Berlin, the players steadily but surely exchanged down and Anand manufactured a perpetual and the point was split.
After only four-rounds there are two points separating Veselin Topalov and his round-five opponent, Sergey Karjakin. I think Karjakin, playing Black, chose wisely in the Queen's Indian Defence – nice and solid, and presenting his opponent with no easy chances. If Topalov wanted to try something, he would be obligated to take the risks. Black obtained good play and nice active development, and White really did not seem in any mood to spice things up. The players agreed a draw in 41 and I would imagine that Karjakin would be rather satisfied, ultimately maintaining his lead.
Karjakin, will have black against Fabiano Caruana in the next round, and it could be a good game if the players have their tails up. The match-up of Topalov-Giri could also be interesting, with Topalov struggling and needing to do something soon if he is going to have anything of a tournament. On the other hand, Giri is having a somewhat quiet start. It could be the moment that both players feel they have to make a move. However, it is the final round before the second rest day and, as this round has clearly shown, anything can happen.
Standings after 5 rounds:
Karjakin – 3½
Aronian – 3
Giri, Anand, Svidler, Caruana – 2½
Nakamura – 2
Topalov – 1½
Round 6, 17 March, 15:00 local time
GM Viswanathan Anand – GM Peter Svidler
GM Veselin Topalov – GM Anish Giri
GM Levon Aronian – GM Hikaru Nakamura
GM Fabiano Caruana – GM Sergey Karjakin