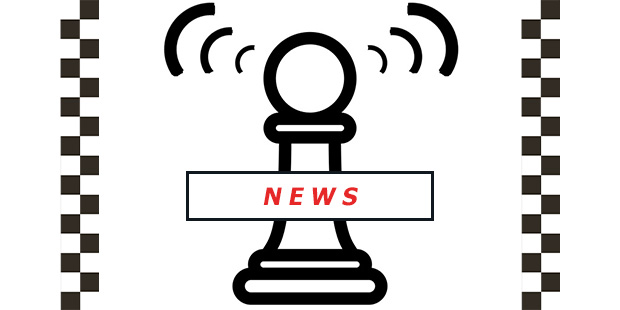 The 2017 Geneva Grand Prix, has been won by Azerbaijan's Teimour Radjabov. The event was held between July 6th and 16th. The strong field was made up of, Levon Aronian, Anish Giri, Ian Nepomniachtchi, Harikrishna Pentala, Shakhriyar Mamedyarov, Pavel Eljanov, Michael Adams, Peter Svidler, Alexander Grischuk, Ernesto Inarkiev, Boris Gelfand, Li Chao, Teimour Radjabov, Dmitry Jakovenko, Hou Yifan, Alexander Riazantsev, Richard Rapport and Salem Saleh.
Radjabov, 30, took overal victory with 6-points from 9-rounds. Russia's Alexander Grischuk and Ian Nepomniachtchi were just behind on 5½-points. Not dropping a point, Teimour scored against Peter Svidler, Pavel Eljanov and Anish Giri. His draw in the ninth and final round, against Nepomniachtchi, secured him the tournament.
Final standings, Geneva Grand Prix:
Radjabov — 6
Grischuk, Nepomniachtchi — 5½
Mamedyarov, Giri, Svidler, Harikrishna, Adams, Chao, Riazantsev — 5
Aronian, Eljanov, Gelfand, Jakovenko — 4½
Inarkiev — 4
Rapport, Yifan — 2½
Saleh — 2
While it is true that Radjabov has been relatively low profile during the last few years, he has always had immense potential. Once the second youngest player to achieve the Grandmaster title, he was as high as number four in the world rankings back in October 2012. At the 2015 World Rapid Chess Championship, he finished third, behind Magnus Carlsen and Ian Nepomniachtchi. 2017 has seen him compete in the Gashimov Memorial, in which he finished eighth out of ten — a result that he will not have been satisfied with.
The Grands Prix, however, have seen his best recent results and a glimpse of the kind of form that we all know him to be capable of. He achieved fourth place in the Moscow leg, which was held in May and his win in the Geneva edition has put him in third place overal.
---
---
After three out of four Grands Prix, Radjabov's countryman, Shakhriyar Mamedyarov leads. Along with Mamedyarov, Alexander Grischuk, Ding Liren and Maxime Vachier-Lagrave, Teimour is right in there with a chance of qualifying for the World Championship Candidates Tournament, to be held in March 2018.
With the final Grand Prix leg coming up in November, (in Palma de Mallorca), there is still everything to play for.
Other Sources: