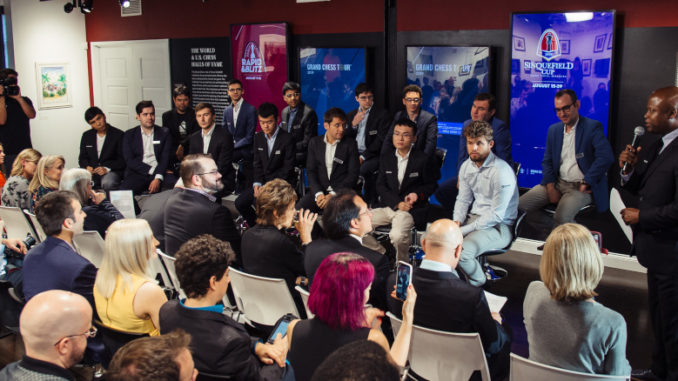 As the 2019 Saint Louis Rapid and Blitz tournament drew to a close, on Thursday August 15th, the 2019 Sinquefield Cup opened. Also held at the Saint Louis Chess Club, in the United States of America, the event is the fifth of seven events, making up the 2019 Grand Chess Tour. It is a 12 player round-robin, played over classical time controls. Only technical draws (repetition, etc.) are allowed.
World Champion, Magnus Carlsen (NOR 2882) is top seed for the event. Also competing are: Fabiano Caruana (USA 2818), Ding Liren (CHN 2805), Anish Giri (NED 2779), Maxime Vachier-Lagrave (FRA 2778), Wesley So (USA 2776), Ian Nepomniachtchi (RUS 2774), Levon Aronian (ARM 2765), Shakhriyar Mamedyarov (AZE 2764), Viswanathan Anand (IND 2756), Sergey Karjakin (RUS 2750), Hikaru Nakamura (USA 2743).
The opening round saw only one decisive game, but it really should have been a clean sweep of draws. Unfortunately for him, Ian Nepomniactchi of Russia, blundered quite badly against India's Viswanathan Anand. Ian had the white pieces in an English Opening and the two repeated a line that they had played earlier in the month, at the Levitov Chess Week event in Amsterdam. Nepomniachtchi had got the better of that outing, winning the game in 34-moves.
This game wasn't at all pleasant for Ian, however. He didn't have the best of openings and Vishy was able to equalise quite well. The diagram, below, shows the position at Black's 17…Rac8.
As can be seen, the position is about equal here, but interestingly, White is yet to complete development. Though Black has an isolated pawn, this is not a major weakness at this time and Anand will look to exchange it off before Nepomniachtchi can make it so. Of the two, Anand would probably be the happier, but not happy enough that he would be thinking of playing for a win.
And this seems to be the case. Vishy said afterwards that he would have offered a draw around the 40-move mark had the rules allowed it. He has made no secret of not being a big fan of prohibiting draw offers, but on this occasion the rule actually helped him.
With the game prolonged, Vishy's King became extremely active and Ian spent a great deal of time defending against this activity. It included a rather mischievous passed pawn, creeping down the h-file. Ultimately, that would claim Nepomniachtchi's bishop. Then, came the following position, at White's 77th move, Black having just played 76…Kg5.
Here, Ian made the huge error, 77.Kc4(??) which lost instantly to Vishy's 77…b5+(!!). The white rook is lost and Ian Nepomniachtchi resigned, horrified. This gave Viswanathan Anand the only full point of the round — and one that he had not been expecting. 77.Kc5, should see White holding.
Just what Magnus Carlsen being top seed means, remains to be seen, as he is not showing the best of form in Saint Louis. In the rapid & blitz tournament, Magnus scored 4/9 in the Rapid and 9/18 in the blitz, finishing in 6th place over all. Carlsen had been on damage limitation in the latter stages of that tournament and had admitted to suffering a lack of confidence and just wanting it to be over. He will be hoping that the change of time control, brings a return of the spark that we have seen him playing with so far this year.
He didn't do too badly in his opening game here, I suppose. He was at least in no danger as White in an English Opening. However, his opponent, Dutch Grandmaster Anish Giri, was under no threat either and equalised rather routinely. One has to feel that it was a bit of a 'comforter' game for the World Champion, resetting himself and trying to recover his equilibrium. We wait to see how that goes.
The American derby of Hikaru Nakamura vs Fabiano Caruana, was an Open Ruy, which looked rather sharper than it was to the untrained eye. It followed Saric vs Kapnisis, from the Greek Team Cup 2018, until move 17. Nakamura was probably a little better, but Caruana controlled things nicely and the game was drawn in 43, just like its predecessor.
Ding Liren gave Wesley So a bit of a tough time in their game. It was an Open Catalan, which saw Ding getting the better play as White. So felt that he would have been very much worse were it not for having the move 24…Nf4 (shown in the diagram, below) which allowed him to exchange and simplify. A rather symmetrical endgame followed and the players repeated.
Rather straight forward draws came in Aronian vs Vachier-Lagrave and Karjakin vs Mamedyarov, too. Perhaps the players were also resetting themselves a little after playing quicker time controls.
All of this left Vishy Anand leading the tournament. He will face Magnus Carlsen in round 2.
The Sinquefield Cup 2019 is held between August 15th and 29th, in Saint Louis, United States of America. It is part of the 2019 Grand Chess Tour and follows on immediately from the Saint Louis Rapid & Blitz. It is a 12 player round-robin over classical time controls. Prize fund is $325,000 (£267,468 / €292,938), 1st prize is $90,000 (£74,068 / €81,121). Official website: https://grandchesstour.org/2019-grand-chess-tour/2019-sinquefield-cup