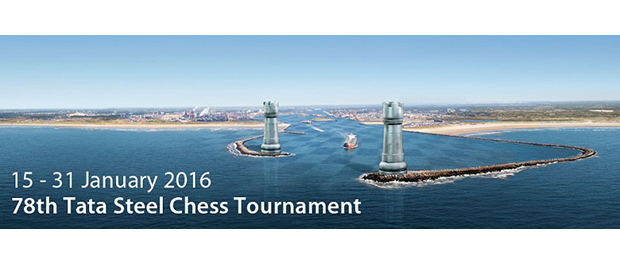 The Tata Steel Chess Tournament 2016, takes place in the Dutch seaside town of Wijk aan Zee, from the 15th to the 31st of January.
As always, the main venue for the event will be the De Moriaan Community Centre. As has been the case in recent years, there will also be two 'chess on tour' rounds played away from the De Moriaan. These will take place at the Spoorwegmuseum in Utrecht and the Science Center NEMO, in Amsterdam.
The tournament consists of two main groups this year, a 'Masters' group and a 'Challengers' group. Details of the groups are shown below:
[table id=11 /]
Playing Schedule:
The tournament will be played over 13-rounds and according to the round robin format. Because of the switch in venues for a couple of rounds, and the groups having staggered rest days, the schedule takes a little understanding …
[table id=10 /]
— Play begins at 13:30 local time (check your time, here) for most rounds. Exceptions are, the final round, which starts at 12:00 noon and for games in Amsterdam and Utrecht, (on the 21st and 27th, as indicated above), which start at 14:00.
Time Control: 100 minutes for 40 moves, followed by 50 minutes for 20 moves. Then 15 minutes for the remaining moves with 30 seconds cumulative increment for each move starting from the first move.
More information can be found at the official tournament website: www.tatasteelchess.com