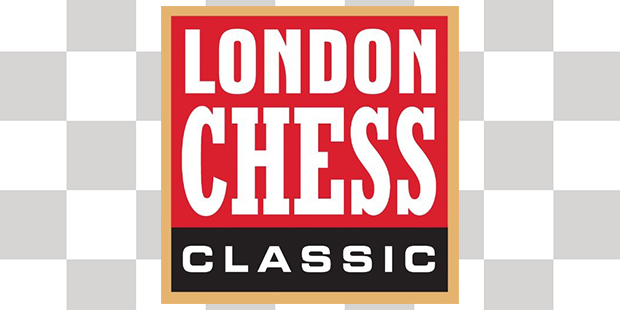 The 2016 edition of the London Chess Classic, has been won by American Grandmaster Wesley So. Having taken a grip on the tournament early on, he secured victory with a solid draw with Maxime Vachier-Lagrave in the final round.
As for the round itself, Veselin Topalov was the winner of the day, finally coming out of the doldrums and earning himself a point. His game versus Levon Aronian, saw the Bulgarian (who had only one-point on the board up to this stage) turning the tables on his opponent with the Black pieces. In the Symmetrical English, White had the better of things early on, and Black felt it necessary to sacrifice knight for three pawns in order to achieve some counter-play. Whether this was sound or not is unclear, but the computers didn't like it very much. However, chess is not so straight-forward, especially human chess. Black certainly obtained (or, was allowed to obtain) some good play from it.
Aronian will possibly rue declining what seems to have been a safe pawn on his 29th move, Bxa6 looks perfectly payable. Was the Armenian wary of it? Or did he just decide not to allow the opening of the a-file? Answers on a postcard, but it didn't work out for him, Topalov advanced the pawn and White had some considerations. 32…Qc6(!) put things in perspective and saw Black with pressure along the c-file and towards White's rook, which had mutated into a mere blockading piece on a4. This was not all there was to it, however, with Black deciding to opt for 34…Qd7 instead of …Qc7, inexplicably un-doubling Queen and rook along the c-file. This allowed White to solve his issues.
Contary to the phrase 'never look a gift-horse in the mouth', Aronian went on to give Black far too much play with his central pawns, which began to advance down the board. So potent were they, that Topalov was soon getting his piece back in order to get one off the board. This left Black a pawn up in a very strong position. From here, Topalov showed that despite his poor showing in this tournament, he is still a very potent player, who can never be under-estimated. It took a long time coming, but this was a very nice game from him and he converted his advantage very strongly. Unfortunately, it is a little too late for him in this tournament, he finishes on a rather surprising 2/9.
The final round of a tournament can often be a rather quiet affair, and that was the case for the remainder of the games, really. Tournament leader, Wesley So, also took up the Symmetrical English, but unlike Aronian, got at least something from it. He ended up sharing the point with opponent Maxime Vachier-Lagrave. The two repeated a line that they had played against each other in the Leuven leg of the Chess Grand Tour in June, until Vachier-Lagrave varied with 12…fxe6 (…Bxe6 had been played in the previous game). This didn't really produce much, Black was left with an isolated pawn, but there was nothing that White could do to get at it and the players just went through the motions, really, before agreeing a draw on move 35. A rather satisfying result for So, however, who secured the tournament victory with it and that was the objective in this round.
It is not very often we see a Queen's Gambit Accepted, but Anish Giri and Fabiano Caruana debated it in their game. Unfortunately, it was not a lengthy debate, and though the game lasted for 58-moves, a draw could probably have been agreed at about halfway through. The position became too simplified to really produce anything, especially at this level. Michael Adams and Hikaru Nakamura were not up for it in this round. Out came the Berlin, which saw around 18 moves of theory, then some exchanges and shuffling before the players agreed a draw on move 30. Anand-Kramnik was over even quicker, the players played a few new moves in a Queen's Gambit Declined, before repeating for a 24-move draw.
London Chess Classic, Final Standings:
So — 6.0
Caruana — 5.5
Kramnik, Anand, Nakamura — 5.0
Giri — 4.5
Aronian, Vachier-Lagrave, Adams — 4.0
Topalov — 2.0
Chess Grand Tour
Along with his victory in this tournament, So has also claimed the Chess Grand Tour 2016 title. This was made up of four events, Paris CGT, Your Next Move (Leuven), the Siquefield Cup (Saint Louis), and London Chess Classic. So achieved a very comprehensive victory, with 36 Chess Grand Tour points. His nearest rival, Hikaru Nakamura (also of the United States) finished on 24.5 points, with Fabiano Caruana making it a clean sweep of the top 3 places for America on 23.75 points.
Chess Grand Tour, Final Standings:
So — 36
Nakamura — 24.5
Caruana — 23.75
Aronian, Anand — 21.75
Vachier-Lagrave — 17.5
Giri — 12.5
Topalov — 10.75
The 2017 Chess Grand Tour, will be made up of the following five events:
Paris CGT (rapid & blitz) — June 18th-26th
Your Next Move (rapid & Blitz) — June 26th-July 3rd
Sinquefield Cup (classical) — July 31st-August 12th
Saint Louis Rapid (rapid & blitz) — August 13th-20th
London Chess Classic (classical) — date to be announced.