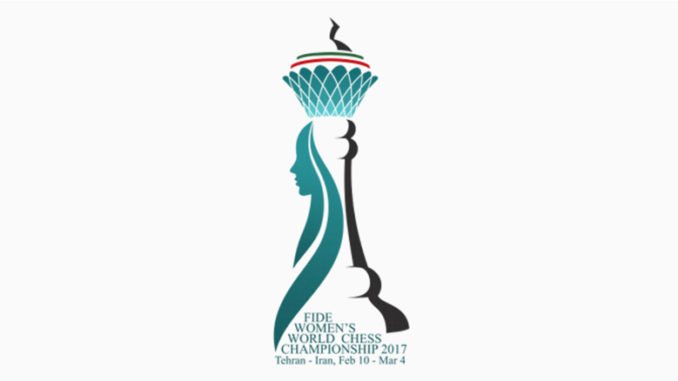 Round Three of the Women's World Chess Championship 2017, was held between February 17th and 19th. At its conclusion, it had produced the quarter-final pairings:
Wenjun vs Tan; Dronavalli vs Dzagnidze; A. Muzychuk vs Stefanova; Kosteniuk vs Ni.
Of those contesting the last 16 matches, half would know their fate without the added torture of tie-breaks. Anna Muzychuk took a lead over Le Thao Nguyen Pham from game one after the latter put her Queen on completely the wrong square, with 21.Qb6(?) This was a total sense of danger failing. Muzychuk unleashed a tactical assault with 21…Bf7 and 22…Re6 and never looked back.
Also victorious in round One, was Nana Dzagnidze, who showed her authority over Shen Yang. The Georgian was quickly better in the Slav Defence and was soon launching a beautiful Kingside attack on her opponent, the fruit of superbly coordinated pieces.
The other decisive result, was Antoaneta Stefanova, who took a point lead over Nino Khurtsidze, but boy did she have to work for it. The game went all of 115-moves! To top it all off, Stefanova had to execute the most tricky of all basic checkmates, King, knight, bishop versus lone King. I have lost count of the number of winning games I have seen drawn because of an inability to convert this ending, but Stefanova made no mistake. She played a blinder of an endgame, driving her opponent into the correct corner in order to deliver mate. The only downer on the game is that, after making Antoaneta go through all that, her opponent resigned at mate in two!
The other games split the points and so we waited to see what game two would bring.
In game two, Anna Muzychuk followed her victory with Black over Le Thao Nguyen Pham, with another with White in order to proceed straight into the quarter-finals. Although it was quite a long game (75-moves) Pham made life difficult for herself early on, leaving her Queen over-worked. This ended up losing rook to knight and White was winning.
As we've all discovered, though, being 'winning' and actually winning are two completely different things and when the bishop and rook versus double rook ending arrived, Pham's bishop proved all kinds of awkward. It took Muzychuk the best part of the game in order to convert her advantage, but she did it extremely well and I would recommend that the reader gives it a good look over for a demonstration on limiting the opponent's options, which was the deciding factor in the end.
Shiqun Ni also won in round two, eliminating Natalija Pogonina 1.5-0.5. It was a very hard fought Scotch Game, which lasted 77-moves. White was always better, but Black kept plugging away and throwing spanners in the works where she could. Once the Queens came off, though, Pogonina was just out-manoeuvred, two pawns down and both of them passed. Also going through was Antoaneta Stefanova, who drew her second game with Nino Khurtsidze. Having won the first game, this was enough. Likewise for Nana Dzagnidze, who put out Shen Yang.
---
---
So, with all this, four pairings were decided and four would go to tiebreaks. These were decided in the ten-minute games and saw Alexandra Kosteniuk going through with a clean sweep over Pia Cramling. Ju Wenjun also went through against Olga Girya. They had drawn their first game, but Wenjun won the second, getting the best of things in the Queen's Gambit Accepted. In the endgame, Wenjun's rook and bishop were far superior to Girya's and these helped her advance two beautifully connected passed pawns. Black was powerless and Girya's campaign ended.
Sopiko Guramishvili's endeavours to become Women's World Champion also ended in this round. Having lost the first ten-minute game to Harika Dronavalli, the Georgian couldn't manage to level the score and went out 1.5-0.5. Going through by the same score and completing the quarter-final line-up, was Zhongyi Tan, who defeated Rout Padmini.
The quarter finals will be played between February 20th and 22nd.