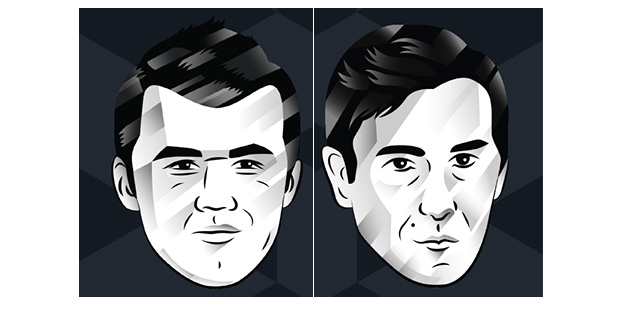 In a week's time, Magnus Carlsen will begin the defence of his world title, against Sergey Karjakin in New York City. In a 12-game match, the first to 6.5 points will be declared the winner. Many fancy the World Champion to retain his title, with his challenger being regarded as a clear underdog. And perhaps this is true, but few things in chess can be taken for granted. No one expects Karjakin to be simply looking to make up numbers and settle for the runner-up's purse.
Between now and the start of the match, I will be taking a look at both players, culminating with my opening report next Thursday. But first, I will be taking a look at a couple of decisive games between the two.
I will start with the following game, which was played at the 2013 edition of the Norway Chess Tournament. It sees Sergey Karjakin as White in a Ruy Lopez. He handles Carlsen's novelty of 17…Qc7 rather well and indeed Black spends some time defending. However, a couple of quiet moves from White, allow Black to turn the tables with his extremely well coordinated pieces. This is one thing that Karjakin must watch out for during the match, one of the many strengths of his opponent is his ability to be able to seize every opportunity with both hands. Mistimed quiet moves wont do and are likely to be punished — this game is clear illustration.