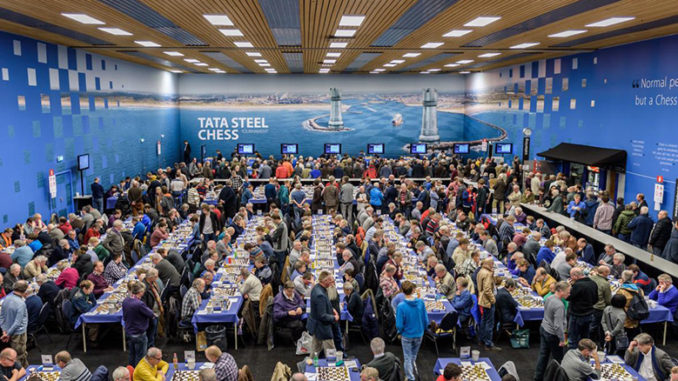 The Tata Steel Chess Tournament 2017, will be held from January 13th (opening — round 1, January 14th) to 29th in Wijk aan Zee, Holland. This blog is continuing on from part 1 of my preview, which gave some background information on the event. If you have not already read part 1 and wish to do so, please click here.
The Grandmaster tournament this year consists of two groups, 'Masters' and 'Challengers'. Each is made up of 14 players, who have either received invitations to compete or have qualified (in the case of Baskaran Adhiban, for example, who won last year's Challengers group and progresses into the Masters group this year).
Top seed for the Masters, is World Champion, Magnus Carlsen. However, the group also contains his challenger in last year's World Championship match, Sergey Karjakin. This will be the first meeting between the two (in a classical event anyway) since their match. Can we expect a showdown? Does either feel that they have something to prove? Let's hope both.
As well as Carlsen and Karjakin, however, the likes of Wesley So should not be over-looked. So is of course fresh from his win of the London Chess Classic last month, and the Chess Grand Tour to boot. He's a match for anybody on his day, and second favourite based on rating. The likes of Anish Giri can not be forgotten, either. Though Giri has a tendency to blow hot and cold, I feel that he has not come close to realising his potential yet and should he come into the tournament with ambitions, (and he is on his home turf, so there is no reason why he shouldn't), then he could be right in the mix in a couple of weeks time.
Levon Aronian, Pentala Harikrishna and Ian Nepomniachtchi, are also very potent players and not to be under-estimated, so this group has the potential to be extremely competitive. As with all events of this kind, the only limit is how hungry the players are and whether or not they are willing to take risks and get bloody in order to try to win. Magnus is obviously the player to beat and if a few give it a go, things could be very exciting!
The full list for the Masters group is as follows: (FIDE ratings as of January 1st)
GM Carlsen, Magnus NOR 2840
GM So, Wesley USA 2808
GM Karjakin, Sergey RUS 2785
GM Aronian, Levon ARM 2780
GM Giri, Anish NED 2773
GM Harikrishna, Pentala IND 2766
GM Nepomniachtchi, Ian RUS 2767
GM Eljanov, Pavel UKR 2755
GM Wojtaszek, Radoslaw POL 2750
GM Andreikin, Dmitri RUS 2736
GM Wei, Yi CHN 2706
GM Rapport, Richard HUN 2702
GM Van Wely, Loek NED 2695
GM Adhiban, Baskaran IND 2653
Average rating: 2751
Category: 21
When it comes to the Challengers group, Austria's Markus Ragger enters as top seed, but he is likely to face a lot of competition. After all, the winner of this group will earn a place in next year's Masters group on top of the prize money. Israel's Ilia Smirin and Jeffery Xiong of the United States are Ragger's main competition on paper, but when looking down the list of this group, my eyes get drawn straight to Nils Grandelius of Sweden. Grandelius is a player full of character and this reflects often in his chess, which is interesting and far from shy. I feel that he is certainly one to be watched this year. However, with the top ten players in this group all being rated in the 2600's, it is very wide open indeed.
There are three Dutch players, who make up the middle of the group and all are capable of very high quality chess. Erwin l'Ami is probably the best known and certainly the most experienced. However, Jorden van Foreest is growing steadily and performed very well against Ivan Sokolov at last year's Hoogeveens Chess Tournament in Groningen. Benjamin Bok is also still growing and should not be taken lightly. Could one of them win this year and be promoted to the Masters group for 2018? Possibly!
It is very nice to see the female gender represented in this group, by Lei Tingjie of China and Georgia's Sopiko Guramishvili (or Mrs. Anish Giri, as she is also known). They are at the bottom of the group on paper, but very capable players and certainly not there to make up numbers.
The full list for the Challengers group is as follows: (FIDE ratings as of January 1st)
GM Ragger, Markus AUT 2697
GM Smirin, Ilia ISR 2667
GM Xiong, Jeffery USA 2667
GM Jones, Gawain ENG 2665
GM Grandelius, Nils SWE 2642
GM Lu, Shanglei CHN 2612
GM van Foreest, Jorden NED 2612
GM Bok, Benjamin NED 2608
GM l'Ami, Erwin NED 2605
GM Hansen, Eric CAN 2603
GM Tari, Aryan NOR 2584
GM Dobrov, Vladimir RUS 2499
WGM Tingjie, Lei CHN 2467
IM Guramishvili, Sopiko GEO 2370
Average rating: 2592
Category: 14
I am very pleased to say that I will be attending the opening ceremony for HOTCH and will be in Wijk aan Zee throughout the tournament. In the meantime, please give the official tournament website a visit if you haven't already — there's a wealth of information and you can even download the official tournament handbook. Also, I invite you to add Hot Off The Chess on Twitter, as I will likely be tweeting photo's and updates while in Wijk aan Zee.
Important Information
The tournament is a round-robin event, with 13 rounds.

Playing Days (January): 14th, 15th, 16th, 17th, 19th (from Rotterdam), 20th, 21st, 22nd, 24th, 25th (from Haarlem), 27th, 28th, 29th.

Rest Days (January): 18th, 23rd, 26th.

Rounds begin at 13:30 local time. This is apart from the final round, which begins at 12:00. (check your time here.)

Time control: 100 minutes for 40 moves, then 50 minutes for 20 moves. The players then get 15 minutes for the rest of the game with an increment of 30 seconds per move, starting from move 1.

In the case of a tie, there will be a play-off during the closing ceremony. The format will depend on the number of tied players and will be decided by the Chief Arbiter.

The winner of the Tata Steel Challengers will receive an invitation for the 2018 Tata Steel Masters. If there is a tie, it will be decided by a). the mutual result, b). Sonneborn-Berger score, c). the player with the most black games (I assume wins?) or d). drawing of lots.

Prize money Masters: 1st € 10,000 ($10,591 £8,712), 2nd € 6,500 ($6,884 £5,662), 3rd € 3,000 ($3,177 £2,613), 4th € 2,500 ($2,647 £2,178), 5th € 2,000 ($2,118 £1,742), 6th € 1,000 ($1,059 £871), 7th € 500 ($529 £435).

Prize money Challengers: 1st € 2,000 ($2,118 £1,742), 2nd € 1,250 ($1,323 £1,089), 3rd € 750 ($794 £653), 4th € 500 ($529 £435), 5th € 400 ($423 £348), 6th € 300 ($317 £261), 7th € 200 ($211 £174).