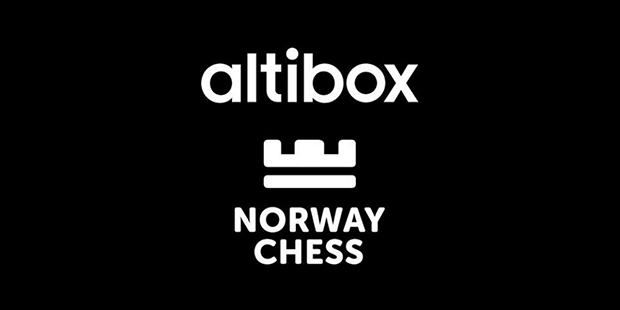 Round three of the 2018 Norway Chess tournament was held on the 30th of June.  As it had in round one, the win of the round came from Magnus Carlsen. Actually, the World Champion is so far the only player to have taken points and this puts him in a very good position going into the first rest day, which would follow this round.
It was Levon Aronian who had to suffer at Magnus' hands this time and suffer he did. It was not a good day for the Armenian and that just serves him right for trying to inflict a Berlin Defence on us. (Only joking, Levon, I sympathise really … I think … perhaps.) Black's play was rather puzzling and I completely get Carlsen's surprise, (voiced in the confessional), to Aronian's 14…Bg5(? — shown in the diagram, below).
The problem with this move is that it allows White to just continue with natural development, starting with 15.Nf3 and it is hard to see how this will not result in a promising stance. And this is what happened and after 15…Bxc1, Black had exchanged a developed piece for an undeveloped one and brought a White rook to the c-file to boot. It really is not easy to see positives to 14…Bg5 and Carlsen did indeed obtain the advantage.
Giving Magnus Carlsen any plus is a recipe for disaster and this was illustrated in this game, which became unpleasant for Aronian in rapid fashion. The Norwegian kept his opponent under pressure, making him defend and this proved costly to Black on the clock as well as on the board. In 31 moves, it was all over in a complete rout — not the kind of capitulation that we are used to seeing from Levon.
Needless to say, Magnus Carlsen was very happy with his performance in this game and his start to the tournament.
The other games were drawn without too much to get into. The longest was So-Nakamura, which lasted 47 moves. I was a little concerned for Wesley at one point, and was wondering whether he had perhaps over-cooked his goose, especially with his King dislodged and Black having good development. After liquidation, White was totally fine, however. Vishy Anand and Ding Liren got into a Closed Ruy, which saw Black a pawn up but with doubled bits on the e-file. The position became gridlocked and they were soon repeating.
---
---
Shakhriyar Mamedyarov said that he was feeling a lot better after suffering from toothache so far in the tournament. This was great to hear and hopefully he can now focus on his chess. He secured another comfortable draw in this round, this time against Sergey Karjakin. That puts Shakh on 50% and I think he would be quite content with that, all things considered. Amazingly, though, this game would not quite be done with.
Mamedyarov dental update: "Now I'm ok – I can eat ice-cream & everything!" #AltiboxNorwaychess

— chess24.com (@chess24com) May 30, 2018
Standings After 3 Rounds
Carlsen — 2.5
Karjakin, Ding, Nakamura, So, Mamedyarov, Vachier-Lagrave — 1.5
Caruana, Aronian — 1.0
Full Round 3 Results
Anand ½ vs ½ Ding, So ½ vs ½ Nakamura, Carlsen 1 vs 0 Aronian, Mamedyarov ½ vs ½ Karjakin, Vachier-Lagrave ½ vs ½ Caruana.
Round 4 (1st June)
Ding vs Caruana, Karjakin vs Vachier-Lagrave, Aronian vs Mamedyarov, Nakamura vs Carlsen, Anand vs So.