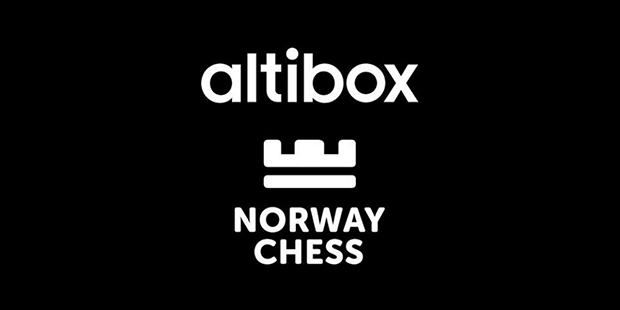 Play resumed in Norway Chess after the first rest day, with the field minus one player. It turns out that Ding Liren had fallen off of his bike while out for a ride with his Father. Ding had taken part in the rest day activities (more on that shortly) with a limp and in some discomfort, but it would appear that his injuries were more serious that first thought. His game against Fabiano Caruana was postponed, but ultimately Ding would need surgery and some time for recuperation. Unfortunately this forced him to withdraw from the tournament.
In announcing this, Norway Chess said that as less than 50% of his games had been completed, they would not count towards standings and tie break, (as according to the FIDE handbook), only for rating. That means that Hikaru Nakamura, Maxime Vachier-Lagrave and Viswanathan Anand would all be losing half a point in their scores as though Ding had never taken part. Another consequence would be that Ding's opponents for rounds 4-9 would get an extra day off. For round four, that would apply to Fabiano Caruana.
I wish Ding well and hope that his recovery is speedy!
As well as Ding's mishap, there were other activities taking place during the rest day and this saw the players (an injured Ding included) trying their hand at some cooking — 'Grand-Master Chef'? They were paired up and had one and a half hours to cook four plates (two four the judges and two for themselves) of fish with Hollandaise Sauce. This had to be according to a recipe prepared by a chef. The pairings were as follows: Maxime Vachier-Lagrave & Levon Aronian, Shakhriyar Mamedyarov & Hikaru Nakamura, Ding Liren & Viswanathan Anand, Sergey Karjakin & Fabiano Caruana, Wesley So & Magnus Carlsen.
I have to say, normally I am fine commenting on events from home in the Netherlands, but this made me insanely jealous to not be on location. I can imagine it was absolutely hilarious, not to mention chaotic and farcical in places. In the end, it was Ding Liren and Viswanathan Anand who ended up the victors, something of a sweetner for Ding following his extremely bad fortune otherwise in this tournament. Crack of the day also has to go to Vishy Anand, as reported by Tarjei Svensen …
Asked Anand if he has ever won a bigger title in his life. His response: "Not one where the expectations were lower!" #NorwayChess https://t.co/8ZjLlhCcve

— Tarjei J. Svensen (@TarjeiJS) May 31, 2018
LOL!
Back to the chess, then and the four games saw two decisive results.
The first of these was Sergey Karjakin against Maxime Vachier-Lagrave. In an exchange Grunfeld, the Russian unleashed some dream preparation and blitzed out the first 24 moves of the game. Things came to a head at 24.Bg5, as shown in the diagram, below.
Karjakin was still in preparation, here and had worked out that Vachier-Lagrave's best was 24…Rf8 when 25.Nb6 (which is the very potent next move planned) could be answered with 25…Rae8. However, this is not the way that the spicey Vachier-Lagrave likes to play! Ever the one to roll his sleeves up, he opted for 25…f4(!) and it was only here that Karjakin started to think for himself. And he dealt with things rather well, deciding upon 25.Qf2 (on its way to h4) rather than taking straight away on d8. Play saw the ever inventive Frenchman switching his light-squared bishop from h5 to c6 (via f3), supporting his f-pawn, which had worked its way to g2. Unfortunately for Maxime, it was his Kingside that proved to be his undoing, a situation that Sergey had provoked with his earlier play. After steadily building up the pressure, he reaped the rewards and had the point. A very nice game!
The other point also went to White in a Grunfeld, but was a longer affair in which the recipient had to work a lot harder. This was namely Levon Aronian, who bounced back following his loss to Magnus Carlsen in round 3. This was at the expense of Shakhriyar Mamedyarov, who although his toothache had subsided, was apparently still suffering from the lack of sleep it had caused him. Aronian admitted that he hadn't expected the Grunfeld and had improvised, which surprised me quite a bit because it went so well for him that it looked like preparation to me. Certainly after Levon's idea of 22.c5(! see diagram) Black's position is dicey, even with best play, which it wasn't.
---
---
After 22…h6 23.Be3 Nc6 24.Bc4 Nd4 25.Bxd4 exd4 26.Bxe6, Shakh's 26…dxc3 should perhaps have given way to …fxe6(!). As it was, 27.Bxd7 Qxd7 28.Nxc3 saw Black with a tricky endgame. However, Shakhriyar Mamedyarov is extremely proficient in defence and it was move 70 before he decided to resign. This was after giving up bishop for a Queened pawn on move 45. Aronian considered that to be a draw but possibly with some chances and perhaps it could have been had Mamedyarov gone for 66…Ra6 instead of …Kd3. As reported by Peter Doggers for Chess.com, Fabiano Caruana offered 66…Ra6 67.Ke1 Rb6 as a likely draw. And he probably has a point — White is no doubt better, but making it tell would be extremely difficult. This was immaterial, however and Aronian had the point.
The other two games were drawn, including Hikaru Nakamura taking on Magnus Carlsen with White. The World Champion considered himself worse after 16 moves and had been prepared to defend, but his opponent was not up for trying anything and chose to liquidate. This completely removed the tension in the position and the game quickly drew. This was something that Magnus did not seem to be so impressed by.
Carlsen on Nakamura: "If I had known that he was so unambitious, I would've provoked him more. I tried to play solidly, because I thought his opening made sense. He probably has some explanation, but to me this was odd." #NorwayChess #2sjakk pic.twitter.com/aGguA1hM0j

— Tarjei J. Svensen (@TarjeiJS) June 1, 2018
The other split point was in Anand-So. Vishy also did not play too ambitiously as White. The game was an English opening and this can be played aggressively, but Vishy did not really demonstrate how to. The trouble with the English, as in the Reti also, is that if one does not play positively and with a clear plan, it can bring trouble. And this is what happened, with So getting into the game rather comfortably. Despite being a pawn up, Anand had nothing. So was very active and when he regained his pawn, the players repeated.
Standings After 4 Rounds
Carlsen — 3
Karjakin — 2.5
Aronian, So — 2
Anand, Nakamura, Mamedyarov — 1.5
Caruana, Vachier-Lagrave — 1
Ding — 0 withdrawn as of round 4. Games played in the tournament not counting towards standings or tie breaks. Paired opponents will get an extra free day.
Full Round 4 Results
Karjakin 1 vs 0 Vachier-Lagrave, Aronian 1 vs 0 Mamedyarov, Nakamura ½ vs ½ Carlsen, Anand ½ vs ½ So.
Round 5 (2nd June)
Carlsen vs Anand, Mamedyarov vs Nakamura, Vachier-Lagrave vs Aronian, Caruana vs Karjakin, (So free).