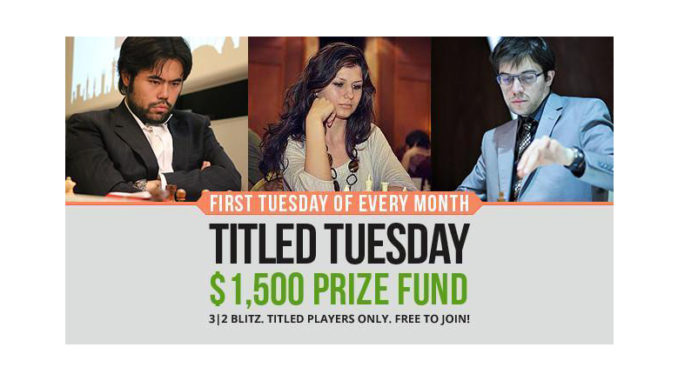 Yesterday saw the resumption of Chess.com's 'Titled Tuesday'.
The elite competition, sees titled players battling it out for cash prizes in a series of 3|2 blitz games. The competition is a 9-round Swiss and is held on the first Tuesday of each month. With it's $1,500 prize fund, (€1,402 / £1,198), it has attracted many of the world's top players. Of this prize fund, $500 (€467 / £399) goes to the winner.
Competing yesterday, were  the likes of Wesley So, Maxime Vachier-Lagrave, Eric Hansen and even World Champion, Magnus Carlsen. Hikaru Nakamura, a regular competitor in these events, did not compete, I believe due to internet connection issues. The same goes for Fabiano Caruana, apparently.
Last night's event, watched by multitudes of chess fans, was won by Grandmaster Eltaj Safarli of Azerbaijan, with a score of 7.5/9. A further five players achieved the same score, (Carlsen and Vachier-Lagrave among them), but Safarli had the better percentage tie-break and so took the first prize. IM Alexander Moskalenko of Russia took the second prize and Spain's José Carlos Ibarra Jerez took third. Maxime Vachier-Lagrave was just outside the places in fourth.
Magnus Carlsen, had been going great (as one would expect), but came in sixth in the end. The World Champion began with a score of 6/6, but his dominant run was halted by Safarli who managed a draw with White. Perhaps this affected Carlsen a little, or he was suffering some fatigue, as he then lost his next game to GM Evgeny Levin, making very uncharacteristic blunders. He won his ninth game, but the damage had been done, unfortunately for him. He seemed in good spirits, though, commenting in the chat that his play in one game had been, "awful from start to finish".
Top places were as follows — where it is not clear from the username, I have put the names of the players in brackets.
GM EltajSafarli — 7.5 (42.75)
IM Alexander_Moskalenko — 7.5 (39.25)
GM jcibarra (José Carlos Ibarra Jerez) — 7.5 (36.25)
GM LyonBeast (Maxime Vachier-Lagrave) — 7.5 (35.50)
FM pedromartinez91 — 7.5 (31.75)
GM MagnusCarlsen — 7.5 (30.25)
GM Borsch7 (Maxim Matlakov) — 7 (35.75)
GM Evgeny_Levin — 7 (34.50)
GM bs86 (Boris Savchenko) — 7 (34.00)
IM Astaneh (Alex Lopez) — 7 (33.00)
GM Sanan_Sjugirov — 7 (30.25)
IM Incognito_Knight (Vladimir Vetoshko) — 7 (28.75)
Chess.com began Titled Tuesdays in 2014 and they have always proved highly popular, the format this time around sees a slight change. Instead of two events, (one early and one late), the event is now a single one, starting at 13:00 pacific time. Chess.com state that they are aiming to better serve their global audience with this change. Also, each Tuesday in April will see a Titled Tuesday event and the winners of these will qualify as seeds 13-16 for their Speed Chess Championship, (formerly the Grandmaster Blitz Battle Championship). This was hugely exciting last year and had me and many hundreds of others enthralled.
The Speed Chess Championship begins in May and I will bring you more about that nearer the time. I can't wait!