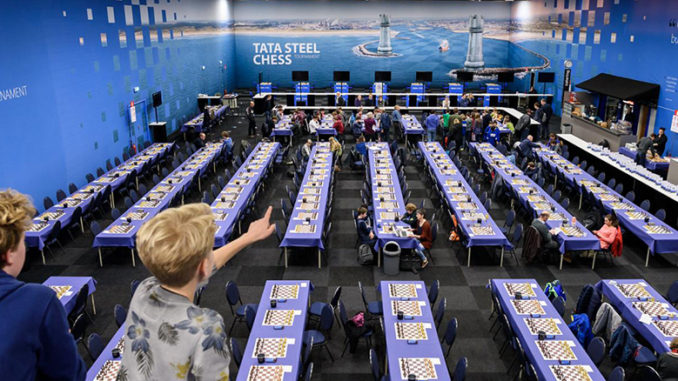 The 80th edition of the Tata Steel Chess Tournament, takes place in Wijk aan Zee, the Netherlands from January 12th to 28th 2018. The Masters Group sees 6 of the world's top ten chess players competing. Among them, World Champion, world #1 and 5-time winner of the event, Magnus Carlsen.
The tournament had been opened on Friday 12th January in Velsen-Noord, just a short hop down the road from the tournament's home of Wijk aan Zee. And it was here that all attention was turned on Saturday for this opening round. It saw the following results:
Giri 1-0 Hou
Kramnik 1-0 Wei
Svidler ½-½ Adhiban
Carlsen ½-½ Caruana
Jones ½-½ Karjakin
Anand 1-0 Matlakov
So ½-½ Mamedyarov
Giri, Anand, Kramnik Score Points
First rounds in tournaments can be a rather quiet affair sometimes, but not for Wijk aan Zee 2018! Grandmasters Giri, Anand and Kramnik, made it a very White day for this opening round and all took points.
Chinese Grandmaster Hou Yifan was Giri's victim. Anish, playing White in a Petrov's Defence and carrying the hopes of the home crowd on his shoulders, played a very solid game. It has to be said, however, that so did Hou. This was until the endgame, when her 55…Kc6(? …Kd6) was inaccurate and opened the door very wide for her opponent. The Dutchman stuck his foot firmly in and Black was soon losing a pawn. This, together with a very badly placed King meant that Yifan was soon capitulating.
Former World Champion and also a five-time winner of the event, Viswanathan Anand, took a point at the expense of debut maker, Maxim Matlakov. However, it was not a convincing victory by any means. The game took the shape of a Ruy Lopez, Anderssen Variation and Black did very well out of the opening. The combination of 19…Bxf2+! 20.Kxf2 Rxa1 21.Qxa1 Nxc2 saw Matlakov with a very good stance. Letting Anand have the d6-pawn, however, with 27…Qg5(? …Qe7), seems mistaken.
After 28.Nxd6 Anand quickly improved his position. He found good squares for his pieces, and brought his second knight into the mix also. The initiative had turned on its head and it was now White who had the upper hand. This is something that usually spells trouble and it was no different in this case. With very nice positional chess, as always, Anand wrapped the point up without difficulties.
The other point went to another former World Champion, Vladimir Kramnik, who got the better of a Neo-Grunfeld against Yi Wei. Sometimes Wei can play a little passively and this is not something one can do against players like Kramnik. This game was a fine example. Vladimir took space and with strong advanced pawns, wasted no time in activating his King. Quite simply, Black could not cope with the activity and White was soon in complete control of the position. When pawns started falling, there was only one result likely.
Top Seeds Face Off
Top seeds of the Masters Group, Magnus Carlsen and Fabiano Caruana, were drawn to face each other over the board in this opening round. Perhaps this was always going to be a bit of a double-edged-sword so early on in the campaign. And it was a bit of a quiet affair when all is said and done. Carlsen was not in talkative mood after the game, (which was a draw in a Petrov's Defence), however, Caruana made himself available and was satisfied with the result. He said that he never felt under pressure during the game, and perhaps had some idea's of being better after his 40…Ke5. However, Carlsen was as on the ball as always and after his precise 41.Nd1(!), there was nothing left but to split the point.
Other shared spoils in this round, went to Peter Svidler, who could not make the White pieces pay against Baskiran Adhiban. The players did a quite lengthy post-mortem afterwards, which was an absolute joy to watch and raised a few chuckles in the press room. Svidler's straight talking manner and dry sense of humour (not to mention chess understanding) has made him the popular commentator that he has become and this was very evident as the two discussed the goings ons. Both players seemed satisfied with the result and there were smiles all round.
The same can be said for British Grandmaster Gawain Jones, who drew against Sergey Karjakin with the White pieces. Wesley So recorded the other draw of the round, against Shakhriyar Mamedyarov. Their Sicilian Defence lasted all of 29-moves and after looking quite sharp, saw liquidation and there was nothing left but to repeat.
Photographs
Unless otherwise stated, photographs are by John Lee Shaw © www.hotoffthechess.
Clicking an image opens the image viewer.
Masters Group, Round 2 – Sunday 14th January
Round Two beckons, then and the most exciting tie of this round, (for me anyway), is the tie which sees Baskaran Adhiban going up against Magnus Carlsen. The Indian Grandmaster, who made his debut at the tournament last year, marked the occasion by almost beating Carlsen with the Scandinavian Defence! Adhiban is known for his flamboyant and creative play and is unpredictable in the opening, so we all wait to see what he will bring to the board in this game. And, of course, whether Carlsen will seek to stamp some authority on the game this time around.
Hou, Yifan – Mamedyarov, Shakhriyar
Matlakov, Maxim – So, Wesley
Karjakin, Sergey – Anand, Viswanathan
Caruana, Fabiano – Jones, Gawain C B
Adhiban, B. – Carlsen, Magnus
Wei, Yi – Svidler, Peter
Giri, Anish – Kramnik, Vladimir
---
---
Challengers Sees Brotherly Rivalry
The Challengers group saw Jorden van Foreest taking the White pieces and a point against his younger Brother, Lucas. White quickly had the upper hand out of the opening and the game saw him Jorden sacrifice the exchange, (albeit temporarily), in order to open up the opponent's King position. White was soon very much in command and would end up three pawns to the good in the endgame. A very confident way to start the tournament for the 18-year-old.
Other full points went to Anton Korobov, who employed the London System to take it to Matthias Bluebaum. It was a rather even game until Black lost his way slightly and gave White too much to play with in the endgame. Korobov secured victory quickly. Out of the two groups, the only Black victory went to Dmitry Gordievsky, who turned things around quite nicely against Olga Girya in the King's Indian Defence. 36.hxg3 was a big error from White and gave Black very nice play. The White position disintegrated rapidly and facing mate, Girya resigned.
Xiong ½-½ Bok
Korobov 1-0 Bluebaum
Girya 0-1 Gordievsky
Van Foreest, J. 1-0 Van Foreest, L.
Tari ½-½ Vidit
Krasenkow ½-½ L'Ami
Amin ½-½ Harika
Challengers Round 2 – Sunday 14th January
Bok, Benjamin – Harika, Dronavalli
L'Ami, Erwin – Amin, Bassem
Vidit, Santosh Gujrathi – Krasenkow, Michal
Van Foreest, Lucas – Tari, Aryan
Gordievsky, Dmitry – Van Foreest, Jorden
Bluebaum, Matthias – Girya, Olga
Xiong, Jeffery – Korobov, Anton
With Thanks To:
Tata Steel and the organisers of the Tata Steel Chess Tournament.
Official Website: www.tatasteelchess.com