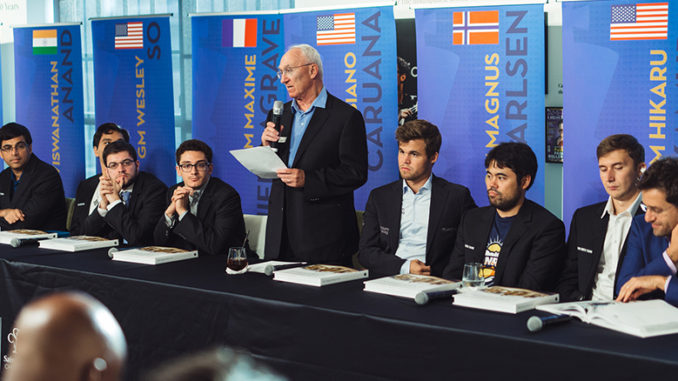 The Sinquefield Cup 2018, resumed on Friday 24th August following the one and only rest day. With five rounds played, four remained. Leading the tournament were Fabiano Caruana, Shakhriyar Mamedyarov, Levon Aronian, Alexander Grischuk and Magnus Carlsen. Each of these players had three-points from the five rounds so far.
In this round, things were going to change and one player would be commanding the standings with 4/6. That would be home player, Fabiano Caruana, who gave Russia's Sergey Karjakin yet another loss.
The game was a Nimzo-Indian and saw Caruana bringing a new move out with 9.Bg5, (Qa4-c2 having been played up to that point). Play led to the following position, with Fabiano having just played 12.bxc3 (exchange of Black's bishop for White's knight).
I really don't understand Sergey's decision, here, to play 12…Qd8. Perhaps he had looked at 12…Nxd4 and not liked the possibility of 13.Qxd7 Nxe2+ 14.Kh1 Nxc3 15.Qxc7. And perhaps quite rightly. But …Qd8? Perhaps there is some underlying motivation for it, but I can't see it — please let me know in the comments if you know what it is!
To me, though, it just looks like a horrid move. This is not because White can now whop off the c-pawn (which he does), that was likely to happen anyway and just evens material up. More importantly, Black is looking quite passive. However, bad decisions need the opponent to punish them and perhaps Fabiano could have done a bit better in this. After 13.Qxc4 a4, 14.Nd2 was a little too compliant to Sergey's aspirations. Ne5 may have been more in context, due to the pressure towards c6, semi-open b-file and the prowess of the Bg2 along the long diagonal. After 14.Ne5 Na5 15.Qb4 f6, White can choose between Nxd7 and Nc4 with an edge.
Although White also had an edge after their 14.Nd2 Na5 15.Qb4 Ra7 16.Rab1 b6, whether it is as good as the variation is open to debate. But if Fabiano did let Sergey off the hook a bit, he would have the favour returned by more questionable play by his opponent. 21…e5 was most certainly out of context and allowed the advance of the white d-pawn. The c-pawn would join it to bring about the following position.
Here, Black has inflicted a rather difficult position upon himself and 23…Ra5 harmed rather than helped. It is hard to know what else to play, though, the position is very bad and perhaps strategically winning. 23…bxc5 24.Qxc5 Nd7 is a possible alternative and after 25.Qc6, Black is struggling. As it was, after 23…Ra5 24.Qb2 Qxd5 25.cxb6 cxb6 26.Nc4 Rc5 27.Qxb6, Caruana held a very big initiative and Karjakin's huge blunder of 27…f6 was terminal.
This result makes it three draws and three losses for Karjakin, putting him in last position with 1.5/6. To say that this is extremely surprising would be an understatement.
The other games saw draws, but Magnus Carlsen had problems in his game with Alexander Grischuk. Magnus has been looking in very good spirits in this tournament, but I don't know, since his round-two win over Sergey Karjakin, he has seemed a bit lack-lustre. The World Champion had admitted to being "…punch drunk…" following that game, was he struggling to shake it off?
Strangely, the rest day might not have worked for Magnus. He does not tend to like them in tournaments and just wants to play. Maybe this is one of those cases and the day off had given him chance to realise how tired he was. Certainly his game against Alexander Grischuk almost cancelled his win over Karjakin out. The Russian Grandmaster is always a threat and had in fact beaten the World Champion at the Sinquefield Cup in 2015. Would he become his bogey player with regard to this tournament?
Throwback to 2015 when Grischuk beat Carlsen in the Sinquefield Cup https://t.co/1YkYLaH5oL #SinquefieldCup pic.twitter.com/xk7vluQ98n

— Lennart Ootes (@LennartOotes) August 24, 2018
Well, not really. Certainly, it wasn't Carlsen's finest game and he was very much worse for a lot of it. It is not often that he struggles to place his pieces and find activity, but this round was one of those days. However, in saying that, the way forward for his opponent to press was by no means clear. Certainly not as clear as chess engines make it out to be at times.
And once Black achieved his 20…Qf5, it was very difficult for White to play exactly the right moves to find the win. If, indeed, there was one there. Certainly forcing moves did not work, Grischuk's 21.Bxf6 only helped Carlsen and after this he was fine and they were repeating soon after. Grischuk, however, will be kicking himself for not having a go at 20.Nb6, which seems winning and Carlsen was not confident of holding. Infact, he told Chess.com that he was confident of not holding.
Grischuk vs Carlsen: Carlsen felt that his position was doomed after 20.Nb6, but Grischuk opted for 20.Rxa1 and the game was drawn.
The rest of the games were also drawn, one of which saw Levon Aronian having a lucky escape against Hikaru Nakamura. Playing Black, the Armenian Grandmaster made what was really an unforgivable mistake in the endgame. It should really have cost him the point, but his opponent let him escape by the skin of his teeth.
And so, all eyes turn to Saturday's seventh round, which will see reigning World Champion, Magnus Carlsen, take on his next challenger, Fabiano Caruana. Unless a huge surprise happens, this game will be the last they play before their title match in November. It could be exciting, it could be a dud. No one knows with these kinds of things. I always find it best to hope for the former while expecting the latter.
Standings after Round 6:
Caruana — 4.0
Mamedyarov, Aronian, Grischuk, Carlsen — 3.5
Vachier-Lagrave, Anand — 3.0
So — 2.5
Nakamura — 2.0
Karjakin — 1.5
Round Seven (Saturday 25th August, 13:00 local time): Aronian vs So, Anand vs Grischuk, Carlsen vs Caruana, Karjakin vs Mamedyarov, Vachier-Lagrave vs Nakamura.