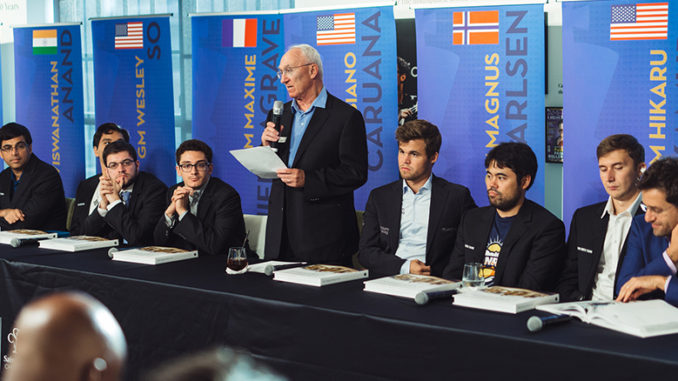 In every round of the Sinquefield Cup 2018, there had been at least one decisive game. Different victors had meant that five players were at the top of the standings table, with 2.5/4. These were, Magnus Carlsen, Fabiano Caruana, Shakhriyar Mamedyarov, Alexander Grischuk and Levon Aronian.
Round five was the final round before the one and only rest day of the tournament, what would it bring? It certainly would not be six leaders. For starters, that was not technically possible. Furthermore, the round was fairly quiet — arguably the quietest of the tournament with regard to play and intent. When it came to the results, it definitely was, with all points split.
Magnus Carlsen obtained some pull with White against Wesley So, but not quite enough to get a full point. The crux of the situation came down to the following position, with Wesley having played 22…h5.
White is clearly better, but Magnus didn't achieve anything very powerful after his 23.Rd6. Among other things, this allowed Black to whop the b-pawn off and his problems were pretty much solved. So, was there better available? Probably not. Though there were certainly other options than 23.Rd6, none of them seem to give White that extra something to be able to make progress. They drew by repetition in 51.
Maxime Vachier-Lagrave can't have been too surprised when Fabiano Caruana popped out the Petrov to his 1.e4 and 2.Nf3. He didn't seem to have too much cooked up for it though. White was a tad better for a while, but Black never seemed in any danger. After some liquidation they repeated and split the point in 40.
Hikaru Nakamura really needed a win in this round. After losing his previous two games, the American Grandmaster found himself at the bottom of the table with 1/4. Any aspirations of winning the tournament were no doubt over, (barring freak occurences), but a point or two would do his confidence the world of good.
Unfortunately for Hikaru, though he had a good go at it with the White pieces against Shakhriyar Mamedyarov, the recovery would not start in this round. He did stop the rot though, but after his 39.Qe4 and Shakh's 39…g6, it would just be with a draw. He may well kick himself afterwards for not showing a bit of patience and opting for 39.Kg2. It is a quiet move, but with the intent of Rh1, which even works against …g6. The problem for Black is King safety — or lack thereof.
In a similar position was Sergey Karjakin, who was keeping Nakamura company at the bottom of the standings. The Russian Grandmaster had lost his opening two games and so far had not managed to recoup those points. Also having White, Sergey didn't seem up for it against his countryman, Alexander Grischuk and they had a rather tame draw in 40 moves.
Finally, Aronian-Anand, which saw neither player getting anything out of the opening. The game saw steady but sure liquidation before they repeated.
The players get a day off on Thursday, then, before the concluding four rounds begin on Friday. Don't forget, we have Carlsen-Caruana coming up in round 7 on Saturday. Feel free to leave your thoughts and predictions for that in the comments.
Standings after Round 5:
Caruana, Aronian, Mamedyarov, Grischuk, Carlsen — 3.0
Vachier-Lagrave, Anand — 2.5
So — 2.0
Nakamura, Karjakin — 1.5
Round Six (Friday 24th August, 13:00 local time): Nakamura vs Aronian, Mamedyarov vs Vachier-Lagrave, Caruana vs Karjakin, Grischuk vs Carlsen, So vs Anand.