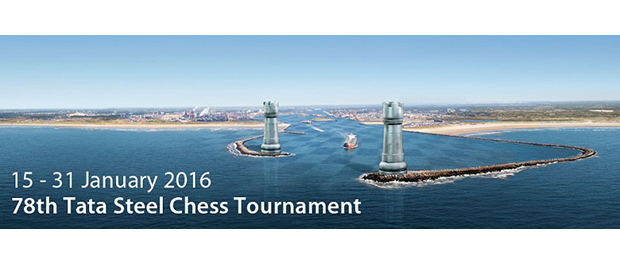 Round 7 of the Tata Steel Chess Tournament 2016, was held on Saturday the 23rd of January, in Wijk aan Zee. The round was opened by chess legend, Judit Polgar, and perhaps she proved an inspiration as the chess public were treated to a bloody round of chess.
Magnus Carlsen, playing the black side of a Catalan against Pavel Eljanov, won his third game in a row. Carlsen played agressively and this included varying from previous lines with his 11…Nd6. It seems that …f5 had been the chosen route up until then. He followed this with 13…b5 and 14…b4 and Eljanov seemed to under-estimate this, and just carried on with his own intentions, which proved, ultimately, to be a way too adventurous sacrifice of the exchange. Black was better, White had taken too much time with his undertakings, and his 3 pawns for the piece just wasn't enough, especially with a pair dubbled. It was then Carlsen's turn to give up the exchange, his rook (which had been sat on a8 doing nothing anyway), for two advanced passed pawns and White's light-squared bishop (which had been firing along the h1-a8 diagonal). From here, White's position deteriorated rapidly, and Black began to swamp it. Carlsen notched up the point in 34.
Shakhryar Mamedyarov recovered a point, at the expense of Yifan Hou. The number 1 women's player was holding things together quite nicely, but her pieces seemed to lose their potential, where White's had a harmony and came in to their own. Then, crucially, she went for the flawed 37…Nxa4? (…Be8!) This recaptured a pawn and evened up material, but at great cost. There followed: 38.Rxb8 Nxc3 and it seems that here, Hou may have missed Mamedyarov's 39.Bg4! This demonstrates the dominance of the White pieces, and the misplacement of Black's, especially the bishop on c6. Upon 39…Rxb8 there would follow 39.Nxc6+ and Nxb8, picking up a piece. I am very doubtful that if Hou saw this she would have allowed it. Or, perhaps she thought that her 39…f5 was adequate response. It wasn't. Mamedyarov played very powerfully, and ended up winning one pawn, then another, then another. At this level, going even one pawn down is a big thing, let alone three. Hou was soon resigning. A nice game from Shakh, this one, and it will hopefully do his confidence the world of good.
The Dutch derby between Loek van Wely and Anish Giri was no tame affair, with both players playing actively and positively in a Slav defence. The Queenside became bare and play clearly focussed on the Kingside. Problems came for White as his Kingside pawns became too advanced, which let Black slip into the air behind them. White's fianchetto'd bishop on g2 was shut in by a black pawn on e4. White was undoubtedly in a bind. The more that van Wely tried to free himself, the more that Giri tightened his grip and when pawns began to fall, the veteran Dutch Grandmaster was offering his hand to the leader of their new chess generation.
Things were niether here nor there in the closed Ruy of Caruana-Ding. That was until the rather wasteful 33…h5. The move looks a little out of context in itself, with 33…Qc5 or 33…Qd5 being slightly more appropriate. However, as it stood, White was allowed to build up on the Queenside far too easily with 34.Ra3 and 35.Rb3. It is likely that Black counted on his counter-play in the centre, with two nice connected pawns advancing up the board. However, White had this all in hand and was soon in a commanding position. Caruana converted the point in textbook style, patiently taking space and not allowing Black any play. Soon he was two pawns up and poised overwhelm the Black monarch — a nice game.
The rest of the games were drawn, which included Navara-Karjakin, which saw an interesting ending where Black had a Queen and White had Rook and Knight. Black seemed better, but the judgement Karjakin was that there was nothing for him there, and to split the point. Black was able to obtain an advantage in Wei-So, but the position was rather simplified and White was able to just be awkward enough that Black was happy to repeat and split the point. Tomashevsky-Adams was a rather uneventful Queen's Gambit Declined, in which niether player really looked like getting up to much.
After a slow start, then, Magnus Carlsen finds himself in joint lead of the tournament, along with Fabiano Caruana. They have five points from the seven rounds.
Standings after Round 7:
Caruana, Carlsen — 5pts
So, Giri, Ding – 4pts
Hou, Wei, Karjakin, Eljanov, Mamedyarov – 3.5pts
Navara — 3pts
Tomashevsky — 2.5pts
van Wely, Adams – 2pts
Round 8, Sunday 24th January 2016 13:30 local time:
Karjakin-Carlsen
Adams-Eljanov
Giri-Tomashevsky
Hou-van Wely
So-Mamedyarov
Ding-Wei
Navara-Caruana
It was bare knuckles stuff in the Challengers group, too, which saw Anne Haast notching up her first point. Haast was on 0/6 going into the round, but caught tournament group favourite Liviu-Dieter Nisipeanu good and proper in their Giuoco Piano. She equalised comfortably, White having a poor opening it has to be said, and by 14…Qh4, Black was better. Then came the thunderous 15.Nf3? (Bxf4 was necessary) and Black struck with 15…Nxh3! The finesse of the matter is Black's h7-bishop, cutting along the diagonal, and pinning White's f2-pawn to the King.
Upon, for example, gxh3, all that stops Black from delivering a powerful check on g3 is White's knight on e4 — the f2-pawn may as well not be there. So, if 16.gxh3 there would follow 16…Bxf2+ 17.Nxf2 Qg3+ with a humungous attack. I am quite surprised that a GM of Nisipeanu's calibre has made this kind of error. He chose 16.Kf1 and Haast played strongly and Nisipeanu found his position busted and was two pawns down. There was no way back for him, and he was soon resigning the point. A very nice game from Haast, and a nice way to get her score off the ground. Of course, it is very much damage limitation for her right now.
Adhiban Baskaran seized the tournament lead by defeating Alexey Dreev, with whom he had shared to top slot. Baskaran sacrificed a rook for activity and to hold his opponent's King in the centre and then another to grab bishop and Queen. It was a very powerful game, which will have hurt Dreev, no doubt.
Eltaj Safarli asserted himself as White against Mikhail Antipov. In the French Defence, Antipov had perhaps played a little too boldy with his 13…c5. Clearly, Black wanted to open lines towards the White King, which had castled long. Unfortunately, however, some patience was required, and it left White with an extra pawn and the initiative. Black never recovered.
Erwin l'Ami continues to have a surprisingly poor tournament. In this round he would lose with White to Jorden van Foreest, which would leave him with a tournament performance rating of 2484. That is just not where it should be for a player of l'Ami's quality. White found himself with an inferior endgame and Black pressed well, sensing blood. When he obtained a passed pawn on both wings, it was two much fo White to deal with, and the point was resigned.
The other games in this section were drawn. This, as I have already said, above, left Adhiban Baskaran in sole lead.
Standings after Round 7:
Baskaran – 6pts
Safarli – 5.5pts
Dreev – 5pts
Batsiashvili – 4pts
Nisipeanu, Antipov, van Foreest – 3.5pts
Bok, Ju, Sevian, l'Ami – 3pts
Abasov, Admiraal – 2.5pts
Haast – 1pt
Round 8, Sunday 24th January 2016 13:30 local time:
van Foreest-Admiraal
Bok-Abasov
Ju-Sevian
Haast-Batsiashvili
Antipov-Nisipeanu
Dreev-Safarli
l'Ami-Baskaran