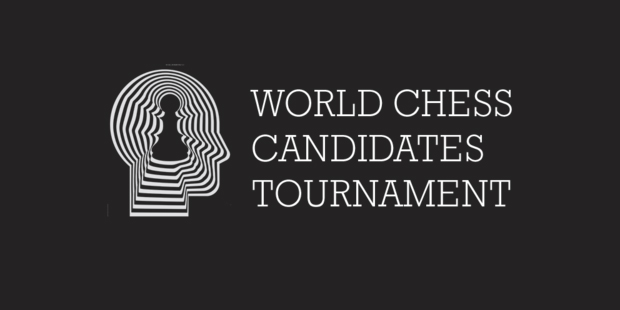 Round 13 of the FIDE Candidates Tournament 2016, was played on Sunday 27th March. The players had enjoyed their final rest day, (some more than others I imagine), the day before, and there was an air of excitement going in to this, the penultimate round. The tournament was looking like a three-horse-race, between leaders Fabiano Caruana and Sergey Karjakin (having chalked up 7-points from the 12-rounds so far) and Viswanathan Anand, a half point behind them.
This round would affect very little; the top positions would remain the same due to all but one of the games being drawn. The winner of the round would be Hikaru Nakamura, who kept up the momentum of his round-12 victory over Viswanathan Anand. His victim in this round would be former World Champion, Veselin Topalov, whose shocker of a tournament would continue.
Just as he had against Anand, Nakamura wielded a novelty, his 10…d4 deviating from the 10…Nxb4 (Lugovoi-Kovaljov, Tallinn 2011, 1-0), and 10…Be7 (Shishkin-Struk, Bydgoszcz 2000, 1-0), that had been seen before.
Topalov seemed well ready for it, taking a strong line: 11. exd4 Bxd4 12. Nxd4 Nxd4 13. Be3 Nf5 14. Qxd8 Rxd8 and obtaining the bishop pair. However, his continuation of 15.Be2 was perhaps a little tame and 15…Nxe3 16.fxe3 Ng4 17. e4 Be6! saw Nakamura with a slight but there initiative. Shortly after, Nakamura's knight would hop in to e3, crucially controlling the d1-square, and this enabled Black to line up his rooks along the d-file, unopposed.
Topalov fought, but was obviously struggling confidence-wise and just wanting the tournament to be over. A few overly-defensive moves gave Nakamura a bit too much of a free hand and he took a grip on the position. The flawed 33.Rg3? should really have given way to 33.Bc6 and after 33…Re2 34.Ra1? (after 34. Rxe2 Rxe2 35. Bc6 Rxe5 36. Rf3 Black still has to play very accurately to convert) …Nxe5, Black was very much dominating. The writing was on the wall and the game was over very speedily.
Joint leader going in to the round, Fabiano Caruana really wanted a point from Peter Svidler and went for it. The only thing was, that Svidler went for it also, and chess fans were treated to a very combative game. Svidler can be very pleased with the result from his opening play, and actually took the advantage as the players approached the time control. Whether this was a factor of his 34…Rae8 (…Rc8, …Rf8, …Qb5 were better choices) I don't know, but any initiative soon evaporated after Caruana's 35.dxe5.
The pendulum swung back in White's favour, and this included the winning of a pawn, and the creation of a passer. That was increased to 2-pawns and 2-passers to the good and things were looking rosy. 64.c5 looked a little hasty, however, and after 64…Kb7, this was proven to be the case. Though White was far better materially and positionally, Black had just enough spanners to put in the works. Perhaps due as much to frustration as determination, Caruana pursued his opponent like a man possessed until the point was halved on move 116.
The other joint-leader, Sergey Karjakin, obviously wanted a point also, and this produced another game of over 100-moves. However, unlike his partner at the top, Karjakin had the Black pieces – against Levon Aronian, who as it turned out, was up for a spat. They got in to an English Four Knights, which saw Black sac a piece for two pawns and a passer thrown in. It wasn't really enough in hindsight, especially once White had the passer under control. It was always White threatening any aggressive possibilities, but Black was able to parry these and ultimately save the point.
Viswanathan Anand and Anish Giri debated a Giuoco Piano in their rather unsurprising draw. Black will have been the happier of the two from the opening I should think, but did not seem to be playing with much ambition and the halved point seemed a case of 'when' rather than 'if'.
As I said above, the situation at the top of the leader board is unchanged, then, with Caruana and Karjakin leading Anand by a half point. Nakamura's win leaves Topalov in a rather lonely position at the bottom. All eyes will be on Karjakin vs Caruana in the final round.
Standings after 13 rounds:
Caruana, Karjakin – 7½
Anand – 7
Giri, Svidler, Aronian, Nakamura – 6½
Topalov – 4
Round 14, 28 March, 15:00 local time
GM Peter Svidler – GM Viswanathan Anand
GM Anish Giri – GM Veselin Topalov
GM Hikaru Nakamura – GM Levon Aronian
GM Sergey Karjakin – GM Fabiano Caruana