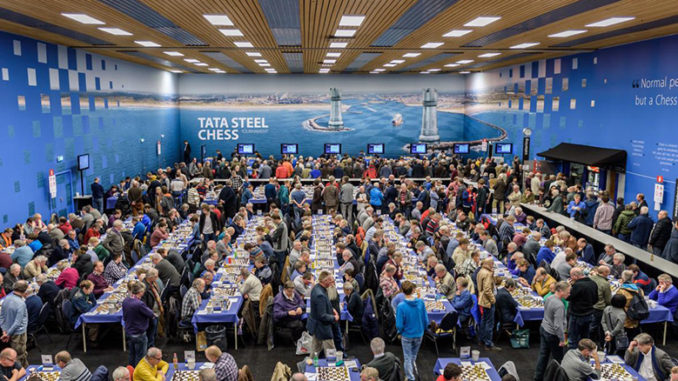 As if the previous round was not dramatic enough with its blunders and misses, this round of the Tata Steel Chess Tournament would stun spectators and players alike. It would see World Champion, Magnus Carlsen, defeated by Richard Rapport in their first ever game.
With no disrespect to Rapport, this result was completely unexpected, even though he would have the White pieces. There is no doubt that the Hungarian is an excellent chess player, but the gap between strong Grandmaster (even strong super Grandmaster) and Magnus Carlsen can be very wide indeed.
However, reputation is not enough when it comes to the battle of minds on the day and not even Magnus Carlsen can rely on it and rest on his laurels. This was made abundantly clear in the previous round, in which Magnus missed mate in three during his 123-move draw with Anish Giri. And perhaps still suffering from that game, he was not to reassert himself in this one.
Carlsen equalised well enough in the English Opening, and was for a time better. However, Rapport is a very plucky competitor and one of the best players at finding activity with his pieces, sometimes in the most 'out-of-the-box' ways. This makes him such an exciting player to watch.
And indeed in this game, he placed his pieces well. Carlsen's 22…d3 was perhaps a little over-ambitious, he really had to challenge Rapport's build up on the Queenside and would regret leaving him an active rook later on. White's 26.e4 and 27.e5 were allowed far too easily, forking the Black Queen and knight and forcing the sacrifice of knight for two pawns. After this, White was very much the better. Rapport attacked, and Carlsen's pieces became severely disorganised, shown in the following diagram.
Here, Black has played 29…Qe7 and at first glance seems fairly solid. However, Carlsen had completely taken his eyes off of his King. This allowed Rapport to strike with 30.Rb8+! Of course, 30…Ne8 was quite forced, but this allowed White to pile on the pressure with 31.Bc6! The threat here was simply Qxe5 and then Rxe8+. Carlsen's answer to this was inadequate, there followed: 31…Re1+ but this only allowed White to carry on with his intentions, 32.Qxe1 Qxe1 33.Nf1 and here, with 33…Kf8 34.Rxe8+ Qxe8 35.Bxe8 Kxe8 the best that Black can achieve, Magnus Carlsen resigned. He will be a piece down, and no match for White.
It is not easy to not find the last two games from Carlsen a little concerning. He is after all, the best player in the world and an extraordinary talent. However, he is clearly out of sorts at the moment and making oversights that are not expected of him. Missing a mate in three in his previous game with Anish Giri and walking into trouble against Rapport — both he and the public will hold himself to better. Whatever the reasons for these lapses, it will be interesting to see whether or not the World Champion can put them behind him and repair the damage.
As for Anish Giri, he was to fair no better in this round. The Dutch favourite would lose to Levon Aronian. Playing White in a Bogo Indian, Aronian got the better of things in the opening and confidently sacrificed rook for bishop and pawn. This led to a stable initiative, to which Black took up quite passive defence.
When Black gave the exchange back, (in order to liquidate a strong White bishop on d6), this resulted in a position in which White had a firm grip and was soon winning. Giri put up a staunch defence, but Aronian converted his advantage without problem.
Both players from the marathon draw of the previous round, then, had suffered in this round — perhaps their batteries were running a bit low? They will certainly be thankful for the rest day on Monday.
The other point of the round went to Baskaran Adhiban, who profited from a huge error by Dmitry Andreikin. Adhiban chose the Closed Sicilian in this game and it did not work out the best for him. That was until an error by Black opened an extremely wide door of opportunity.
In the position above, Black errs with 19…dxe4(??) After 20.Nxe4, the f6-square is a very prominent target for the White knight and would lead to mate. The same can be said for the g5-square. Stopping these threats is no easy task, 20…f6 would see 21.Nxf6 Rxf6 22.Rxf6 winning for White. Andreikin chose the alternative of 20…Nef5 and White struck with 21.Rxf5(!!). There followed: 21…Nxf5 22.Rxf5(!!) Qd4+ (otherwise Ng5 and Qxh7 mate) 23.Rf2 and White had picked up two pieces and a strong initiative for his rook. Black was never in the game from this point, Adhiban engaged in a fine controlled attack and Andreikin resigned just a few moves from being mated.
The other games were drawn and this saw Wesley So remain the leader going into the second rest day. So has been leader since his defeat of Pavel Eljanov in round five. Eljanov and Wei are keeping him honest, however, trailing by just a half point. Magnus Carlsen has some catching up to do if he wishes to add a record 6th Wijk aan Zee title to his tally, he is a whole point off the lead. Carlsen will have White against Loek van Wely in round nine on Tuesday, when surely his aspirations will be made clear.
Masters Group Standings after Round 8.
So — 5.5
Eljanov, Wei — 5.0
Aronian, Karjakin, Adhiban, Carlsen — 4.5
Harikrishna, Giri — 4.0
Wojtaszek, Andreikin — 3.5
Rapport, Nepomniachtchi — 3.0
van Wely — 1.5
Masters Group Round 9, Tuesday 24th January, 13:30 local time.
So – Aronian
Wojtaszek – Karjakin
Andreikin – Eljanov
Wei – Adhiban
Nepomniachtchi – Harikrishna
Carlsen – Van Wely
Giri – Rapport.
The Challengers Group saw only one decisive game, that of Dobrov-Lei, which ended in a win for White. This left Markus Ragger and Gawain Jones in the lead of the group, each on 6/8. Ilia Smirin is their closest threat on 5.5/8.
Challengers Group Standings after Round 8.
Jones, Ragger — 6.0
Smirin — 5.5
Xiong, Lu — 5.0
Grandelius, Hansen — 4.5
Tari, l'Ami — 4.0
Dobrov — 3.5
Bok — 3.0
van Foreest — 2.5
Lei — 1.5
Guramishvili — 1.0
Challengers Group Round 9, Tuesday 24th January, 13:30 local time.
Bok – Grandelius
Ragger – Tari
van Foreest – Smirin
l'Ami – Guramishvili
Xiong – Jones
Tingjie – Lu
Hansen – Dobrov.