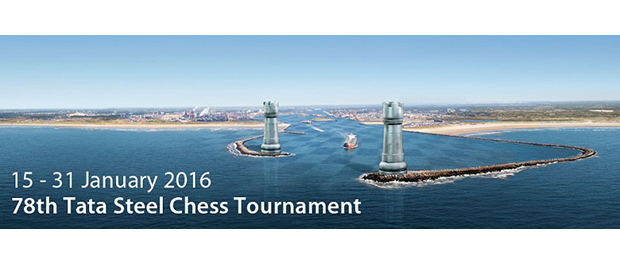 In round nine of the Tata Steel Chess Tournament, Michael Adams' lack-lustre campaign took a nosedive, when he lost with the Black pieces to Magnus Carlsen. Not that losing to Magnus Carlsen is anything of a disgrace, but Adams had seemed to be holding things together quite nicely. Once again, the Giuoco Piano came out and the position was around equal upon Carlsen's 24.Qd2. However, the players were both experiencing some time pressure, which may explain Adams' 24…Kh7? The move was too slow (…d5 was more positive) and allowed Carlsen to strike out with 25.f4! with an initiative. He then picked up a pawn with 28.Nxd6 and Adams found the knight so unpleasant that he sacrificed the exchange of a rook for it.
From here, Carlsen was poised to press, his rooks lined up along the d-file and his remaining knight causing absolute mayhem. All Adams' hope was in his nice, connected passed pawns on the Kingside, but his opponent would calmly give back the exchange for them, leaving him with an advanced passer of his own, and when he added another for good measure, Black's fight was over.
The opposite side castling position of Wei-Navara made for spicy play. In such positions, opening lines towards the opponent's King is the order of the day, and, with his rooks lined up on the g-and-h-files, Wei sacrificed a piece to do exactly that. This left Navara's monarch in a precariously open position. Wei pressed, and Navara's 20…Re7 didn't help his situation — 20…g5 was necessary, but even so, White was heavily better. White's attack mounted with speed, and White's position collapsed.
The other games were drawn, and mostly without event. An exception was Anish Giri, who had a good go at Pavel Eljanov's Catalan. However, when the Queens came off, it was looking like there was not much danger for either player to be honest, despite the computer evaluations to the contary. And when a pair of rooks were exchanged, the draw looked ever more likely. Fabiano Caruana and Sergey Karjakin took the gloves off also, but their Berlin came down to a dead draw in the end, and there was no option but to shake hands.
This meant that Magnus Carlsen has extended his lead to a full point, then, and if his competition want to stay in with a chance of spoiling his tournament, they will have to consider throwing caution to the wind. Round 10 will see the leader face Giri with the black pieces, and he still has to play So and Ding, who are only a point and a half off of his pace at this time.
Standings after Round 9:
Carlsen – 6.5pts
Caruana – 5.5pts
So, Wei, Giri, Ding – 5pts
Karjakin, Eljanov, Mamedyarov – 4.5pts
Navara, Hou – 4pts
Tomashevsky, van Wely – 3.5pts
Adams – 2.5pts
Round 10, Wednesday 27th January 2016 14:00 local time:
Karjakin-Adams
Giri-Carlsen
Hou-Eljanov
So-Tomashevsky
Ding-Van Wely
Navara-Mamedyarov
Caruana-Wei
The Challengers group proved dramatic, seeing all but two of its games decided. It was a largely Black day, also, with White claiming only two of the 5 wins.
The round would see Adhiban Baskaran lose his first game, with the White pieces to boot — and with it sole lead of the group. In game against Jorden van Foreest, White went for a speculative sacrifice with 17.Nxf5? and what it got him went heavily in to minus figures. White never recovered and each exchange emphasised the material difference even more and White called it a day.
Anne Haast had managed to win two games on the run following a -6 start to the tournament, could she keep it up? Well, unfortunately not. In her game as Black against Samuel Sevian, Anne found it very difficult to get any sort of activity. Sevian advanced and turned the thumb screws, and when he created an advanced passed pawn, his opponent's game was all but ruined.
Black equalised no bother in Batsiashvili-Antipov, the game seeing Black's King as his most advanced piece after 15…Kxf6. White's light-squared bishop proved a bit of a liability to him, being hemmed in by its own pawns, while Black's fired along the a8-h1 diagonal. Black edged up the board, but White had obtained a dangerous looking passed pawn, which made its way all the way to the 7th rank. Unfortunately, the pawn was more like a pretender, without much potential and it seemed to realise this and then commit suicide. It was then Black holding all the trumps and Antipov consolidated his position very nicely before working himself in to a checkmating position. Very nicely done.
Miguel-Bok saw Black delivering checkmate on his 33rd move. White was doing fine, but just seemed to under-estimate his opponent's threats and neglect his King. This is the worst error in chess, and he was rightly punished for it. His opponent used the device of the pin to maximum effect in a very nice finish.
Wenjun Ju will probably kick herself a bit after her loss to Nijat Abasov. Ju, playing Black, went from a much better position, to one of being much worse in the space of a move. Of course, this is no strange occurrence in chess. The crunch seemed to come upon White's 27.Qb1, when Black seemed to eager to exchange off a pair of rooks. This, unfortunately allowed White to seize the initiative, thanks to the vulnerability of Black's pawn centre. Abasov played powerfully, and Ju soon felt compelled to sacrifice her remaining rook for White's bishop and advanced passed pawn. It was nothing more than desperation, however, and did not save the point.
Eltaj Safarli would join Baskaran in the lead due to his draw with Erwin l'Ami. The game was a Giuoco Piano (I bet books on that opening have sold out during this tournament) and rather quiet. Niether player looked in danger, or seemed to threaten anything. Nisipeanu-Dreev drew a rather crazy-looking Caro-Kann.
Standings after Round 9:
Safarli, Baskaran – 6.5pts
Dreev – 6pts
van Foreest, Antipov, Sevian – 5pts
Nisipeanu, Bok – 4.5pts
Abasov, l'Ami, Batsiashvili – 4pts
Admiraal, Ju – 3pts
Haast – 2pts
Round 10, Wednesday 27th January 2016 13:30 local time:
van Foreest-Bok
Ju-Admiraal
Haast-Abasov
Antipov-Sevian
Dreev-Batsiashvili
l'Ami-Nisipeanu
Baskaran-Safarli