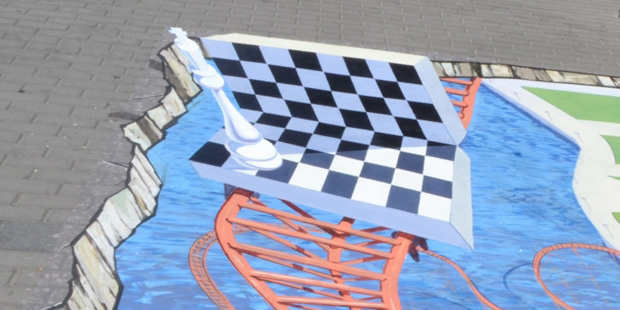 The 42nd Chess Olympiad is currently underway in Baku, Azerbaijan. 150 teams are competing in the Open section, with 140 in the Women's section. For this report I will concentrate on the Women's section, with a separate report for the Open section.
Round 1:
Just as in the Open section, round-1 saw a lot of 4-0 drubbings inflicted by the top teams upon their much out-classed opponents. It began with top seeds, China, taking a 100% score against Luxembourg. To put this score in perspective, though, Luxembourg's top board, Fiona Steil-Antoni, is rated over 250-points lower than China's lowest board. With no disrespect to Fiona and her team mates, this opening round draw was always going to be a tough task. Likewise, there were also 4-0 scores notched up by other favourites, such as Ukraine against Portugal, Russia against Scotland and Azerbaijan's first team (they have three in this event) totally outclassing Nicaragua. Georgia, India, the United States of America and Poland also started with clean scores.
By contrast to the Open section, all teams were paired as far as I can tell, but there were some no-shows. Liberia, Sierra Leone, Lesotho and Dijbouti, all defaulted their matches, to the benefit of Algeria, Jordan, Azerbaijan-3 and Belgium respectively. Other than this, all teams were present and correct.
Round 2:
China and Russia continued their winning ways in round-2, stamping their authority on Montenegro and Ecuador to maintain their perfect scores. However, elsewhere, the top teams were finding some resistance. In the Ukraine's match with Moldova, Mariya Muzychuk (2550) could only draw with White against Diana Baciu (2279). It was an extremely strange game by the former Women's World Champion, her Reti turned out to be a complete dud for her. Black equalised easily and was actually winning when the draw was agreed, 31…Rd1 being an absolute killer. No idea why it wasn't played, perhaps time issues or maybe the lower ranked player bottled it, but very strange to let one's opponent off the hook like that at this level. Luckily, this did not influence the match too much, the other boards all winning to give Ukraine a comprehensive victory.
Azerbaijan's top team won narrowly over their underdogs, Mexico, who put up a good fight. Zeinab Mamedyarova lost with White to her much lower rated opponent, Diane Carime Real Pereyra. With Narmin Kazimova drawing on board-four, it was down to Gunay Mammadzada and Aydan Hojjatova to carry the day for the home team. Luckily, they did, but all-in-all a shaky round. India also had a twitch in their match with Brazil. GM Dronavalli Harika (2542) lost to Juliana Sayumi Terao (2268) but India won the match 3-1. The United States of America won their match against Norway thanks to their US-Champion, Nazi Paikidze, who got the better end of the only decisive game.
'Never saw that coming' could be said regarding Georgia's 1½-2½ defeat at the hands of the Philippines. Nino Batsiashvili obtained Georgia's only point in the round. Nana Dzagnidze was held to a draw with White against vastly out-rated WIM Janelle Mae Frayna. As for Bela Khotenashvili (2463), she went down with Black to Jan Jodilyn Fronda (2128). Sadly, it was a bit of the same situation for Melia Salome, being bested by Catherine Secopito, who she out-rated by 300-points.
So, no doubt a few teams would want to pull their socks up for the next round. As things stood, there were 5 teams at the top of the standings, all with perfect scores: China, Russia, Lithuania, Italy and France.
Round 3:
In round-3, not many expected Vietnam to get very much out of their pairing with China, but they did, even if it was only shared spoils. The 2-2 result saw Yifan Hou getting the favourites a point, but Xue Zhao dropped hers, unfortunately. The rest of the games were drawn, and Vietnam would no doubt be feeling rather the more satisfied of the two teams. This would see China drop down quite a few places in the overall standings, to around 14th. By contrast, rivals Russia maintained their winning ways, a 3-1 victory over Uzbekistan meant that they would be in the #1 spot going into round-4. They were trailed by France, who dropped a mere half point against Colombia.
Dronavalli Harika's loss in the previous round showed just how close things can be in Olympiads, their comfortable win over the Philippines saw them in 3rd. Romania and Lithuania completed the top-five, both teams continued their campaign in good, solid style. Elsewhere, the Ukraine took victory by a point over the United States of America, Anna Ushenina being the point-scorer in that match. Inna Agrest brought Sweden in to the mix of things, also, by earning them a nice victory over Belarus.
Round 4:
Round-4 would see a lot of movement in the scoreboard and a wobble from China, as board-1, Yifan Hou had a point taken from her by Latvia's Dana Reizniece-Ozola, who is also the country's finance minister I believe. Playing the English Opening as White, Reizniece-Ozola showed great patience and vision in her build up on the Kingside and the Black position collapsed under the pressure.
A very nice victory over France in this round, would catapult the Ukraine up from 8th to 1st. The Muzychuk sisters, along with Natalia Zhukova notched up the points, with Inna Gaponenko wrapping up the solid performance with a draw. After their win over Belarus in the previous round, Sweden's bubble was unfortunately burst by Serbia in this one. Pia Cramling's win over Jovana Rapport, was the only score for the team, with the other boards losing. And just like that, Serbia were into second place.
Things really started to move around thanks to India being held by Israel, Romania being held by Azerbaijan-1, and Lithuania took a 2½-1½ loss to Kazakhstan. This left the top-five as follows: Ukraine, Serbia, Russia, Kazakhstan, Romania. The final round before the one and only rest day beckoned.
Round 5:
Round-5 would see more changes at the top, Ukraine being bumped from the top slot, despite them winning their match-up with Serbia 3-1. Russia dropped only a half point against Kazakhstan, which gave them the better tie-break. Both teams have won all five matches so far.
China were busily recovering their position, defeating Italy 3-1 in this round, Azerbaijan-1 defeated Germany by the same margin. Lithuania were dealt a blow in their campaign, by the United states of America, who won their match 2½-1½. India were held once again, this time by Vietnam.
Main standings, below, with 5 rounds played:
Russia — +5 =0 -0; score 10
Ukraine — +5 =0 -0; score 10
Romania — +4 =1 -0; score 9
China — +4 =1 -0; score 9
Azerbaijan-1 — +4 =1 -0; score 9
Hungary — +4 =0 -1; score 8
Georgia — +4 =0 -1; score 8
Poland — +4 =0 -1; score 8
India — +3 =2 -0; score 8
Turkey — +4 =0 -1; score 8
The players now have a day off, play continues on Thursday September 8th. To say it is very early days, would be quite the understatement.