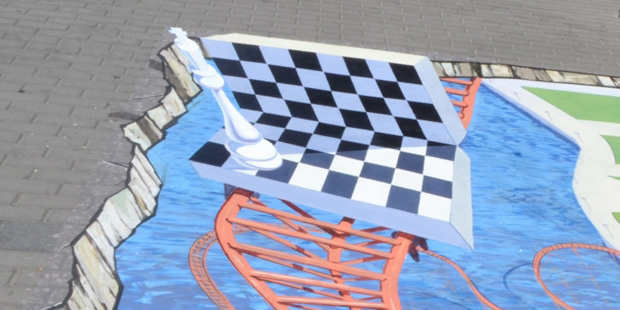 After playing five-rounds, the competitors of the 42nd Olympiad, held in Baku, Azerbaijan, had a rest day on Wednesday 7th September. Rest days can be strange things, helping some players no end, while really being detrimental to others. I was very curious to see how this one would work out when play resumed, on Thursday 8th September. As was the case in my halfway round-up, I will concentrate on the Open section for this concluding report, with a separate one for the Women's section.
Round 6:
The Netherlands may probably have wished that they had been able to skip the rest day and just go into round-6. They had been leading the standings table going into this round, but unfortunately could not keep the momentum up. They faced India and lost their first match, 2½-1½. The defeat was narrow, Erwin l'Ami dropping a point in among three draws, but defeat it was and would drop them down a couple of places. India would take over the lead at the end of the round. Meanwhile, there was an important tussle going on between the United States of America and the Ukraine. It would see the United States winning the match 2½-1½, thanks to Fabiano Caruana out-playing Pavel Eljanov. The threat of an outside passed pawn was used to full effect by the American board-1, and his Ukrainian counterpart would soon be in a mating net also. A very nice game, and it was very clear that the United States did not care about the event seedings. They hopped a few places to go second.
Russia resumed well, taking a 3-1 victory over Germany, but they were really rueing some earlier results, as this actually saw them drop from 8th to 9th place. It was clear that they would have a lot to do if they wished to win this event, half measures would not do for the rest of their matches. China were also not having it easy and were kept honest by Argentina in this round. Though China won the match 2½-1½, Wang Yue (2737) actually lost his game on the top board, to Sandro Mareco (2606). Still, it saw them move up from 10th to 6th place, so no harm done, but this could come in to play later on.
Elsewhere, Latvia managed to take a 2½-1½ win over Kazakhstan, despite Alexei Shirov's defeat on board-1. Their reward was to gain four places and enter the top-10. By contrast, Azerbaijan's first team would leave the top 10, losing their match with Romania. The Czech Republic and Georgia saw a draw right across the board, which kept the Czech Republic in 4th place, and saw Georgia move up one. These teams would be very positive about their performances in the event so far, consistent results seeing them right up there.
This saw the top ten standings as follows: India, United States of America, Netherlands, Czech Republic, Georgia, China, Ukraine, Canada, Russia, Latvia.
I think it is fair to say, that the favourites for the event, would be feeling more than a little miffed …
Round 7:
Round-7 saw some fireworks, not least a 3-1 drubbing of China by England. Michael Adams and Nigel Short both took points, from Wang Yue and Li Chao respectively. Unfortunately, this result could have been different, not through anything by the players, but due to the incredulous decision by the arbiters to subject Nigel Short to a security search during the game. It is totally normal to ask players to agree to searches before and afterwards, but I have never heard of this happening during a game before, other than in clear cases of suspicion.
An appalled Short refused the search and was given a warning as a result. However, he could well have been defaulted, which would have seen a 2-2 result. Arbiters have a duty to do all they can to protect players from cheaters, that is for sure, but their #1 duty is to ensure that all players keep to the rules, and to promote fair play. They certainly should not be doing anything that could influence or impact a game or match. It is very hard for me to see how any of this was the case in this instance, and I am glad that common sense won the day and that Short (who is many things, but I don't believe he has ever cheated in a game in his life) was not defaulted. Let's hope that common sense also prevails in future, and that this kind of thing just does not happen.
The drama continued in other matches, seeing the United States of America handing leaders, India, a 3½-½ drubbing to seize the lead. Canada tested Ukraine, also, with Evgeny Bareev defeating Pavel Eljanov and Anton Kovalyov holding Yuriy Kryvoruchko to a draw. Luckily for the Ukraine, Korobov and Volokitin took points to mean victory 2½-1½. Russia continued their late charge, dropping only a half point in their defeat of the Czech Republic. This would put them in 2nd behind the United States.
Another important clash, was Georgia-Romania. Baadur Jobava was having a really good tournament for Georgia, and took yet another point to the cost of Constantin Lupulescu. The other point scorer was Levan Pantsulaia, who defeated Bogdan-Daniel Deac in the 3-1 victory. And Georgia jumped another couple of places to 3rd. Home team, Azerbaijan-1 also took a very important 3½-½ victory over Croatia to re-enter the top 10. Elsewhere, Greece and Iran also had a good round, drubbing their opponents, Iceland and Mongolia respectively. This saw the standings as follows: United States of America, Russia, Georgia, Ukraine, India, England, Latvia, Azerbaijan-1, Iran, Greece.
Round 8:
Round-8 saw Russia taking on the United States, not only in this event but also in the Women's section. The women would win their match, while the Open eventers drew. Sergey Karjakin had Fabiano Caruana under pressure, however, perhaps 37.fxg7 was worth a try instead of 37.Qe5 which led to liquidation. Kramnik-Nakamura was never really a very tense affair and it was not a big surprise when the point was split. Points were shared on the other boards, Wesley So besting Ian Nepomniachtchi and Alexander Grischuk levelling things out against Ray Robson. Of the two teams, Russia will be the more disappointed, as the draw dropped them places, while the United States stayed top.
India defeated England in their match, the only decisive game going to Sethuraman against Short. It is not unthinkable that Nigel had other things on his mind after the events of the previous round. The result meant that India were once again just off the lead, in 2nd place. Georgia's Baadur Jobava was on +4 =2 -0 going into this round, and would make it +5 by defeating the Ukraine's Ruslan Ponomariov … in 21-moves! Playing White against the former FIDE Champion, 15.Nf5! and 17.Bh6!! were absolute beauties, and his opponent folded quickly. Unfortunately, that was Georgia's only score, as the Ukraine took victories on the other boards and won the match 3-1. This saw the Ukraine leap-frogging Russia in to second place.
Elsewhere, Azerbaijan-1 brought themselves back into the mix, with a 2½-1½ victory over Latvia. It was a tough match, seeing draws on the top boards, with Eltaj Safarli taking a point against Nikita Meskovs to clinch the result. Norway were pulling off a 3-1 victory over Peru, but boy did Emilio Cordova give Magnus Carlsen a good run for his money. The World Champion was much worse at one stage, but managed to make a couple of nice exchanges to alleviate the tension. Part of the fascination of chess, is that things can change in the blink of an eye, and this was the case in this game. From being much better, Cordova found himself much worse, his 39…c4?? was a very big mistake, and one can not make those against Carlsen and expect to get away with it — he didn't.
Finally, China were dealt a blow in their campaign, losing their match against Hungary. Zoltan Almasi was the clincher in that one, with Li Chao losing out. The wheels had definitely come off of the Chinese bus and Li Chao had lost his last three games. The standings, with three-rounds left, were as follows: United States of America, India, Ukraine, Russia, Azerbaijan-1, Norway, England, Latvia, Netherlands, Hungary.
Round 9:
In round-9, the United States kept up their momentum, handing Norway a 3-1 defeat. The tie saw Magnus Carlsen wielding the Scandinavian Defence to Fabiano Caruana's 1.e4 and doing fairly well with it. White had a comfortable game, though, before the players repeated and agreed a draw. Wesley So also drew, against Tari Aryan, but full points went to Hikaru Nakamura against Jon Ludvig Hammer and Samuel Shankland against Frode Urkedal. The USA held the top spot yet again, then, and one had the impression that they were not going to be shaken from it very easily.
Indeed, Ukraine could not topple the USA, even with their victory over India giving them an extra match win than the leaders. Unfortunately, they also had an extra loss and remained in second place. Russia seemed to have got their act together, making rather light work of Azerbaijan-1. Radjabov and Naiditsch both surrendered points, to Kramnik and Grischuk respectively, while the other boards drew. Despite this result, one would have to say that things had not gone according to plan for Russia in this event, and they were in damage limitation mode. They were certainly not masters of their own destiny at this stage and this victory left them in third place.
England were having a good tournament, but I think they will be quite disappointed with their 2-2 draw against Iran. Adams and Howell could only manage draws and McShane lost to a player rated the best part of 200-points lower than him. Gawain Jones was the saviour of the day for the team, taking a win on board 4. Elsewhere, both Georgia and the Czech Republic continued to produce, both earning 2½-1½ results against Hungary and the Netherlands respectively. China were white-washing the Faroe Isles 4-0 — a bit of a much needed result that, for self respect and confidence as much as anything.
Two rounds to go, then, and things were poised as follows: United States of America, Ukraine, Russia, Georgia, Czech Republic, India, Canada, Azerbaijan-1, Iran, England.
Round 10:
The penultimate round saw a tight match between Georgia and leaders USA. Jobava-Caruana saw a tense game in which neither player gave an inch. The American was slightly better in the end, but found his Georgian opponent as stubborn and resilient as ever, and they split the point. However, things got shaky on board-2, Hikaru Nakamura falling to Miheil Mchedlishvili, who totally got the better of things. It was left to Wesley So and Samuel Shankland to win the match for the leaders, which they duly did. The United States would go into the final round with the title to lose.
The Ukraine stopped the Czech Republic's charge, dealing them a 3-1 loss. David Navara and Vlastimil Babula dropped points, with the other boards being drawn. India-Russia saw shared fortunes and ended a tight 2-2 result. Call me bias, but result of the round, for me anyway, went to England, who pulled off a narrow victory over Azerbaijan-1. Nigel Short and Gawain Jones took the full points in the 2½-1½ victory.
Meanwhile, Norway were giving Iran a nightmare of a match by dropping only a half point, while China were being held by Belarus. The Chinese team just haven't seemed to fire on all cylinders in this event for some reason. Anyway, going in to the final round, the standings were as follows: United States of America, Ukraine, Russia, Canada, India, Norway, Slovenia, England, Peru, Italy.
Round 11:
The final round of what has been a very interesting event, dawned. It would see the United States of America winning gold for the first time since 1976 (held in Haifa, Israel). They tied up their victory facing Canada, who put up some resistance as was to be expected. Hikaru Nakamuru drew with Black against Anton Kovalyov and Samuel Shankland lost with Black to much lower rated Eric Hansen. Fortunately the White boards faired much better, with Fabiano Caruana and Wesley So both winning, against Evgeny Bareev and Alexandre Lesiege, respectively. 2½-1½ to the United States, then, and the Gold would be theirs.
It would need a tiebreak, though, as the Ukraine also finished strongly, winning their match against Slovenia 3½-½. This victory put them on the same score as the United States, (20-points), but the USA had a better tie-break score, 413,5 to 404,5 (all rather complicated, if you are curious as to what that refers to, you might be interested in the following FIDE page, section 'G'), if you can make sense of it, please then explain it to me. Anyway, USA Gold, Ukraine Silver.
And it was left to Russia to bring up the rear and take the bronze medal. They did this by beating Italy 3-1 in the final match, along with expectations it has to be said. Vladimir Kramnik and Alexander Grischuk were the point scorers, with Evgeny Tomashevsky and Ian Nepomniachtchi drawing. A solid finish, then, but I feel that the team will be a bit disappointed overall.
Other teams having a good round, were Azerbaijan-1, who defeated Turkmenistan by 3-1, and France, led by Maxime Vachier-Lagrave, bested the Czech Republic by the same margin. China also got their act together for the last day, defeating Vietnam 3-1. This would see China finish in 13th place. Rather un-achieving one has to say. Poland also pulled off a 3-1 win over Spain, to finish in 7th place.
India and Norway scuppered each other really, with their 2-2 draw. India finished just out of the medals in 4th place, with Norway in 5th. England can be very pleased with their 9th place, their best result for quite a time. They drew their final match with Peru. Georgia will probably be a little disappointed to have finished with a 2½-1½ defeat to Turkey, which put them in 24th.
Final Standings:
United States of America — +9 =2 -0; score 20, TB 413,5
Ukraine — +10 =0 -1; score 20, TB 404,5
Russia — +8 =2 -1; score 18, TB 419,0
India — +7 =2 -2; score 16, TB 350,5
Norway — +7 =2 -2; score 16, TB 344,5
Turkey — +7 =2 -2; score 16, TB 341,5
Poland — +7 =2 -2; score 16, TB 331,0
France — +6 =4 -1; score 16, TB 326,5
England — +7 =2 -2; score 16, TB 323,0
Peru — +7 =2 -2; score 16, TB 306,0
So, the United States of America took a victory that will probably have tasted slightly sweeter than the one of 40-years ago, when Russia (then the Soviet Union) were among the communist countries not competing for political reasons. On this occasion, they came and conquered all. Many commentators, fans, spectators had tipped them to win regardless of other teams being seeded above them. And it is really no surprise, with young, hungry players and a dedicated and experienced support network. I think a very big factor of this victory, is that the team wanted it the most and it is quite just that they got it.
My congratulations to them and all the competitors for a well fought event.