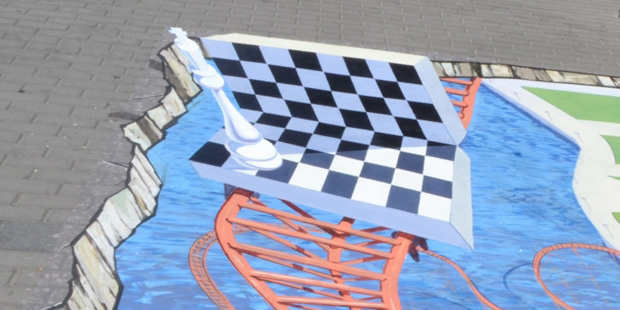 The 42nd Chess Olympiad is currently underway in Baku, Azerbaijan. 150 teams are competing in the Open section, with 140 in the Women's section. For this report I will concentrate on the Open section, with a separate report for the Women's section.
Round 1:
The opening round saw no surprises — and not necessarily in a good way. There was the usual spate of no-shows and defaults, with Angola, Madagascar, Uganda, Kenya, Rwanda, Seychelles, Eritrea and the Central African Republic not being paired. There was some speculation that this was due to visa issues, but this was denied by the organisers. Malawi and Mexico were paired, but presented at the board with too few players, (there must be at least 3) and were not allowed to play.
When it came to the live transmission, there were glitches too, which is par for the course in my experience. With so many games to cover, there are bound to be one or two gremlins. Baku did not disappoint, with the odd wrong move here and there, and scores actually being switched. At one time, the English team were shown to be 2-points down to their opponents, the International Braille Chess players Association, leaving their supporters having fits I am sure. However, they were in actual fact 2-points ahead and ultimately won their match 4-0. Big phew on that one.
When it came to the chess, everything went pretty much according to expectations. Swiss tournaments often see opponents matched unevenly, and with all due respect to them, outclassed. 4-0 results came in with gusto, inflicted by the top teams on some of the less well equipped. Infact, from the top 10 teams, only Hungary failed to notch up a 100% score, dropping a half point to Japan (Almasi vs Nanjo). Nigeria will already have felt a little hard done by, facing top seeds, Russia in the first round. Their task was made even harder by the defaulting of their board-4, giving Alexander Grischuk a free point. On the other boards, GM's Karjakin, Nepomniatchi and Tomashevsky were in fine form in notching up the 4-0 score.
Perhaps the most notable result in the round, was Bulgaria's 2-2 draw with Sudan. There is a huge difference in the firepower of the two teams, even without the participation of Ivan Cheparinov or Kiril Georgiev, Bulgaria's board-4 (Martin Petrov) is rated 2458, while Sudan's board-1 (Samir Nadir) is rated a mere 2199. Ok, ratings are just numbers when all is said and done, and we have all beaten higher rated players and lost to lower rated ones; but still, at this level Bulgaria should really have shown more authority than they did. In Norway's clash with Wales, Grandmaster Jon Ludvig Hammer was held to a draw by IM Richard S. Jones, rated 2396. Thai FM Uaychai Kongsee (2285) never seemed in any danger against Germany's Grandmaster Georg Meier (2654), who was perhaps a little too willing to simplify. Their game was a 49-move draw.
Round 2:
Round-2 saw Magnus Carlsen play his first game in the event, for Norway, against Bangladesh. The World Champion played 1.e3 against his opponent, Enamul Hossain (rated over 400-points lower than him). Apparently, it is the first time that Carlsen has wielded the Van't Kruijs opening, but in a way it makes sense that he will mix things up a bit, what with his World Title match against Karjakin coming up rather quickly. The game transposed into a Nimzo-Indian and as might be expected, Carlsen was soon stamping his authority on the game, launching a Kingside assault on his opponent with 19.g4, 20.g5, 21.h4. With his opponent cramped and hemmed in, Carlsen steadily built up the pressure, before his final push of 31.f6! After 31…g6, there followed the straight-forward 32.hxg6 fxg6 33.Bxg6! and it was done and dusted.
Vladimir Kramnik also entered the event, contributing to Russia's 4-0 victory over Turkmenistan. The exchange Ruy was perhaps not the most ambitious opening choice from his opponent, Maksat Atabayev, who clearly sought simplification. Unfortunately this played in to Kramnik's hands, presenting him with quick equality. White then seemed a little unsure as to how to proceed, and this allowed Black to switch theatres of operations, 34…Qa4 saw White already in trouble and 35…Rxd3! was the beginning of the end. A nice, controlled game from Kramnik.
Elsewhere, there were also clean sweeps for Azerbaijan's first team (Mamedyarov, Radjabov, Mamedov, Naiditsch) against Macedonia; and the United States of America, who completely dominated their match-up with Scotland. Caruana, Nakamura and Robson all took points, and Shankland a draw. Unfortunately, he blundered in his game against Colin McNab. It all started with the questionable decision to castle long on his 12th move, and then completely losing his sense of danger as his opponent lined up along the c-file with 13.Qc2. Then came the lemon of 13…Nd5? which was embarrassed by 14. b4! Still, credit to him, he managed to hang on and limit the damage.
China will probably be a little disappointed to have dropped a half point in their match against Belgium, Wei Yi (2717) being held to a draw by FM Nicola Capone (2373). The game was an epic of almost 100-moves, which saw Wei Yi seizing the best of things in the end; but try as he might, he just could not convert. Talking of epics, another occurred in the pairing of Indonesia v England. This saw IM Muhammad Lutfi Ali (2411) going up against GM Michael Adams (2738). The Ruy Lopez Breyer, lasted 166-moves!
All in all, 7 teams (Russia, Azerbaijan-1, Poland, India, Netherlands, Turkey, Canada), were still on 100%, making up a total of 38 on 2/2. Rather disappointingly, the problems regarding some teams still persisted from round-1, with even more being unpaired in this round. I am not sure if I think this will be solved to any great extent for future rounds.
Round 3:
Round-3 saw things beginning to even out, as far as pairings were concerned anyway, and GM's were largely matched against GM's. This was at least the case on the top boards. Russia were still going well and made a 3-1 job of Moldova, Nepomniachtchi and Grischuk scoring their full points. Azerbaijan's top team was also continuing its run of good form, with a comfortable 3-1 win over Hungary. However, the wheels fell off of the Polish bus, with them being bested by Cuba in this round. Again, it was the bottom boards deciding they day in the 2½-1½ score. And so, Russia, Azerbaijan-1 and Cuba, made up the top three at the end of this round.
Of the other teams, the United States of America continue to go well, two draws and two wins with White saw them notch up a 3-1 victory over Argentina. When your line-up is Caruana, Nakamura, So and Robson, though, good results should be expected. Elsewhere, the Netherlands were also looking very strong and consistent, with three wins in a row. Their victims on this occasion were Vietnam, Anish Giri's 60-move win over their top board, Quang Liem Le, deciding the day. Playing White, Anish had no problems in taking an early edge in their a6-Slav, and when he obtained the bishop pair in a rather open position, things were starting to look very positive. It was clear that it was going to take a long campaign to convert the point, however, but though Black defended cooly, White's technique won through. A nice game from him. World Champion, Magnus Carlsen could not continue his winning ways from round-2, drawing with Black against Constantin Lipuescu of Romania in Norway's 2½-1½ loss.
Round 4:
Arguably, this Olympiad is one of the most competitive in recent times, and indication that Russia were not going to have things all their own way despite being top seeds, (if any was needed), came as they suffered their first loss in round 4, at the hands of Ukraine. It was actually no big surprise, Eljanov vs Kramnik was a tussle between two solid players, and unless at least one of them was willing to take risks and push the boat out a bit, it was always likely to be a draw and that is what happened. The Queen's Gambit Declined, Hastings Variation, did not produce much tension in the position and though the game lasted 58-moves and saw White always the better, the point was split. It was also not a huge shock that former World Champion, Ruslan Ponomariov, got the better of Evgeny Tomashevsky with the Black pieces. Ponomariov is a very under-appreciated player in my opinion, and capable of scoring against anybody. Tomashevsky took an early edge in the game, building up on the Kingside. He thrust his g and h pawns forward, rooks behind them and even had time to walk his King over to the Queenside out of the line of fire.
Technically, the game was that of an opposite side castling position, even though both had castled to the same side. Unfortunately, the Russian took a little bit too much time shuffling and waiting, and this allowed his Ukrainian opponent to equalise. White was then guilty of some over-ambitious play, and his sense of danger deserted him, 41.Rh1? should have given way to 41.Qh3. As it was, he was soon two pawns down without compensation. Black didn't look back. Boards 3 and 4 resulted in shared fortunes, with Anton Korobov walking himself into a mating net to the benefit of Ian Nepomnichtchi and Alexander Grischuk dropping a point to Andrei Volotikin. Again, it was a sense of danger failing, Grischuk's 23.f4? allowed Volotikin's Queen to penetrate to e2 and pick up a pawn and from here, the Ukrainian had far too much power.
Elsewhere, China and the Netherlands were continuing to perform strongly, with the latter absolutely routing England 3½-½. This saw a little of a conflicting feeling for myself, being an Englishman living in the Netherlands, but oh well, life isn't meant to be easy. China's top two boards decided the day in their tussle with Italy, giving them a 3-1 win and this put them at the top of the table for the end of the round. They were closely followed by Azerbaijan-1, who won their match against Romania 3-1. At the end of the round, a total of 6 teams had won all of their matches and were separated only by the game scores.
This would change in round-5.
Round 5:
Round-5 would be the last before the one and only rest day of the event. It would turn out to be quite telling and would see the Netherlands occupying the top spot at the end of it. It is perhaps fair to say that this was not entirely expected, with all due respect to them, but was totally just. The team had been performing extremely solid and up to this point were only four draws from a perfect score. In this round they were paired against Belarus, who held them on all boards but one. Hero of the round for the Netherlands was Benjamin Bok, who took the full point against Kirill Stupak. This could have been different, however, 28.Rd1? was flawed and had White gone for 28.Bg2 instead, then the match result could have been the other way around. As it was, the tide turned in an instant, and Bok benefitted further from his opponent's 31.Rb1?? White's King became a sitting target after 31…Bxb4+ and the game was soon over. Anish Giri will probably be a little disappointed with how his round went, playing White against Sergei Zhigalko, his Guioco Piano did not work for him at all, and Black soon had the better game. Had Zhigalko opted for 29…Nxe4 rather than his 29…b4, allowing Giri to simplify, Giri may not have escaped with half a point. A 2½-1½ victory, then, but a sigh of relief or two for sure!
Elsewhere, the Ukraine were still going well. They had a tough pairing in this round, facing China who were top of the table. It was a tough, fighting round, with Wei Yi's 32-move draw against Andrei Volokitin being the shortest. The average number of moves in the other games was 54. In among them was Yuriy Kryvoruchko's win over Yu Yangyi, and this score carried the day and would bump China down to 10th place, and see Ukraine in second. Another important match-up was Azerbaijan-1 against India. Both teams had been going well, and were lying in 2nd and 4th place respectively. Both sides went for it, but the win eventually went to India and very soundly, 3-1. Points were dropped by both Shakhriyar Mamedyarov and Arkadij Naiditsch, who had been on 4/4. Their spoilers were Pentala Harikrishna and Santosh Gujrathi Vidit, respectively.
Top seeds, Russia, recovered from their defeat in the previous round, to take a nice 3-1 win against Egypt. There were 3-1 wins for the United States of America and Canada also. Georgia dropped only a half point in their tussle with Spain. All these teams were nicely placed at the halfway stage, with the Netherlands, Ukraine and China being the only teams on 5/5, they occupied the top of the table. Main standings, below, with 5 rounds played:
Netherlands — +5 =0 -0; score 10
Ukraine — +5 =0 -0; score 10
India — +5 =0 -0; score 10
Czech Republic — +4 =1 -0; score 9
United States of America — +4 =1 -0; score 9
Georgia — +4 =1 -0; score 9
Belarus — +4 =0 -1; score 8
Russia — +4 =0 -1; score 8
Azerbaijan-1 — +4 =0 -1; score 8
China — +4 =0 -1; score 8
The players now have a day off, play continues on Thursday September 8th. Obviously, there is very little in it when it comes to the standings, so things can change on a knife-edge.