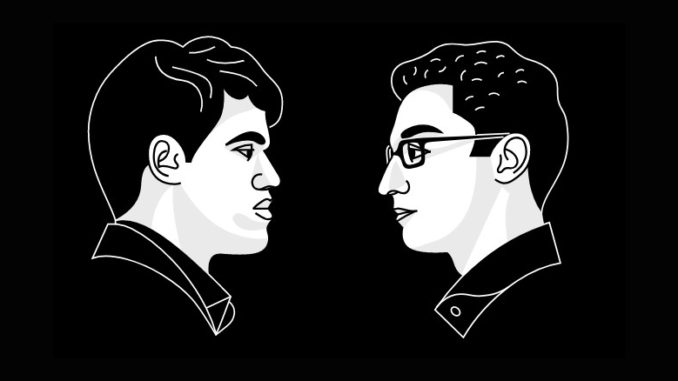 It was a change of suit for Magnus Carlsen for game two of his World Chess Championship match against Fabiano Caruana. Away went the dark and in came the light as he donned a light grey number. It mirrored exactly the situation at the board, as the Champion swapped the Black pieces of game 1 for the White ones in this round.
Unfortunately, it didn't mirror the British weather, which is typically damp and gloomy and Fabiano Caruana especially had caught some droplets.
The Chess World watched and waited to see what this game would bring. Carlsen had started the match off with a confident start to the first game and had great winning chances. However, his resilient opponent had demonstrated his tenacious side, surviving the trying situation he had found himself in to earn himself a half point and deny the World Champion a dream start to his title defence.
In this game, Carlsen would be in charge of the beginning, he had the potential to dictate play right from the off, could he steer himself into an advantageous position again?
Carlsen 's Turn For A Dud With White
The answer, was a resounding no. The game was quite the carbon copy of the previous game, but with the players reversed. It was Carlsen who suffered a total failure with the White pieces, not achieving anything from the opening. In the Champion's words, he quickly found himself in "…full grovel mode," after a bit of an, "…oh shit!" moment.
That came, namely, with Caruana's 10…Rd8(!?) which was an obscurity that he had obviously done some work on at home. The most crucial test of this was 11.Nd2, but Magnus did not feel it was the moment and went for 11.Bd2, which he found safer. Perhaps that is the case, but his 15.Ne5(?) was a bit too much and threatened to backfire on him. According to the Champion he had taken Black's option of 15…Bd6, here, a bit too lightly.
From here, it was a case of securing the draw and he set about simplifying and exchanging pieces. This gave him a worse endgame, but one that wasn't too much trouble to hold. Luckily for the players, journalists and spectators alike, today's game did not drag on after it was clear that neither side would be achieving the point. The players called it a day in 49 moves.
Something To Think About
At the press conference afterwards, Magnus was very candid about his flop with White in this game. He made no secret that it had not gone his way and that he had to a certain extent shied away from what he expected was Caruana's prep. He knew 11.Nd2 was the way to test 10…Rd8, but had gone safer with 11.Bd2. I found it especially revealing when he said that he was not only playing Fabiano and his team, but also the computer.
Caruana will no doubt be much more satisfied with this game as Black than his White of round 1. He will feel that he is now completely on level ground and has sent Carlsen a message that he has come well armed. I should think that this was something that the Champion was well aware of already, but will be fully reminded none-the-less.
They will now have a day off on Sunday, which is also Armistice Day. Perhaps it is fitting, then, that chess shows how the fiercest of battles can come to a peaceful resolution, and end with respect and a handshake. The players will now go away, take stock, try to learn from their mistakes, and come back fresh on Monday.
Perhaps the leaders of the World –the World handed to us by the people we pause to remember at the eleventh hour, on the eleventh day of the eleventh month– should play more chess?