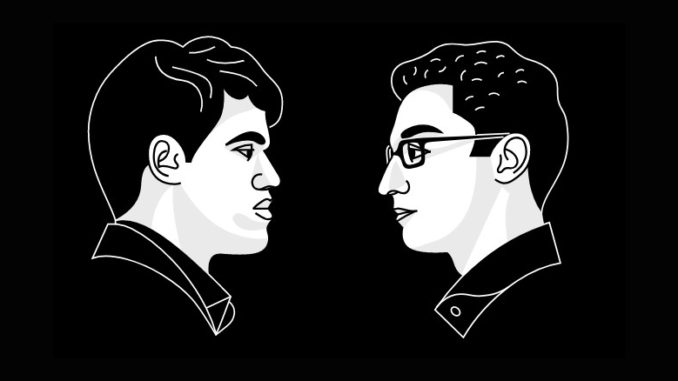 Hello from London my dear reader! For the next few weeks, this city is not only the United Kingdom's capital, but also chess's capital! And we will get to that after a slight digression…
I would like to start with an apology, namely for the halt in blogging these last few days. Unfortunately my start to this World Championship trip has not gone as I intended. Perhaps the closure of the road to the airport on the morning of my flight (making me an hour late) was a sign of things to come. I didn't really believe in omens before, but I have to say, that is gradually changing.
When I got to my hotel, I had a couple of days to do some relaxed build-up blogging before it was action stations. I thought so anyway. Unfortunately, HOTCH had other ideas. The damn site threw a tantrum at my new IP address and locked me out! I finally regained access yesterday, thanks to my Wife tweaking a few settings for me from home, and here I am. Hopefully you find that a good thing!
Ok then, with that out of the way, back to the chess and hopefully we will be interruption free from now on!
Henrik Carlsen: Magnus is Ready
The first event that I attended here, was the opening press conference. I am not going to get into that too much because you will no doubt have read all the quotes and suchlike by now.
However, one thing I will say is that when Magnus Carlsen first arrived and sat down, my feeling was that he looked extremely hacked off. He had a very hard stare and was looking around rather more like a boxer than a chess player. Fabiano Caruana looked his usual calm self, emotionless, trying to get used to the spotlight. The difference in body language was extremely noticeable to me.
Anyway, you may be wondering what the relevance of this is, considering the post is about Game One? Well, the thing is, after the press conference, I went to talk with Magnus's Father, Henrik Carlsen. I have the greatest of respect for Henrik, he is a very pleasant person and I always enjoy talking to him.
I asked him how Magnus was and I added that it was off the record. In truth, I was actually asking out of concern rather than any journalistic motivations as Magnus had seemed out of sorts to me for a while. Henrik replied, "Off the record … and on the record [therefore I am quoting him] … he is fine. He is ready now."
For me, this was extremely powerful. The relaxed tone in this Father's voice, the total confidence and belief in his Son, the lack of doubt or concern. That unsaid feeling that Magnus knows what he's doing and all is well. It spoke volumes to me.
And this leads us nicely into Game One.
A Game Of Two Halves
I was lucky enough to be one of the photographers allowed to take photographs on the stage as the players arrived (trust me, luck had nothing to do with it and this is a whole other tale in itself). I watched Magnus make the same stern entrance and sit at the board with the same hard expression on his face that he had for the press conference. This expression, this demeanour, now held a whole new meaning for me.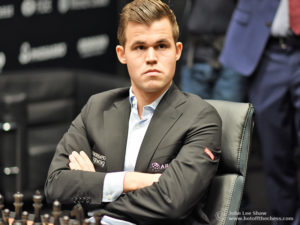 Of course, Fabiano Caruana would have White in this first game. The first move was made by Hollywood megastar, Woody Harrelson, who proceeded to make the wrong move (playing 1.d4 instead of Fabiano's 1.e4) and followed that up by knocking his King over. We would later find out that this was intentional and Woody's idea of a joke. We will come to this again later.
Anyway, Fabiano was able to adjust his move and Magnus replied 1…c5. Right off, then, we had a Sicilian on the board. No more joking, things had become very serious. Unfortunately for Caruana, he found himself on the wrong side of the seriousness. Whether it was nerves, (bound to not have been aided by Harrelson's antics), or surprise at the Sicilian (Carlsen does not whop 1…c5 out often), we will have to wait and see, but the American had a seriously tough day at the office.
In truth, he suffered. Magnus Carlsen quickly got into the game, equalised and castled Queenside, the opposite wing than his opponent. Magnus said in the press conference later, that he showed that he was not necessarily playing for a draw as Black in this game — correct, and this was one of the moves that demonstrated it. It came immediately after Fabiano's out of context 16.Ng4(?) which the Challenger said he regretted immediately after playing it.
He had good cause.
Move by move from here, Magnus Carlsen became better and took more of a grip on the game. Fabiano's activity suffered, his King's position suffered. Magnus started to make threats and expose weaknesses and this caused his opponent to start to use time solving them. This, in turn, meant that White's clock situation started to suffer too.
It seemed that the World Champion was going to start the defence of his title with a win.
However, just like their game at the Sinquefield Cup in Saint Louis just a couple of months ago, when Caruana also quickly landed himself in trouble against the World Champion, but escaped with a draw, so it was this time too. In Saint Louis, Magnus had concentrated too little (in my opinion anyway) and I think that here in London he perhaps concentrated too hard. He started to use too much time also and begin to not see the wood for the trees.
Some moves started to appear that were just not good enough to take him all the way. It came down to the tiniest of margins, but ultimately Fabiano survived by the skin of his teeth. This turned out to be just a few seconds on the first time control.
And after this time control, the game turned from the brilliant to the bizarre. As it turned out, it was only around a third in. In an endgame that offered little to no winning chances –unless Woody Harrelson came along and plonked another piece on the board– the players seemed to settle in for the night. It was not until move 115 that they finally shook hands and agreed the draw.
There is nothing much to say about this, other than that it was a waste of their energy. Personally, I can't make much sense in playing certainly the last forty-five-percent of the game. It did not achieve anything, other than letting the preceding bit down.
It did not even set the record as the longest World Chess Championship game ever (Karpov-Korchnoi, 1978, 124 moves). And no, it is not even the second longest World Chess Championship game ever either, (Carlsen-Anand, 2014, 122 moves). This left me to ponder what it was all about, as captured by chess photographer extraordinaire, David Llada …
Finally I got to meet @JohnLeeShaw in the flesh! pic.twitter.com/8QPsXjF8cr

— David Llada ♔ (@davidllada) November 9, 2018
Shared Spoils, Shared Toils
It is a question of perspective as to which of the players will be more satisfied with this game. On one hand, Fabiano started badly and landed himself in extremely hot water, while Magnus started confidently and managed to create serious chances with the Black pieces. On the other hand, those chances were not taken and this is very unusual for Magnus Carlsen. Fabiano Caruana weathered the storm and seemed to emerge from it stronger.
At the press conference afterwards, neither player seemed happy and neither seemed unhappy. They just seemed tired after their marathon encounter. Fabiano Caruana did, however, seem rather displeased to learn that Woody Harrelson had deliberately messed up the start of the game. Caruana's face reddened and as he took a drink of water, there seemed to be a shake of the head.
I understand this and I feel for him. It is nervy enough to be playing your first World Championship game against a Champion like Magnus Carlsen, without having something like that disrupt your composure and concentration. Even worse, is when it is done by a countryman who happens to be a fan of the other guy. I think this raises an interesting question about neutrality of first move VIP's. This kind of thing should not happen in my opinion.
Anyway, Woody enjoyed his day here at the Championship and joined Anna Rudolf and Judit Polgar in the commentary. They are wonderful, by the way and kept going through this marathon game with few breaks. Considering that half of the game was unnecessary, they kept the audience entertained until the end, which is a great achievement!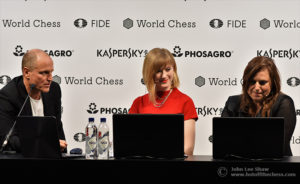 As for Fabiano Caruana, he will be relieved to have notched up half a point and will feel that he is in this match now. Magnus Carlsen will feel that he missed a chance to seize an early initiative by not getting the full point. I think that it is accurate to say that he probably had not expected the chance to come straight away and that will make missing it all the more vexing.
For me, this means that the World Champion is still to prove his readiness — a few years ago, he would now be leading by a point.