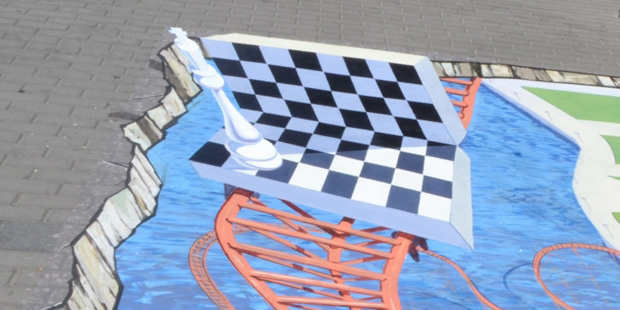 The 42nd Chess Olympiad will open on September 1st, (round-one, September 2nd), in Baku, Azerbaijan. Staged in the city's Crystal Hall, (a $350-million, 25,000 capacity stadium, built to host the 2012 Eurovision Song Contest), the event will consist of two sections, Open and Women. 180 teams will contest the Open section, with 142 doing battle in the Women's section.
Russia (Kramnik, Karjakin, Nepomniatchi, Grischuk, Tomashevsky) start the Open section as top seeds, with a combined rating of 13,802. There are several threats, however, the United States, China, Ukraine, and Azerbaijan's first team (they have 3), among them. And there are also spoilers and dark horses in the mix, in what looks to be a very competitive field. Hopefully the players will be rolling up their sleeves and hungry for blood.
When it comes to individual players, Magnus Carlsen again leads the pack, with Vachier-Lagrave, So, Giri, Topalov, and home favourite Mamedyarov also. The most notable absence is Viswanathan Anand, who skips the event, not for the first time. Vassily Ivanchuk will also not be present, and is reported (by chess.com) to be playing a draughts tournament instead. Also, Armenia have chosen not to play the event in Azerbaijan, due to tensions between the two countries.
In the Women's section, things are looking a little different, with China (Hou, Ju, Zhao, Tan, Guo) putting out a rating of 12,655. Ukraine and Russia will both be looking to prove the seeding wrong, however. The section sees Dronavalli, Kosteniuk, Cmilyte, Dzagnidze, Stefanova, and the Muzychuk sisters also among the field.
Format
Teams are made up of four players and one reserve. Time control is as follows: "90 minutes for 40 moves and 30 minutes until the end of the game, with 30 seconds additional time per move, starting from move 1, per player." Draws offers are not permitted until the game reaches 30 moves and more. Play will begin at 15:00 local time, (12:00 London, 07:00 New York, GMT/UTC 11:00 check your time here), with players expected to be present at the board 15 minutes before or risk being defaulted.
Baku
Divided into 11 districts, Baku is a major port on the Caspian Sea, and as such has seen a great deal of investment and development over recent times. Oil and gas production has been just one of the industries that has put the port on the map. Azerbaijani is the official language, but Russian is also widely used. Though the main population is Muslim, Baku is a multi-ethnic city where those with other beliefs are also welcome and made to feel comfortable.
As has also been referred to, above, Baku and it's Crystal Hall are no strangers to staging events, the 2012 Eurovision Song Contest was a success, and it also staged the 2015 European Games. Jennifer Lopez, Rihanna, and Shakira have all held concerts there.