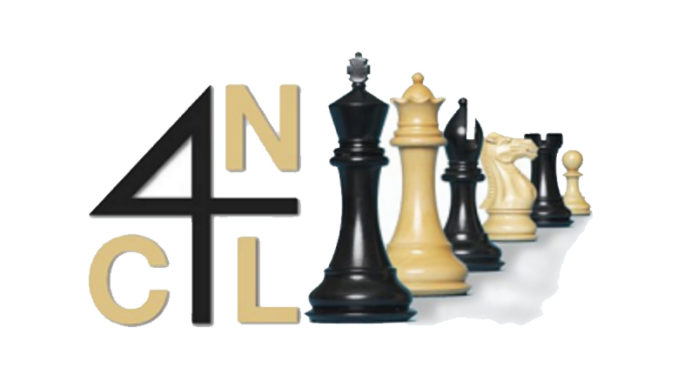 Weekend three (rounds five and six) of Britain's 4 Nations Chess League (4NCL) 2016-17, took place 11-12 February. Division one would play at the Park Inn, Northampton. The Division contains sixteen teams, which are split into two 'pools' of eight. The same goes for Division Two, who also played at the same venue. For reasons of time and space, this blog will concentrate on Division One, currently being commanded by Cheddleton 1 and Guildford 1.
Round Five
Round five of division one Pool-A, saw Cheddleton 1 in dominating form against South Wales Dragons, drubbing them 8-0! This was no huge surprise on paper as Cheddleton 1 vastly out-rated their opponents. And to make matters even harder for South Wales Dragons, they were also a player short and defaulted on their bottom board during the weekend.
Top board for Cheddleton 1, was Grandmaster, David Howell, who got the better of Katarzyna Toma as White in a Neo-Grunfeld. The game was going quite ok for Black until she had an awkward knight on b4, which led to the loss of a pawn. From here, Howell piled on the pressure and exchanged into a much superior endgame in which Black was powerless.
Howell's teammates also won their games, including Tamas Fodor, who won a rather comfortable English Bremen as Black when White just seemed to focus too much on his own intentions and got caught out. Keith Arkell won a dominating Queen's Indian against David James, who got a combination wrong early on and never recovered. Fiona Steil-Antoni, had a very relaxed round, profiting from her opponent not showing up to claim a default point.
In other results, Guildford 2 also won their round against Kings Head, with an 8-0 whitewash. 3Cs 1 narrowly defeated Barbican 1 4.5-3.5 — a win for Stephen Gordon on board 2 was the decider there with the rest of the games drawn. Celtic Tigers lost 3-5 to Blackthorne Russia.
In Pool-B, Guildford 1, were in fine form against Wood Green HK, beating them comprehensively, 7-1. White Rose 1 had a similar result against Barbican 4NCL 2, taking a 7.5-0.5 victory. North East England got a very good 5.5-2.5 win over Anglian Avengers 1, who out-rated them on paper but were outplayed over the board. Oxford 1 lost narrowly to Grantham Sharks 1, 3.5-4.5.
Round Six
Round six of Pool-A, saw the two white-washing teams of round five, (Cheddleton 1 and Barbican 1), facing each other. This saw Cheddleton 1 come out on top 5-3.
There were four decisive games, with Cheddleton taking three of them. Vladimir Hametivici overcame Lorin D'Costa with the Black pieces, but this was balanced out by Cheddleton's GM Tamas Fodor losing with White to Barbican's IM Alan Merry. Deciding the day were Cheddleton 1's FM Ezra Kirk, who took a point at the expense of FM Samuel Franklin and GM Simon Williams, who completely butchered FM Peter Sowray in a Modern Defence. The game, which doesn't really need any comment, is below. An absolutely vicious assault by Williams.
Other results were, Guildford 2 who showed some authority over Blackthorne Russia, with a 5.5-2.5 win. South Wales Dragons (defaulting a board again) suffered another heavy defeat, 6-2, at the hands of 3Cs 1, and Kings Head won their match against Celtic Tigers 5.5-2.5.
As for Pool-B, Guldford 1 continued their good form, drubbing Grantham Sharks 1 by 7.5-0.5. White Rose 1 also dominated their match with North East England, taking victory 7-1. The other matches were a little closer, Barbican 4NCL 2 and Wood Green HK taking 5.5-2.5 victories over Anglian Avengers 1 and Oxford 1, respectively.
Standings:
Approaching the crucial seventh round, (as detailed in the 4NCL basics, below), the Division one standings after six rounds are as follows:
Pool-A: Cheddleton 1 — 12; 3Cs — 10; Guildford 2 — 8; Barbican 4NCL 1 — 6; Blackthorne Russia — 6; South Wales Dragons — 2; Celtic Tigers — 2; Kings Head — 2.
Pool-B: Guildford 1 — 12; White Rose 1 — 10; Wood Green HK — 8; Grantham Sharks 1 — 8; Oxford 1 — 4; Barbican 4NCL 2 — 4; North East England — 2; Anglian Avengers 1 — 0.
---
---
4NCL Basics: Official Website
– contains four divisions based on strength.
– The top two divisions each contain sixteen teams, split into two pools of eight (approximate matching strength) by the 4NCL committee.
– After round seven, two new pools are made, combining the top half of each pool to make a 'Championship' group and the bottom half to make a 'Demotion' group.
– Only points earned against each other are carried forward for following rounds.
– At the end of the Championship, four teams will be demoted from division one to division two and for teams from division two will be promoted to division one.
– Other divisions play according to the Swiss format.
– The 4NCL also contains a separate Junior competition.