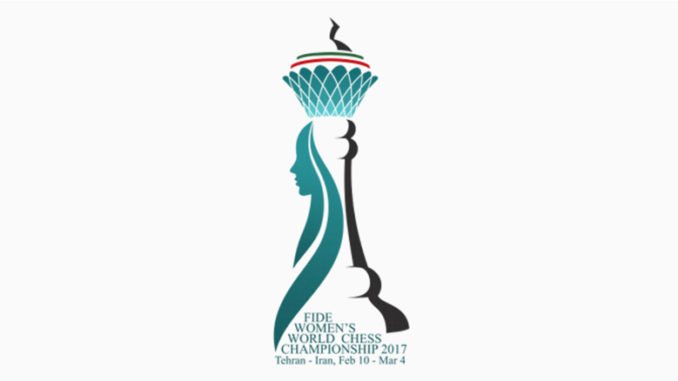 The Women's World Chess Championship, is being held in Tehran, Iran, February 10th to March 4th. It is a six round, knockout tournament. Each round consists of two classical games, with tie-breaks if the scores are level.
Round One began with a moment of silence in honour of Cristina-Adela Foisor, who had been scheduled to play in the event, but had sadly passed away in January. After this, the gloves came off and battle commenced with gusto.
Game One
Rating is just a number, but in many cases, games went according to plan. Top seed, Ju Wenjun defeated bottom seed Nancy Lane, who landed herself with an absolutely horrid light-squared bishop. In addition to this, Lane had a very backward c-pawn, which eventually fell to her opponent's power along the c-file. From here, she quickly lost to tactics along her second rank.
Second seed, Anna Muzychuk also won her game against sixty-third seed, Amina Mezioud, and quite convincingly. Playing Black in the Caro-Kann Breyer, Anna had by far the best of the opening. White played far too passively and her position began to look quite uninspiring. Gradually, Black's position began to look better and better, even when White picked up a rook and pawn in exchange for a pair of knights. In the end, White's pair of rooks were no match for Black's bishop, knight and rook.
Alexandra Kosteniuk did not have the best of openings against Sabrina Latreche, who opted for the Anderssen variation against the Ruy Lopez. It worked very well for her, but having built up some pressure, Latreche was a little too eager to exchange with her 15…Bxf3+ (…Qh6!) and from here seemed to go to pieces. White was soon picking up a rook in return for a bishop and Kosteniuk had very little trouble thereafter.
Wins also went to Valentina Gunina, Antoaneta Stefanova, Zhao Xue, Nino Batsiashvili, Pia Cramling and Sopiko Guramishvili.
Things were not so easy for fourth seed Harika Dronavalli (2539), however, who was held to a draw by Akter Liza Shamima (2077). Likewise for Zhongyi Tan (2502) who drew with Sabina-Francesca Foisor (2272). Draws also went to, Natalia Pogonina, Lilit Mkrtchian, Monika Socko and Elisabeth Paetz. These players would have to win their second games in order to proceed directly to the next round.
Elsewhere, there was some drama, as Nana Dzagnidze (2525), lost with White to Mona Khaled (2150). Natalia Zhukova (2447) also surrendered a point to Nino Khurtsidze (2383). And Melia Salome (2394) took the lead over her closely matched opponent, Ekaterina Atalik (2435).
Game Two
Game Two saw Ju Wenjun proceed straight into Round Two of the tournament, with a 2-0 match win over Nancy Lane. This was to be expected of course, the two were out-matched and this showed in their games, which Ju totally dominated. This was especially the case in the second game, in which Ju was Black. Nancy took to a Colle, which is fine but one has to have a clear plan or it can quickly become a disaster. That is what happened, White just didn't get going, becoming lumbered with a very bad bishop and Black took over the position very quickly.
Other 2/2 winners, were Anna Muzychuk, Antoaneta Stefanova, Nino Batsiashvili, Alexandra Kosteniuk and Valentina Gunina. These were joined in the next round by the following, who did enough with a win and a draw: Anna Ushenina, Dinara Saduakassova, Zhongyi Tan, Shiqun Li, Alina Kashlinskaya, Aleksandra Goryachkina, Natalija Pogonina, Pia Cramling, Elisabeth Paehtz, Rout Padmini, Pham Le Thao Nguyen, Zhu Chen, and Nino Khurtsidze — the latter putting out Natalia Zhukova.
Olga Girya also advanced to the next round, having no opponent due to the passing of Cristina-Adele Foisor, as mentioned above.
The rest of the match-ups had to be decided by tie-break play-offs, which was good news for Nana Dzagnidze, because it meant that she had tied her match against Mona Khaled. Ekaterina Atalik also lived to fight on, levelling against Melia Salome.
---
---
Tie-Breaks
The tie-break play-offs during the Championship begin with two 25/10 rapid games. If the score is still tied, two 10/10 games follow. If needed, two 5/3 blitz games will be played, before a deciding 'Armageddon' game is played. In this instance, White has five minutes and Black four, but White must win or be eliminated.
All in all, there were eleven match-ups that needed tie-breaks. Of these, nine were settled in the rapids. This saw Zhao Xue, Harika Dronavalli, Nataliya Buksa, Sopiko Guramishvili, Olga Zimina, Shen Yang, Anastasia Savina, Melia Salome and Huang Qian progressing.
Two pairings were left to be decided and these went to 10/10 games. Nana Dzagnidze's experience paid off in these games and she defeated Mona Khaled 2-0. The other pairing, between Anastasia Bodnaruk and Mitra Hejazipour, went all the way to Armageddon and saw Bodnaruk win with White to complete the line up for round two.
Some surprises already, then, with shock losses and some players rather unpredictably being taken all the way. This is testament to the fighting chess that is being played. We wait to see what round two will bring …