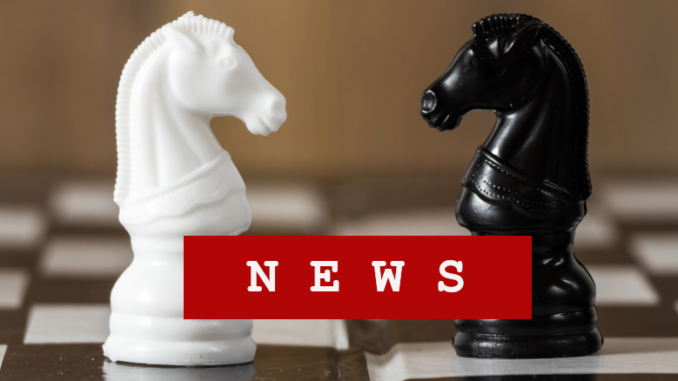 On Tuesday, November 12th, I had the pleasure of attending a press conference at Tata Steel's headquarters in Velsen-Noord, The Netherlands. The purpose of the press conference, was to announce the players for the Masters group of the 2020 edition of the Tata Steel Chess Tournament. That is of course just a couple of months away, getting underway on January 10th. It will be staged in its now well-established home of the Dutch coastal village of Wijk aan Zee.
At the press conference, tournament Director, Jeroen Van Den Berg, announced the field as follows: Magnus Carlsen (NOR 2870), Fabiano Caruana (USA 2822), Anish Giri (NED 2776), Ian Nepomniachtchi (RUS 2773), Wesley So (USA 2760), Viswanathan Anand (IND 2757), Yu Yangyi (CHN 2753), Jan-Krzysztof Duda (POL 2748), Vladislav Artemiev (RUS 2731), Alireza Firouzja (IRI 2720), Jeffery Xiong (USA 2712), Daniil Dubov (RUS 2676), Vladislav Kovalev (BLR 2674), Jordan van Foreest (NED 2632).
I will get into the players more in my 'run up' piece on the tournament, coming in the new year. For now, I will just say that the selection is no doubt going to raise some eyebrows. It mixes established and seasoned campaigners, such as Carlsen and Anand, for example, together with up-and-coming future potential, currently being shown by the likes of Firouzja and Xiong.
As exciting as this is, circumstances have 'helped' somewhat. Jeroen Van Den Berg admitted that he had found it a little more of a challenge to entice players to the tournament for 2020. He mentioned that 2019 had seen a busy period for many, and some players wanted a break. Others wanted to use the beginning of the year in order to prepare for 2020, which was not going to be a quiet time either.
Next year is of course a World Championship year. Accordingly, those who have qualified for the Candidates Tournament, (starting at the end of March), will want to be fully focused on that. Himself a candidate, Anish Giri, acknowledged that he would be using his 'plan B' in Wijk aan Zee.
Giri was present at the press conference, not only in his capacity as the home hopeful for Tata Steel 2020, he also gave some supporting information on each of the players. This was at times extremely humorous. For example, Anish informed the room that Ian Nepomniachtchi takes losing extremely badly. Apparently, after one loss, Anish had come across Ian, who was sat on a bench and dared not say anything for fear that he would … "mij kapot slaan," — roughly (and tastefully) translated: knock two pails out of me.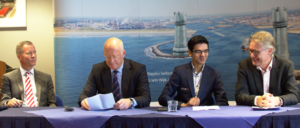 Also present at the press conference, were Robert Moens, who is the spokesman for the Tata Steel Chess Tournament, as well as the Director of Tata Steel in the Netherlands, Theo Henrar. Mr. Henrar spoke of how chess can connect people. In that spirit, the tournament will join with the elite football club PSV, (Phillips Sport Vereniging — lit: Phillips Sports Union), in Eindhoven, as well as the local council of Eindhoven, for its 'Chess on Tour' fixture.
This will see round 5 of the Masters group played at the stadium of PSV. There will also be many other events staged around it, such as seminars and tournaments. In both Eindhoven and Wijk aan Zee, there will be special tournaments for the young. "In this way, we connect elite sport, together with the development of talent and physical and mental vitality," said Henrar.
For the last few years, the tournament has held two 'Chess on Tour' rounds, but the excursion to Eindhoven is the only round away from Wijk aan Zee this time around. This is very much a sign of the current economic climate. I spoke with Myra Rooselaar, Chairwoman of the Tata Steel Chess Tournament, who told me that it was very much a matter of using what resources were available in the very best way — "absolute quality over quantity."
That's it on the Tata Steel Chess Tournament for now. What do you think of the 2020 field, dear reader? Are you already getting excited for January 11th when play gets underway? I know I am, especially because I got a stinker of a cold this year and could only attend 1 day!