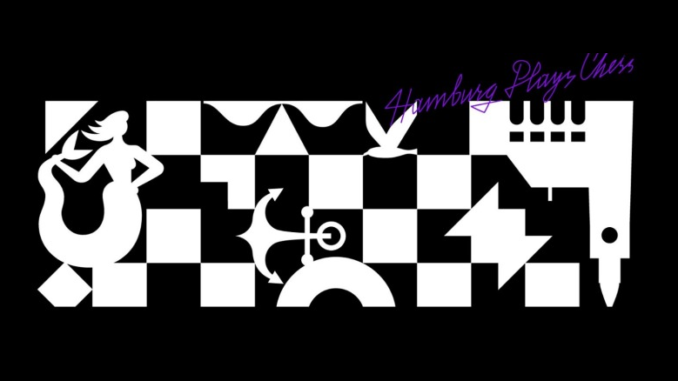 The FIDE Hamburg Grand Prix 2019, has been won by Alexander Grischuk. The Russian Grandmaster, beat Jan-Krzysztof Duda of Poland, 3.5-2.5 in the final.
The tournament had opened on November 4th, in Hamburg, Germany, and had seen 16 of the top players in the world, vying for the title. The Grand Prix's knock-out format, had seen these whittled down to 2.
Neither of the finalists had had an easy route. Grischuk had eliminated Wojtaszek, Navara, and Vachier-Lagrave to book his place. As for Duda? Nepomniachtchi had been his first victim. He had then gone on to best Yu, and, survived by the skin of his teeth, before knocking out Dubov in the semi-final.
The players will no doubt have been very thankful for the rest day between the semi-final and final, giving them time to recharge their batteries and prepare. Who would emerge victorious, and take that winners medal and Grand Prix points? And let's not forget, a not small matter of €24,000!
Well, the answer would be Alexander Grischuk. Perhaps this comes as no surprise to many fans, who would perhaps see him as a slight favourite based on his vast experience. However, Jan-Kryzsztof Duda was not without his chances and certainly seemed equal to the task of this match. Indeed, he led it at one stage.
Nothing could separate the players in their 90-minute games. Both games were drawn without too much ado. When it came to the tie-breaks, things spiced up rather drastically, with both rapid games being decided. The first was won by Duda, who got a super position as White in the English Bremen. Perhaps it is true to say that he was handed it, however, by Grischuk going pawn grabbing, with 15…Bxe2(!?).
The problem with this decision, was that Grischuk's Queen wasn't in the healthiest of positions. It was immediately vulnerable to 16.Rf5, as shown in the diagram, above. Though the Queen survived, the initiative that taking the pawn handed to White was no small thing and Duda didn't look back. The first to draw blood, he also had the initiative in the match.
Following this game, it was up to Alexander Grischuk to win the second 10-minute game if he was going to save the match and take the tie-break into blitz. At least he would have the white pieces, and therefore an element of control. He used this wisely, making sure that he had an open, flexible position.
I rather suspect that Duda had gone into the game not wanting to do anything heroic, being quite content to exchange down and draw, thus securing the match. He can't be blamed for this of course, but sometimes it can be the wrong approach, resulting in passivity and the opponent having too much of a free hand.
That is what happened in this case. Duda didn't really get into the game in any pro-active way and Grischuk's position steadily grew in influence. This began with the Russian winning a pawn and would culminate in him poised to win a piece. The diagram, below, shows the final position of the game, with Black to move.
Obviously, Black's back rank is disastrous. Due to the threat of mate on f8, his knight must remain in place, to be picked off by Qxe8. With Black having to concentrate on stopping mate, the bishop will be next to fall. Duda resigned — a very nice finish by Grischuk.
With the match levelled, the tie-breaks went to blitz chess. And it was in this section, that Alexander Grischuk was able to stamp his authority on the match. The first game, with him as White in a Slav Defence, was quite frankly a rout. The game saw the players castle on opposite wings, and Grischuk wasted no time in opening lines. At one point, he was a straight 3 pawns down, but the activity he had obtained was extremely powerful. All of his pieces began to descend on Jan-Krzysztof Duda's King. Soon, Grischuk had claimed a rook for those 3 pawns.
Anyone doubting the talent that Alexander Grischuk has at a chess board, should really take a good look at this game, the endgame of which is especially instructive. It is a very fine example of chess indeed and it earned him a much deserved point in 60-moves.
And so, Jan-Krzysztof Duda, found himself in the position that Alexander Grischuk had been in not long before. He had to win the second game, in order to force an Armageddon play-off. Unfortunately, this task proved too much. Though he went for it as White in a Four Knights, he was not able to gain the activity needed to threaten his opponent. Grischuk controlled the game extremely well and ultimately seized the initiative.
A draw was agreed on move 45, but this really did not reflect the situation on the board, which saw White complete toast and about to lose material. However, the draw was all Grischuk needed — the match, and the tournament, was his.
The spoils of victory in this tournament, mean that Alexander Grischuk leaves Hamburg with the winner's medal, and €24,000 richer. He also took 10 Grand Prix points — 8 for winning the tournament and an extra 2 points for winning 2 matches without tie-breaks. This takes his Grand Prix total to 20-points and €48,000 prize money.
Grischuk leads the Grand Prix standings, with Maxime Vachier-Lagrave in second position, with 13-points. However, the Russian's Grand Prix 2019 is now over, having taken part in Moscow and Riga also (the players each take part in 3 of the 4 tournaments). Vachier-Lagrave will keep the French flag waving, taking part in the final tournament of the year, in Jerusalem, starting on December 11. Needing 8-points to overtake Alexander, Maxime will be seeking to win the tournament, while wanting to also decide his matches outright, notching up as many bonus points as he can.
Of course, the top two finishers of the 2019 Grand Prix, also qualify for the 2020 World Championship Candidates match, scheduled to be played in Yekaterinburg in March/April 2020, so there is a lot at stake still in Jerusalem. While only Vachier-Lagrave can threaten Grischuk at the top, Vachier-Lagrave himself must be vigilant. With Shakhriyar Mamedyarov just 3-points behind him and Ian Nepomniachtchi 4, (both of whom will be playing in the final Grand Prix), he cannot afford to have a bad time in Israel if he wants that candidates place.
And that is where all eyes now turn.