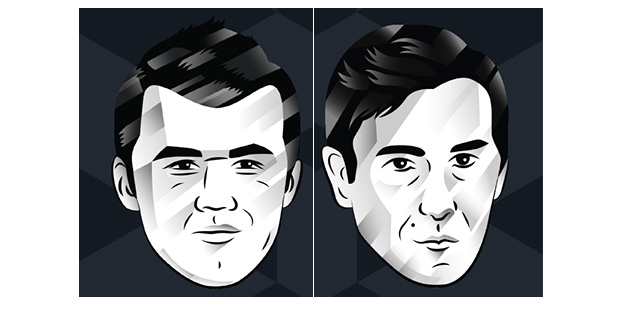 The World Chess Championship 2016, began in New York City, on Friday 11th November, with Norway's Magnus Carlsen beginning the defence of his title against Sergey Karjakin of Russia.
The World Champion had the White pieces in game one, and set tongues a-wagging by opening with the Trompowsky. Of course, this led to speculation that Magnus had played it tongue-in-cheek and was in good spirits. Property mogul and reality TV star, Donald Trump, had been elected as the 45th President of the United States of America just a couple of days previous — had this featured in Carlsen's decision any? "A little bit." However, if this was the case, Magnus was to rue the decision later, when he was repeatedly asked about it in the press conference after the game. To the first enquiry, he responded that he had already spoken about it (I assume straight after the game) and moved swiftly on, and to the second … "if I'd have known that I would be asked about it so much, I would have played something else".
The game itself saw Carlsen take a rare line, his 6. Bb5 showing up only once in my database. This prompted Karjakin to take quite a think before playing the natural 6…e6. The real novelty came with Carlsen's 8.Nd2, which avoided trading Queens and indicated that he wanted to play. He was moving quickly and confidently, which pointed to good preparation and Karjakin, in his first World Championship match, looked a little nervy. As the game progressed, Magnus felt that he had some advantage, but nothing telling and that Karjakin defended well, which was "no surprise" to him. He was critical of his 27.f4, which stopped his knight coming to that square, enabling Black to play …h5 and immobilise the Kingside. After this, the game headed quickly towards a draw.
Sergey Karjakin did extremely well in the game I have to say, he handled things solidly and although he went down on the clock initially, this did not lead to problems and things evened out later on. He seemed to cope very well with his first World Championship game and said that he had tried to just focus on the game and not on the events around it. Though he perhaps did not have the best opening, he was not put under any pressure and did not experience any problems. He was also not surprised too much by Carlsen's opening choice, as he had played it against Kramnik previously (Tal Memorial 2013). Sergey agreed that his opponent's 27.f4 was flawed and that after 27…h5 he felt that the game would be a draw. He added that he hadn't felt that Black had big problems up to then in any case.
Not a bad opening game, in my opinion, it was not eventful really, but it was by no means boring. It means that the score is level, of course, with both players notching up a half point. Game two is on Saturday 12th November in which Karjakin will have White. This will be very interesting to see how he will choose to play — will he try something straight away with White? When asked about it, Carlsen did not speculate too much other than to say that he expected a different opening.