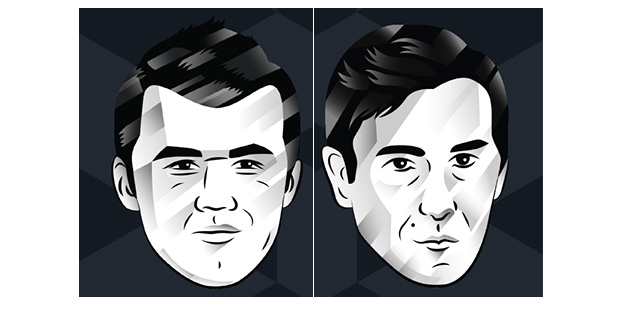 Game 4 of the World Chess Championship, was played on Tuesday 15th November, in New York City, United States. The chess world waited with great anticipation after the fight of game 3, which saw Sergey Karjakin making an error and having to defend his heart out against pressure from Magnus Carlsen. What would game 4 bring?
Well, more of the same, with bells on.
It was another Ruy Lopez, with Karjakin this time having the White pieces, and play went along the lines of an Anti-Marshall. Things were going as expected, until Sergey Karjakin's 18.Bxh6. Karjakin had thought that this was a great move, but as it turns out, had missed Carlsen's strong reply of 18…Qc6! This did everything it needed to, guarding Black's knight on f6, while also adding to great pressure towards e4.
From here, Karjakin had two threats to answer, his bishop being en prise, and his e4-pawn being there for the taking. Karjakin admitted in the press conference afterwards that he was "already upset" having missed …Qc6 and this is probably an explanation for his continuation, 19.Bxc4?! which compounded his problems. Peter Svidler, commentating for Chess24, said of the move, "this goes against everything I know about playing the Spanish as White". The main problem with the move is that the b-file opens, and White has a permanently vulnerable Queenside, with the b-pawn an easy target. To say Karjakin was in trouble would be an understatement.
Never needing to be overly invited to be aggressive, Carlsen went on the attack. He had been handed a super position, and this steadily improved until it surely must have been winning. All expectation was that the World Champion would notch up a point, and with the Black pieces. Unfortunately, chess, being the fascinating game it is, is never so straight-forward — especially with the addition of a very resourceful defender. Sergey Karjakin set about battening down the hatches and constructing a fortress. And, as the game progressed deep into the endgame, it became apparent that he had succeeded. No mater how better Carlsen's position was, no matter how 'winning' it was, it was also unwinnable. Karjakin had constructed an impenetrable fortress and the World Champion was unable to make progress.
The game was drawn in 94-moves.
So, then, this is the second game on the spin in which Sergey Karjakin has erred and presented Magnus Carlsen with chances that have not come to fruition. In the press conference after the game, the World Champion played down any frustration, saying that he would, "try again next time". Of that I have no doubt, but I do not accept his nonchalance — he is not accustomed to missing these chances and in his own words, it is just, "not good enough". Sergey Karjakin was visibly upset with his blunders in this game, and obviously these have to stop if he is to contest this match.
In this game, I think that the players both showed vulnerability, Karjakin's being delusion of grandeur — wishful thinking. This landed him in problems in game 3 also, when making an out-of-context aggressive move. In this game he had thought that his 18.Bxh6 was "fantastic" and had not crossed his t's and dotted his i's. That is uncharacteristically amateuristic.
In Carlsen's case, I think that we have to cite a certain level of arrogance being his undoing, in this game especially. He said in the press conference that he did not accept the concept of the fortress — "I just usually break through". There is no doubt that Magnus is a genius when it comes to chess, Garry Kasparov described him as "exceptional" on his Twitter and this goes without saying. However, no one has yet solved the game of chess and this includes Magnus no matter how big his talent is. The fortress is an established part of the game, not one to be accepted or denied — Nimsowitch wrote a book on it, called 'The Blockade' and Sergey Karjakin has just completely validated it.
It just shows that no matter how great we are, at whatever, we are never so great that we have nothing to learn.
I think it's important, at this second rest day, to take a look at how things are going right now. Simply put, I don't think that either player can be happy with his campaign so far. It is true that the scores are level at 2-points each, but that should not be the case, should it? Sergey Karjakin has made serious errors in games 3 and 4, and should be at least 1 point behind right now. Magnus Carlsen has done nothing spectacular in the first 4 games, yet has been presented with two nice opportunities, as he put it "on a plate". These opportunities, ultimately, have boiled into nothing.
I feel that it is very easy for the players to be upbeat about the story so far, but privately they can not be so blase about it. One thing is for certain, and that is that Sergey Karjakin can not keep giving his opponent these chances, his play has to be better and as near flawless as he can produce. He has to play the best chess of his life to be a threat in this match, there are no half measures. And Magnus Carlsen is the defending champion, world number 1, and his play so far has been that of a gentle simmer and not the sharp, ruthless, pristine chess that we have come to expect of him. As he also said about this, "it is not good enough" when it comes to the standard he holds himself to. If he doesn't pull his socks up, a shock in this match is not beyond the realms of possibility.
The next two games will be very telling. At the next rest day we will be at the halfway stage in the match, how are the players going to treat this after the previous two games? Will they play safe and tight, and in effect look to make it a 6-game match after the next rest day, or will they get thier acts together and try to take hold of the situation and use the momentum that they think they have? I know which one I think is the way to go, this is the World Chess Championship and demands only the best from those competing for it; but in the end, we will just have to wait and see once more. Roll on Thursday!