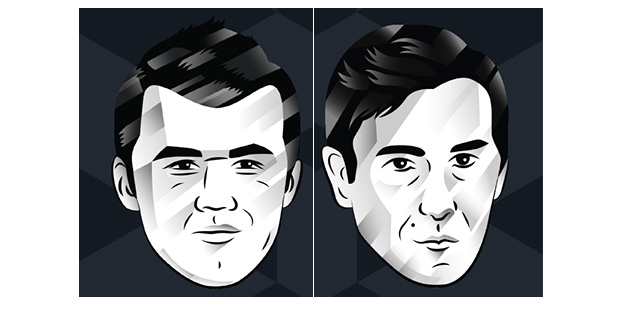 Magnus Carlsen and Sergey Karjakin have drawn the second game in their World Chess Championship match, currently underway in New York City.
After Karjakin's solid resistance of Carlsen's Trompowsky in game 1, the chess world waited in anticipation to see what he could bring to the board with the white pieces. To be quite fair, he will have to do much better than he did in this game if he wants to threaten the Champion.
The game was a Ruy Lopez, which both players know very well, playing it frequently with both colours. As I said in my opening report a few days ago, this can work both ways, with interesting debate and dull draws possible. In round 2, we saw the latter, unfortunately. It was a very uneventful affair, with White obtaining the slightest edge but not really looking to do much with it. Karjakin's decision to exchange with 18.dxe5 saw the writing on the wall already. It led to simplification after which the potential left the position.
In the press conference after the game, Karjakin confessed that he felt that he was slightly better during the game, but this was incorrect and that Carlsen was doing fine. He seemed visibly disappointed at this. Carlsen agreed, and felt that after his 17…Bf8, Karjakin was right to simplify.
Sergey voiced some regret that so far the match was at a gentle simmer, but felt sure that it would start to boil and more exciting games would follow. Carlsen also agreed with this and asked for understanding in the meantime. Such starts are normal in World Championship matches, it has to be said, things will no doubt kick off. The problem for Karjakin is that he can't afford to hang about too long, he has to try to score and put the Champion under pressure — he wont do it with games like today.
The match score is one point each, with a rest day on Sunday. Magnus Carlsen voiced some regret at this and said that he would prefer to play. He also said that it would be good for the fans, being a Sunday, when people are free from work, noble words. By contrast, Karjakin seemed quite happy with the day off, perhaps events in this round got to him slightly and he needs to re-group.
Play resumes on Monday 14th November for game 3, when Magnus Carlsen will have the White pieces. Another Trompowsky on the cards? I very much doubt it … !