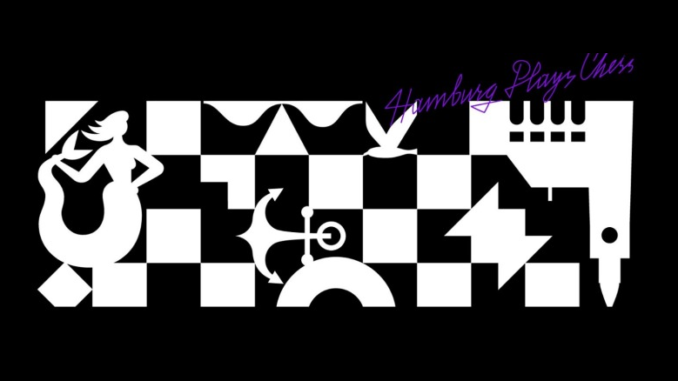 The FIDE Hamburg Grand Prix 2019, got under way on November 5th. It is the 3rd leg of 4 in this year's cycle. Competing are (in no particular order): Alexander Grischuk (RUS 2764), Ian Nepomniachtchi (RUS 2773), Maxime Vachier-Lagrave (FRA 2777), Radoslaw Wojtaszek (POL 2728), Hikaru Nakamura (USA 2741), Peter Svidler (RUS 2719), Daniil Dubov (RUS 2676), Wei Yi (CHN 2724), Veselin Topalov (BUL 2736), Yu Yangyi (CHN 2724), Jan Kyzysztof Duda (POL 2748), Teimour Radjabov (AZE 2767), Nikita Vitiugov (RUS 2751), Pentala Harikrishna (IND 2731), David Navara (CZE 2703), Dmitry Jakovenko (RUS 2691).
The Grand Prix are of course knock-out tournaments, with the players being paired to play 2-game matches. The time control is 90 minutes for the game, with 30 minutes added after move 40. There is a 30-second per move increment from move 1.
If the match is tied 1-1, up to 4 rounds of tie-breaks will be played. These are again the best of 2 games. They will start with 25-minutes with 10-second per move increments and, if required, proceed to G10+10s, G5+3s, and Armageddon.
Round one saw Russian Grandmaster, Peter Svidler, going through in decisive fashion against Indian Grandmaster Pentala Harikrishna. Svidler made the most of his White game, out-playing his opponent in a Giuoco Piano.
This win gave Svidler a crucial lead going into the second game. He would play black, but only needed to draw, of course. This he did, in another Giuoco Piano, to win the match 1.5-0.5.
Other 1.5-0.5 victors, were: Veselin Topalov, who came through against Hikaru Nakamura, Maxime Vachier-Lagrave over Wei Yi, and Jan-Krzysztof Duda, who bested Ian Nepomniachtchi.
This left the other match-ups to be settled in tie-breaks, seeing Navara winning both rapid games against Vitiugov, to go through 3-1. Also deciding things in the rapids, were Alexander Grischuk, seeing off Radoslaw Wojtaszek, and Yu Yangyi sending Dmirty Jakovenko home.
The tussle between Teimour Radjabov and Daniil Dubov was the last decided. The two had deliberately headed to tiebreaks, drawing their first two games in 18-moves and 15-moves. Points were also split in their first four tiebreak games, which saw them playing blitz. If things still stayed level, then it would be up to Armageddon to separate them.
As it turned out, this was not needed. Daniil Dubov got on top of things rather quickly as with the black pieces in the first game, winning in 37-moves. This demanded that Teimour Radjabov also scored as Black in game 2 — their eighth match game in total.
Radjabov did not do at all badly in the game, almost levelling the score in a Queen's Indian. Unfortunately for him, the clock was his undoing. In the diagram position, below, the Azerbaijani has the winning 57…e2(!) when after 58.Kd2 b3 would win.
Teimour went for 57…b3(??) instead, which allowed Dubov to force the draw with 58.Bxe3. From here, Black can make nothing of his b-pawn and so cannot win. Dubov went through to round 2, where he would be paired against fellow Russian, Peter Svidler.
Full round-2 Pairings:
Topalov vs Vachier-Lagrave
Grischuk vs Navara
Dubov vs Svidler
Yu vs Duda
Round-2 will be played November 8-10.