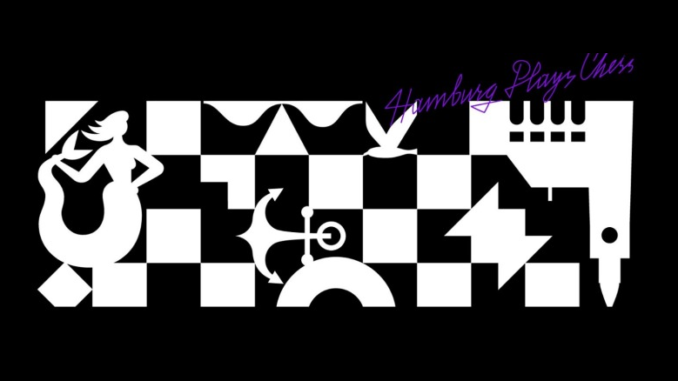 The second round of the FIDE Hamburg Grand Prix 2019, was played between November 8th and 10th, in Hamburg Germany. The first round of this knockout tournament, had seen Ian Nepomniachtchi, Radoslaw Wojtaszek, Hikaru Nakamura, Wei Yi, Teimour Radjabov, Nikita Vitiugov, Pentala Harikrishna, and Dmitry Jakovenko eliminated. That left the following pairings for the second round, or rather, quarter finals:
Vachier-Lagrave vs Topalov
Grischuk vs Navara
Svidler vs Dubov
Yu vs Duda
Just as in round-1, the players would play a mini-match of two 90-minute games to try to take victory. If the score was 1-1, tie-break games would follow, getting progressively quicker. These tie-break games were only needed in one of the matches, Svidler vs Dubov, and we'll come to that in a moment. But first, to a match that was settled without needing any extra games.
This was, namely, the pairing of French Grandmaster Maxime Vachier-Lagrave and Bulgarian Grandmaster Veselin Topalov. As it would turn out, this match was settled in the very first game, with what would be the only decisive first game of the round. It saw Topalov as White, in a King's Indian Defence.
Things were fairly even until Veselin decided to go for an exchange sacrifice, (giving rook for bishop), with his 28th and 29th moves. This was a straight sacrifice, and for me it is very hard to see what the former World Champion got in return. However, that only goes to show why Topalov is on the world stage and I am sat here writing about him. He certainly had his chances to at least earn himself a half point and things could have become rather precarious for Vachier-Lagrave in places.
However, Veselin missed what opportunities were presented to him, in particular, 36.Kh2(!) which gave him good chances to save the game. After this, it was all over bar the shouting.
This Loss left Topalov needing to win the second game in order to take the match to tiebreaks. He played the Black side of a French Defence (how's that for bold), but it really didn't work for him at all. Vachier-Lagrave was well on top of things when they agreed a draw after 26-moves. And with that handshake, the Frenchman went through to the semi-finals.
Also going straight through, were Alexander Grischuk and Jan Kyzysztof Duda. They settled things in their second games, against David Navara and Yu Yangyi, respectively. Navara had a bit of a tough time as White in the Ragozin Queen's Gambit Declined and was perhaps guilty of over-pushing with 22.Qa6(?) which put his Queen out of touch with the game and gave Grischuk the chance to pick up a pawn with 22…Rxe4(!).
Unfortunately for David, he got his defence a little wrong, trying to activate his Queen instead of just cutting his losses, which meant that Alexander actually picked up a piece. The point and match went to the Russian without too much trouble.
Peter Svidler and Daniil Dubov played 2 rather quick draws in their opening games and this meant that they would go to tie-breaks. Their rapid tie-break games were also drawn, and this meant that the next ones saw just 10-minutes on their clocks. Svidler would have White in the first game, and the Reti King's Indian Attack would go badly for him. It all started with 6.Be3(?!) …
When we are learning chess, we are told that we should not do this kind of thing, putting pieces in front of central pawns. Rules are meant to be broken, however and there are situations when it can work out ok. One such situation is the fianchetto. As we can see, White has carried out a fianchetto with his light-squared bishop, which means that his e2-pawn does not have to advance in order to develop it. White is also castled, which is not insignificant either.
However, the bishop itself is not in a very positive place on e3, it does not have much scope. This is shown very well when Peter moves it to f4 on move-8, g5 on move-9, and back to c1 on move-10. I remember doing this kind of thing a couple of times in the early days of my chess life, to which my old mentor would say, "you have obviously not been listening."
Looking through the game, it occurs to me that Peter wasted so much time with this piece. And it doesn't stop here, he later returns it to e3, then f4, before it gets exchanged off, one can imagine with some great relief. By this time, however, Dubov had the much better game. And in the endgame, with an extra pawn, the advantage steadily grew and he had the point in 40-moves. And unfortunately the second game didn't work out much better for Svidler either. Although it was a draw in 18, Dubov was once again standing much better.
And with this result, the four players going through to the semi-finals were known. This saw the following pairings:
Vachier-Lagrave vs Grischuk
Dubov vs Duda
The next round would be played between November 11th and 13th and would produce the finalists for the tournament.