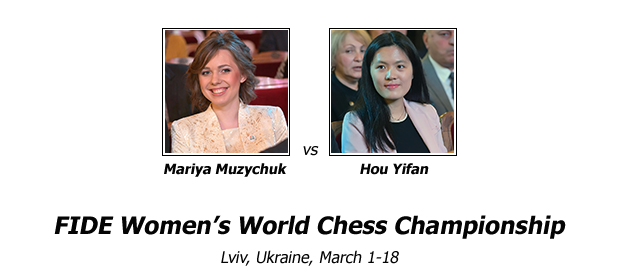 The FIDE Women's World Chess Championship begins today in Lviv, Ukraine. The venue is Potockis' Palace. World Champion, Mariya Muzychuk, will defend her title against challenger Hou Yifan.
The match will be played over 10 classical games, (90 minutes for the first 40 moves followed by 30 minutes for the rest of the game with an increment of 30 seconds per move starting from move one), with tie-breaks afterwards if needed.
The event will run until the 18th of March, with games on: 2nd, 3rd, 5th, 6th, 8th, 9th, 11th, 12th, 14th, 17th, 18th (tie-breaks). Rest days will be on: 4th, 7th, 10th, 13th, 15th, 17th.
Mariya Muzychuk (b. 21 September 1992) of the Ukraine, defends her title in her homeland, having won the Women's World Chess Championship in a knock-out tournament in 2015. She learned chess from her parents at the age of three, and has been playing competitively from around six-years-old. She has been national chess champion of the Ukraine and won the top female player prize at the 2014 Gibraltar Masters.
Hou Yifan (b. 27 February 1994) earned the right to challenge Mariya Muzychuk having won the FIDE Women's Grand Prix 2013-14. A chess prodigy, she made history as the youngest participant in a Women's World Chess Championship, when she competed in the 2006 cycle in Yekaterinburg, aged just 12-years-old. She also became the youngest Women's World Chess Champion in 2010, aged sixteen. She is the third female player to appear in the top 100 players list, along with Judit Polgar and Maia Chiburdanidze. Hou has been the #1 female chess player since December 2015.
Though Hou Yifan is the challenger, she is also favourite to regain the World Championship crown. A big part of this is that the 1-1 match format suits her much more than that of a knock-out tournament. However, in my opinion nothing should be taken for granted, Mariya Muzychuk is no lightweight either. If the players both settle well, then it could be an interesting match.
As already stated above, Game 1 will take place on Wednesday, March 2, at 15:00 local time. Reports of each round will of course appear here on the site.