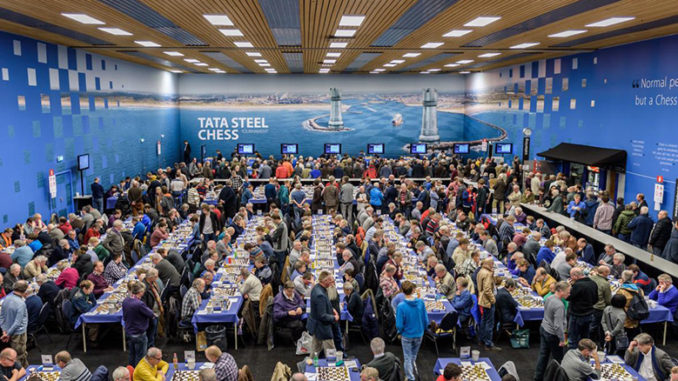 The Tata Steel Chess Tournament 2017, began with round 1 on Saturday 14th January, in its home of Wijk aan Zee, Holland. As expected, hundreds of spectators flocked to the 'de Moriaan' Community Centre, to see the players in action. The Masters group was headed by none other than World Chess Champion, Magnus Carlsen, who kicked off his Tata Steel 2017 campaign, with the Black pieces against Wesley So.
Unfortunately, the game didn't really match the anticipation as it turned out and was rather like an inkless squid. The Slav Defence brought about very quick exchanges, which saw the Queens leave the board on move 15. This led to simplification and an almost symmetrical position. To be honest the writing was on the wall well before the players shook hands on move 33. Not a lot more to say about it really, but let's not go complaining too much — it's early days and I am sure that we will see these players provide us with some excitement in this tournament, it doesn't really matter too much if it's against each other or not.
And split points were the order of the day on all but one of the other boards. However, Adhiban Baskaran and Loek Van Wely could well have been different. Baskaran opted for the c3-Sicilian and got good play from it too. He established a knight on d6, which Black chose to get rid of sharpish and this resulted in an early passed pawn and very tough position for Van Wely. White misplayed things slightly, however, and for me seemed slightly too eager to seek exchanges when there was good opportunity to just keep up the pressure and be patient.
27.Rb1 for instance, targeting Black's advanced isolated pawn, would have been verging on the winning, but Baskaran opted for the more 'in your face' c3-c4, which he actually had all the time in the world for. This resulted in the pressure easing for Van Wely, but only for a brief time. The game was quite scrappy, with the players swapping mistakes and oversights, but this is the great thing about human chess. In truth, Baskaran probably had several chances to pick up a point in this game and get his tournament off to a good start, but in the end his efforts only resulted in it being shared.
Harikrishna-Aronian saw a Marshall Attack, without anything of event happening. Levon told me he felt fine about the result and seemed pretty happy, but then again, this is usually the case with him in my experience. A nice comfortable hold with the black pieces is not a bad result for the first round in a tournament such as this and is great for settling the nerves, so hopefully this will see him in good spirits for round 2, when he has White against Wei. And as for Wei, well he brought out the Petroff against Andriekin and pained groans are completely justified as it turned into a very dull affair indeed.
Anish Giri chose the Najdorf Sicilian in order to take in to Sergey Karjakin. White broke new ground pretty early on with his 9.Ba2 but Black got a good game from it. Giri's 15…b4 was an interesting idea and after 16.Nd5 (perhaps axb4 is slightly preferable) …axb3 17.bxa3 Nxd5 Black was actually verging on the slightly better. Karjakin opted to neutralise his opponent's possibilities straight away on the Queenside, and this brought about rook exchanges along the b-file. Neither player seemed to want to get up to anything of note and drew by repetition just before the first time control. Ian Nepomniatchi drew with Black against Radoslaw Wojtaszek. The game was a quiet Grunfeld Defence, which saw steady exchanges until the players agreed to share the spoils on move 31.
The one decisive result of the round came from Pavel Eljanov, who made the most of the White pieces to get the better of Richard Rapport. Their game, in the King's Indian Attack, followed an earlier game of Rapport's, that he had played (also with Black) against Bosko Abramovic in 2014. White's castling on move 12 brought about a new situation (Abramovic had played d4-d5) and it was here that the game really began.
Eljanov declined what looked like a free pawn on his 18th, when 18.Qxd6 was possible. Pavel opted for 18.Qc2, concentrating on development instead and this seemed to work out for him. However, 18.Qxd6 does seem to have been playable, but after 18…Qxd6 19.Rxd6 Be5 20.Rd2 Be6 21.Bf1 Rac8 22.Rc2 Rfd8 I am not convinced that White has very much (if anything) more than a draw.
As things went, White ended up getting a pretty good game without the pawn, even though Black managed to establish a knight on the d3-square. This kind of thing can be highly annoying and very intrusive to the opponent. And sure enough, the Ukrainian decided to get rid of it speedily, sacrificing rook for it and a pawn. Black will not have been too unhappy at this stage, with there being very little difference in the standings. The one concern for Black was his isolated pawn on d6, but this was only a weakness if White had the means to attack it.
As it turned out, this was a mute point, as Black seemed to go to pieces. His 32…Qf3 saw his Queen out of the loop and this allowed White to seize control of the position. Thereafter, 34…a6? allowed White to pick up the b-pawn and Black was very quickly up against it. Eljanov had huge momentum and took advantage of the disorganisation in Rapport's pieces in order to increase the pressure. Already winning, his 41.Rd5 saw him on the verge of picking up yet another bit and Rapport resigned. This sees Eljanov in sole lead of the Masters group after this opening round.
Masters Group Standings after Round 1:
Eljanov — 1.0
So, Carlsen, Karjakin, Giri, Harikrishna, Aronian, Karjakin, Giri, Wojtaszek, Nepomniachtchi, Van Wely, Adhiban, Andreikin, Wei — 0.5
Rapport — 0.0
Masters Group Round 2, Sunday 15th January, 13:30 local time.
Aronian – Wei
Nepomniachtchi – Andreikin
Carlsen – Wojtaszek
Giri – So; Rapport – Karjakin
Van Wely – Eljanov
Harikrishna – Adhiban
 The Challengers Group saw three decisive games, which could well have been four as Sopiko Guramashvili had her opponent, Shanglei Lu in very big trouble. To be honest, the trouble was largely self-inflicted as Lu played a very bad opening and then sacrificed his Queen for a couple of knights. All of a sudden, White was winning against her much higher rated opponent. This is to take absolutely nothing away from Sopiko, however, who played the better opening by far and gradually increased her advantage. However, she then inexplicably allowed her opponent to draw with her 35.Qxe7. I think most players would play the more commanding move of 35.a4, almost automatically in her position and it is very puzzling as to why she did not give this a go, especially as she had bags of time to sort things out. As it was, the game was drawn and Shanglei Lu will be feeling very relieved indeed.
Full points went to Benjamin Bok, who caught his opponent, Tingjie Lei in a mating net after she seemed to take her eye off her King. Lei will be a little disappointed with the result, because she was not doing too badly with the Black pieces against her much higher rated opponent. Unfortunately she allowed Bok far too much access to the 7th and 8th ranks. It was his very nice knight, however, which decided the day. Elsewhere, Markus Ragger picked up a point from Jeffery Xiong, which saw the latter's position completely decimated. And Erwin l'Ami did not have a good start to his tournament, losing to Jorden Van Foreest.
Challengers Group Standings after Round 1:
Bok, Ragger Van Foreest — 1.0
Tari, Hansen, Grandelius, Jones, Guramishvili, Lu, Smirin, Dobrov — 0.5
l'Ami, Xiong, Lei — 0.0
Challengers Group Round 2, Sunday 15th January, 13:30 local time.
Grandelius – l'Ami
Xiong – van Foreest
Lei – Ragger
Hansen – Bok
Dobrov – Tari
Lu – Smirin
Jones – Guramishvili.