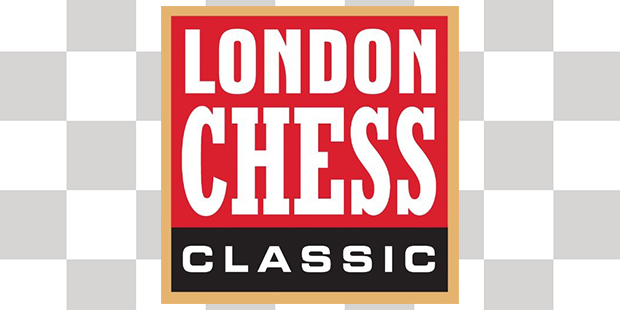 Round seven of the 8th edition of the London Chess Classic, was held on Friday 16 December, 2016. For the third time this tournament, Hikaru Nakamura was the only player to pick up a point — and what a point it was. The American Grandmaster played a game against France's Maxime Vachier-Lagrave that I can only describe as 'sublime'. And it was just what Nakamura needed, having been "blown off the board" as he described it, in the previous round. Today was a new day and he bounced back with gusto.
Playing the Bg5 Najdorf, Nakamura was clearly in no mood for half measures in trying to recover his point. The first indication of this was his novelty of 16.Qh3, which looks very strange, but gives Black some considerations on the Kingside. Vachier-Lagrave dealt with this quite well, but then came 18.Nf5! Nakamura offered a piece for position and this sharpened the situation right up.
Accepting the piece with 18…exf5 would have been strongly met by 19.exf5. From here, 19…gxf4 is probably forced, 20.Bxb7 Qxb7 21.Bd4 sees White fully in command. Vachier-Lagrave chose 18…Ncxe4, which was not bad, though perhaps 18…gxf4 was most testing. Regardless, White's build-up on the Kingside was very commanding and this mounted steadily and Black had very little answer or counter-play to it, the h-pawn would gradually work its way up the board, the Queen was ideally poised, the fine dark-squared bishop and nicely centralised and active rooks. Black threw everything at White in an attempt to defend, but White had all of this covered and the point was soon Nakamura's. A very fine game indeed.
Michael Adams quite appropriately chose the English Opening against Fabiano Caruana, tempting his opponent with a pawn in order to establish a nice knight on c5. Black wasn't doing too badly, however, until his 27…Bb3. Adams' 28.Ra1 resulted in a nice situation of initiative for White, which led to the winning of a pawn. White definitely enjoyed the best of things from here, but the opposite coloured bishops endgame was no simple matter and the Englishman obviously decided that his opponent had enough up his sleeve in order to hold and they split the point.
Anish Giri and Veselin Topalov got were involved in the longest game of the round. Their Queen's Gambit Declined lasted around 6 hours! Unfortunately, though, it was 6 hours of torture. The position became very solid and fixed early on, with both sides being rather entrenched behind their own lines. If either player had gone into the game intending to try anything, it didn't pan out for them. Perhaps Giri could have sharpened things up with 47.g5, but this didn't happen and after some more rather aimless shuffling, the players split the point in 67 — a very strange affair. The good thing for Veselin Topalov, is that he stopped his losing streak having dropped points in the previous three rounds.
Tournament leader, Wesley So, enjoyed a Queen's Gambit Declined with Vladimir Kramnik. I say 'enjoyed' because it was a rather peaceful game, with nothing really to report. Exchanges came rather quickly and the players agreed a draw in 36. Levon Aronian and Viswanathan Anand also had a rather quiet affair with the Queen's Gambit, exchanging pieces rather rapidly and leaving a rather natural position that was without potential.
So — 5.0
Caruana — 4.5
Kramnik, Nakamura — 4.0
Aronian, Anand, Giri — 3.5
Vachier-Lagrave, Adams — 3.0
Topalov — 1.0