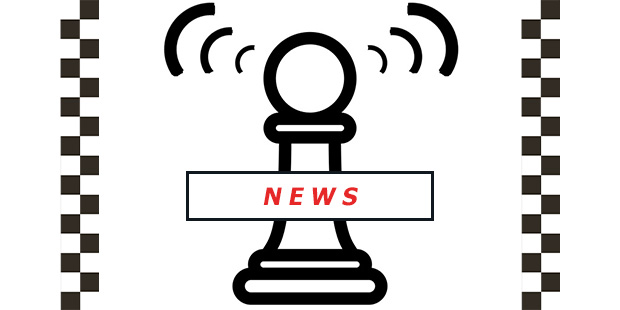 FIDE's World Rapid Championship was held in Doha, Qatar, between December 26th and 28th. It saw defending Champion, Magnus Carlsen as top seed. All the usual suspects were also present, however, including Nakamura, Karjakin, Mamedyarov, Anand, Aronian, Grischuk.
Five rounds would be played on each day, making fifteen rounds in total, with the time control of 15-minutes plus 10-seconds per move increment.
Magnus Carlsen did not have the greatest of starts, with a draw in the opening game and a loss in game 2. Magnus does sometimes start events slowly, so in itself this was no cause for alarm. And this proved to be the case, as he then notched up four wins on the spin. This put him right in the mix, with 4.5/6, just a point behind leader, Aronian, with plenty of chess yet to be played.
However, Carlsen was to meet Vassily Ivanchuk in round seven, and his winning run would come to an end. Ivanchuk played an aggressive Queen's Gambit Declined with White, and obtained the best of things. Carlsen was already in a tricky position when he played 23…Nbc4 (…Bxf3 was perhaps the best try). There followed 24.Bxc6 Nxd6 25.Nc6, which left White with a very good initiative and ultimately two pawns the better. Ivanchuk was fairly clinical from here and soon claimed the point.
This result left Carlsen with a lot of work to do if he was to retain his title, Ivanchuk on the other hand, improved his standing to within a half point of leaders, Aronian and Korobov, who occupied the top of the table on 6/7. A draw against Anton Korobov in round 8 and wins against Levan Pantsulaia and Shakhriyar Mamedyarov in rounds nine and ten, saw Ivanchuk in sole lead of the tournament, on 8/10, with five rounds left to play.
The hunter had become the hunted, however, and Ivanchuk would not have things easy, suffering his second loss of the tournament in round 11 at the hands of Ian Nepomniachtchi, who would seize the lead on 8.5/11.
Magnus Carlsen also had a tough round, dropping a point to Anton Korobov. This would put the defending champion a whole one-and-a-half points away from the top slot with not many rounds left in order to recover and win the tournament. To make matters worse, due to his poor start, Carlsen really had to look to win the event outright, as he had a rather poor tie-break score.
And indeed, winning his final four games, defeating Nepomniachtchi and Mamedyarov in the final two rounds, would not be enough for Carlsen to keep his title. He joined Vassily Ivanchuk and Alexander Grischuk on 11/15, but his tie-break put him only in third place. He will no doubt be very disappointed with his performance in the opening rounds, which ultimately proved very costly.
As for Grischuk, who put on a late spurt, winning his final three games, Ivanchuk edged him into second by a fraction. Solid draws against Grischuk himself and Dominguez in rounds twelve and thirteen, coupled with wins over Anand and Melkumyan in rounds fourteen and fifteen, gave Ivanchuk the best finish. Early leaders, Aronian and Korobov, did not enjoy the second half of the tournament as much as the first and ended up in ninth and fourteenth places respectively.
Congratulations, then, to Vassily Ivanchuk, on what is a very nice victory in an extremely competitive event, which saw only two points between the winner and twenty-second place.