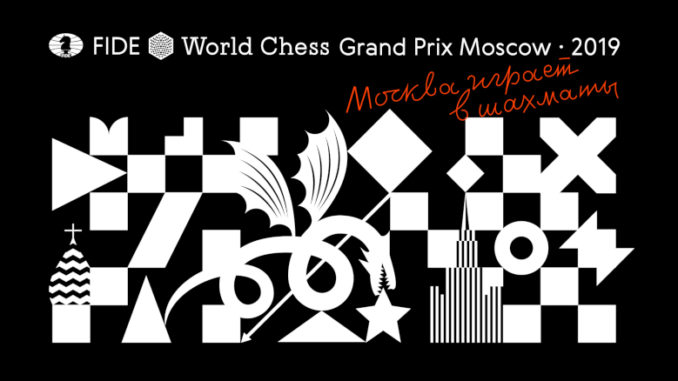 The quarter-finals of the FIDE Grand Prix in Moscow, has seen Hikaru Nakamura, Alexander Grischuk, Ian Nepomniachtchi and Radoslaw Wojtaszek, advance into the semi's.
All but one of the matches went to tie-breaks, that of Peter Svidler against Radoslaw Wojtaszek. I had thought that this had the promise of being an interesting match up, and to a certain extent it was. It was only in the second game, however, that it came alive, the first being a rather uneventful draw. The second game saw Wojtaszek taking the White pieces and when it took the form of the King's Indian Defence, it looked like the players were in the mood for more of a game.
The game was fairly even and quiet until Svidler decided to spice things up with the exchange sacrifice of 25…Rxb3(!?) as shown in the diagram, below.
Looking at this game with engines, it is easy to scoff at this decision, especially upon seeing the evaluation increase in White's favour. Perhaps it is indeed dubious, but Peter found it 'interesting' and that is what thrills me about human chess. How players see a certain position will vary and Svidler obviously preferred this route to his Kingside options of …g5 or …f5 for example. The point is that he really had to do something, otherwise he risked stagnating.
Whatever the merits of 25…Rxb3 might be, though, after 26.Bxb3 Rxb3 27.Bd2, Peter's 27…Bd4+(?) was not good and should have given way to more productive moves, such as …Bc8 or even …Bb5. As it was, Wojtaszek didn't look back from here, quickly netting Svidler's a-pawn and from here Black's game fell apart. Radoslaw had the point in 42 and was through to the semi-final.
His opponent there would be Ian Nepomniachtchi, who bested Wei Yi in the rapid tiebreaks.
After their draw in the first game, Hikaru Nakamura and Daniil Dubov rolled their sleeves up in game 2. They got into a rather lengthy English opening. Unfortunately, it was not a pleasant affair for Dubov, who was rather dictated to by Nakamura, who was quickly on terms. Then came 34.Rxd5(?) as shown in the diagram, below.
Dubov had netted a pawn, but the trade-off was that his rook was very precariously placed. This was shown by Nakamura's 34…Bc8(!). This was not easy to solve, due to the fact that White's knight on c5 was quite fixed in place. It was an impossible situation and Nakamura was soon picking up the rook for his light-squared bishop. The Russian wasn't giving up, though and did everything he could to resist Nakamura's efforts to close out the game. However, it was a big ask and the American had the point in 79-moves. More importantly, though, he was into the semi final!
And there he would face Alexander Grischuk, who also came through his tie-break. He was up against Wesley So, who has seemed a little out of sorts to me.
Anyway, all eyes now turn to the semi-finals, which see Hikaru Nakamura going up against Alexander Grischuk and Ian Nepomniachtchi taking on Radoslaw Wojtaszek.