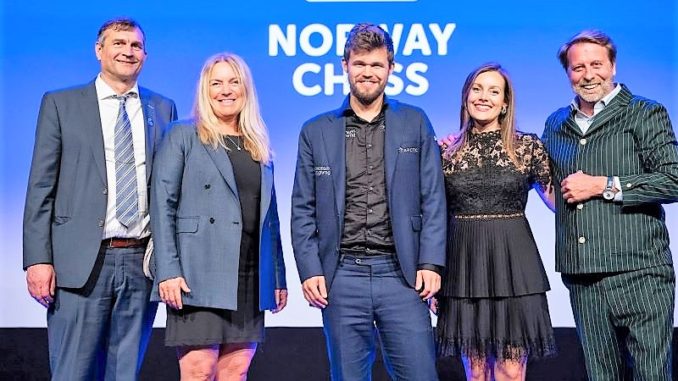 If you have been following the Norway Chess Tournament, it will have been hard to miss the beautiful Norway Chess watches. These unique timepieces, featuring chess notation on the watch face and Richard Reti's 11-move checkmate over Savielly Tartakower engraved on the back, have been exclusively designed and produced for the event, by Von Doren.
Based in Oslo, Norway, Von Doren was established in 2016, by Øyvind Von Doren Asbjørnsen. To design and produce his own watches, has been the realisation of a life-long dream for the Norwegian entrepreneur.
The dream started when the 12-years-old Øyvind, was given a family heirloom, a vintage Swiss watch, by his Great-Grandfather. This token of affection, sparked a life-long passion for timepieces, which has resulted in him now having people proudly wear his own.
But this is not the only string to Øyvind's bow, he is also a very accomplished film maker. Having produced TV programs and commercials for Norwegian broadcaster, NRK, he then went on to once again do what he can to put chess at centre stage. This started with 'The Prince of Chess', which takes a look at chess and the beginnings of the career of Magnus Carlsen. And then, 'Magnus', which took up where its predecessor left off and saw its premiere in 2016.
I had a chance to put a few questions to Øyvind in the run up to the Norway Chess Tournament. We talked watches, chess, and the future. Always approachable, his answers were both frank and fascinating. I thought that you might be interested in taking a look at them.
My thanks go to Øyvind for his co-operation with this article, which has pretty much written itself.
The design of the Norway Chess watches is extremely unique. Can you tell me how you came up with it? Especially having some notation on the watch face, which is a very novel idea.
Thank you. We wanted to create a unique chess-themed dial and not just to design a knight or a rook and place it on the watch. I discovered this game between Réti and Tartakower not so long ago and we used it in a film with junior world champion Aryan Tari. As the whole game is just 11 moves we thought, why not place the white moves instead of hour markers.
After a few prototype designs we realised that this was not just very proper for the Official Norway Chess Watch, but also looks very cool and different. Non chess players do not quite understand why there are strange letters and numbers at the hour markers, and I like the fact that chess players will understand it.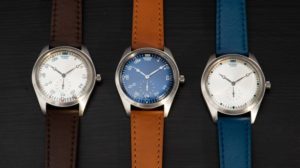 The Norway Chess watches feature 3 designs, the Reti Blue, Reti Silver and NC Silver. As this article goes live, I am told by Øyvind that the Reti Blue is sold out and that there are limited numbers of the others — so if you want one, don't hang about!
It is very clear to see your chess passion, where did this passion come from?
My Grandfather was a rather strong player and played correspondence chess and over the table chess with a famous Norwegian player and author; André Bjerke. He taught me the game and probably had high hopes that I would become a very strong player. However when you are 9 years old and receive complicated chess books in German and English … well that was not the kind of Christmas presents I was hoping for, and to be honest I don't even remember if I ever opened those books. I still have them, and during the last years I have read a little bit. But I am a bit lazy chess-wise. I just like to play or watch a video or something. To read a very theoretical book just gives me a strong aversion.
Do you play chess often?
I play almost every day on LiChess and sometimes on Chess.com and Chess24. I am member of a very exclusive chess club consisting of eight of my childhood friends from my hometown Aalesund. We are called "Bønder til besvær". This would translate to something like: Bothering Pawns. A pawn in Norwegian is Bonde and that also has a double meaning as someone from a small town or a farmer. We meet once in a while, travelling to different destinations for a weekend. We drink beer and play blitz and see the sights of wherever we are. The last time we met was in Amsterdam in May.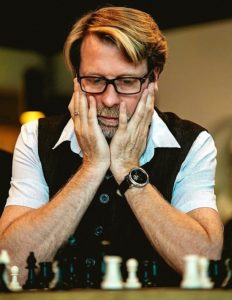 Who are your favourite players? A certain Magnus Carlsen perhaps? 🙂
Magnus Carlsen is indeed my favourite player, as I have followed him for so long. When he was 11-12 years old, we followed him and his family while we made the film, 'The Prince of Chess', that premiered in 2005. I am very impressed by Magnus and his ability to do whatever it takes to win a game. He never gives up and is a true fighter.
I am a bit like that myself, not in chess exactly but in life. If I set my mind to achieve something, I seldom give up before I have accomplished it. I also met Garry Kasparov when making the film and found his aggressive, non-compromising, playing style also very impressive.
Did your making of 'Magnus' and 'The Prince of Chess' change your perception of chess, or indeed about Norway's World Champion?
Well I realised it is extremely demanding and that it takes a lot of very hard work and talent to become a top player. Also chess is such a fascinating game since there really is not a "solution"…
Do you think that we might one day see a Von Doren chess set?
That might be possible, we are working on making a chess clock and do have some other plans too.
Film production and watch design seem very different industries, but are there ways in which your first career was very useful preparation for the one you have now?
Indeed it was. When making films, production design is very important and to tell a story is of course the main goal in any film. To tell a story with a physical object, like a watch, is very fascinating and satisfying. I have always been fond of drawing and this also helps me when designing watches.
As entrepreneurs tend to be, you seem to be someone who likes setting standards and breaking new territory. What is next on the horizon?
We have had a new, very high end watch on the drawing table for a while. I hope it will be possible to produce it, however just the production costs are very high. But I am sure we will manage to raise the funds.
Would it be true to say that you regard designing and producing your own watches (especially the Grandmaster II) as your greatest achievement? If not, what would you say that is?
Well, I am very proud of the Grandmaster watch, its simplicity and elegant design. However it was very satisfying when I received thank you mails from some of Norway's top young players, who told me the reason they started with chess was because they watched the film 'The Prince of Chess'.
Your passion with watches began when your Great-Grandfather gave you a watch when you were 12-years-old. If you were to return the gift and give him a watch, which would it be and why? (I have a feeling that it would be your Grandmaster II?)
It would definitely be the Grandmaster Caissa Automatic. The black one just made in 25 pieces. In 2017 all the participants in Norway Chess received one of these each and this is now a treasured collectors item. I am happy I kept one for myself since they all were immediately sold out for 25,000 Kroner (€2555 / £2277) each.
How many watches do you own?
I used to have a lot of watches, maybe 30. But in order to partly fund the startup of Von Doren, I sold the most expensive ones like Jaeger LeCoultre, Rolex, Omega etc. I now have a small collection of vintage pieces, like Heuer, Omega, Doxa and a few others. So maybe I have 12 pieces now.
How do you like to spend your free time?
I am a very sociable person and enjoy talking to all kinds of people, to share a pint or a glass of good red wine and, "solve the world's problems". I am also a design freak, so I like vintage cars, furniture, art, films etc. When I saw my first James Bond film as a teenager, I decided that one day I will own an Aston Martin. 5 years ago I bought a beautiful DB7 Volante, although maybe I need to sell it to partially fund the making of the new watch. I will go all in.
I also love animals and to walk my dog Mira with my girlfriend in the beautiful Norwegian nature.