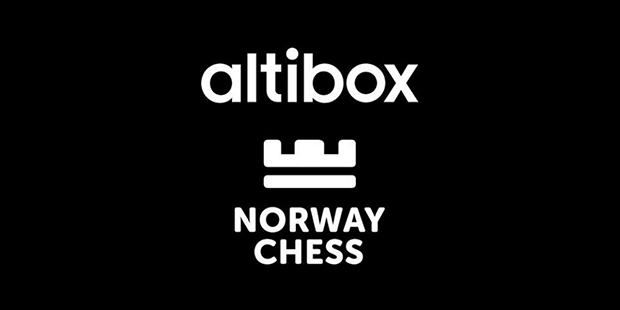 It is that time of year again, dear reader — Norway Chess has begun! The tournament will be held in Stavanger, Norway, the picturesque coastal city, that has been its home since it was first held in 2013. This 7th edition, will see it divided between two locations: The Clarion Hotel Energy, up to and including round 6, and the Stavanger Concert Hall for the remainder.
This year's competitors are led by home favourite, Magnus Carlsen (NOR 2875). The World Champion, has been present at each edition of the tournament. However, this tournament is very popular with the players and he is not the only multiple-times competitor. Carlsen has also not had huge home success. Though he has dominated the opening blitz event, winning that three times, he has won the main tournament only once (2016) so far.
Those hoping it stays that way this year, are: Fabiano Caruana (USA 2819), Ding Liren (CHN 2805), Maxime Vachier-Lagrave (FRA 2779), Alexander Grischuk (RUS 2775), Shakhriyar Mamedyarov (AZE 2774), Viswanathan Anand (IND 2767), Wesley So (USA 2754), Levon Aronian (ARM 2752), Yu Yangyi (CHN 2738). Of these players, Ding Liren will be hoping that history does not repeat itself, as he injured himself last year (fracturing his hip bone in a bicycle accident) and had to withdraw!
(Ratings from FIDE June 2019 list.)
Though the main tournament does not see play start until Tuesday June 4th, the action got underway on Saturday the 1st, with a 15-board simul by Wesley So. This saw the American Grandmaster winning all but one of the games, which was a draw with 14-year-old Norwegian talent, Shazil Shezad.
Then, on Monday June 3rd, the opening press conference was held, along with the customary blitz tournament. Just like the classical tournament, this is a 9-round round robin. The time control is 3-minutes, with 2-second increments per move.
Though there is no prize for the blitz tournament, it counts for a lot as the winner can choose their draw number for the main tournament. The second placed player then gets the next highest position and so on. This determines how many whites and blacks the players will get and this carries a little extra weight this year, but we will get to that in a moment.
The one choosing, was French Grandmaster, Maxime Vachier-Lagrave. He won the Blitz event with an impressive 7.5/9, beating Magnus Carlsen in the final round. Carlsen was next best, along with Levon Aronian, scoring 6/9. The full Blitz tournament standings are as follows: Vachier-Lagrave — 7.5; Aronian, Carlsen — 6.0; Mamedyarov — 5.0; Ding Liren — 4.5; So, Yu Yangyi — 3.5; Caruana, Anand, Grischuk — 3.0.
Vachier-Lagrave chose pairing number four, which gives us the following first-round matches: Aronian vs Grischuk, Carlsen vs Anand, Mamedyarov vs Caruana, Vachier Lagrave vs Yu Yangyi, Ding Liren vs So.
As always, the tournament is promising to be a very interesting event. It is a round robin of 9-rounds, with round-1 on Tuesday June 4th. There are of course some highly publicised differences this year. The first is the time control, which will be 120-minutes for 40-moves. There will be no increments until after move 40, after which the players will receive 10-seconds per move. It is worth mentioning, here, that draws by mutual agreement are only allowed after move 30.
The second change this year, is that if a classical game is drawn, the players will then play an Armageddon game, with the same colours. This will take place straight after the classical games have been completed. The Armageddon game will see the time control of 10-minutes for White and 7-minutes for Black, with White having to win. Just as in the classical game, there will be no increments initially, increments of 3 seconds will start only after move 60.
This will mean that each match up will produce a victor, either directly in the classical game or later by means of Armageddon. This makes the points available the other novelty this year:
Win Classical Game = 2 points.
Loss Classical Game = 0 points.
Draw Classical game, win Armageddon = 1.5 points
Draw Classical game, lose Armageddon = 0.5 points.
As I wrote (here) when this was first announced, this is a very interesting experiment by the tournament organisers. They are once again showing that they are not afraid to take innovative risks in order to spice things up. It will be interesting to see how the players respond to this and if there will be any tactical opportunities presented by it, don't you think?
For example, speed demons and those who do not tend to rely on opening theory, as well as those who might regard themselves the underdog as Black, might prefer to take their chances in Armageddon. Accordingly, we may see a lot of Berlins and Petrov's in the classical games. This, though, presents the interesting question of what White will be prepared to do (if anything) to play for the win. The onus certainly seems to be on White.
We will have to wait and see how this all will work out in practice, but I think it is very exciting. All the best to the organisers and players, as well as to my esteemed friends and colleagues who are on site. Unfortunately I have other commitments this time around, but I hope to make it next year. Have a great tournament!