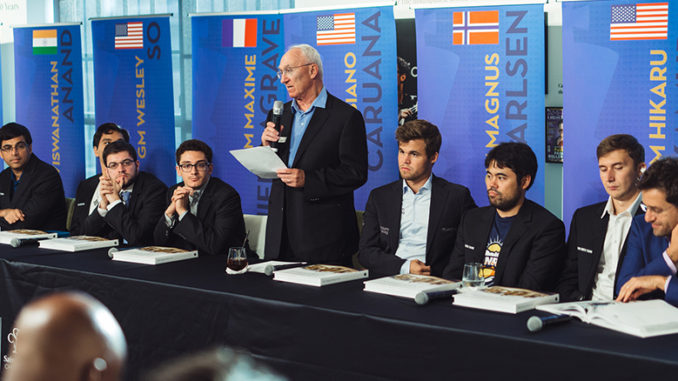 Round nine of the Sinquefield Cup 2018, was played in Saint Louis, United States, on Sunday 26th August. The penultimate round of the tournament, it would see another clean sweep of shared points. This meant that home hero, Fabiano Caruana, would remain in the lead going into the final round.
We must bear in mind, that Fabiano had 'experienced' a lucky escape as Black, in his round seven game against World Champion, Magnus Carlsen the day before. This could explain him not pushing the boat out too much as White against Vishy Anand in this round.
Their game was a Queen's Gambit Declined and neither player got up to anything. It was more a process of gradual liquidation and they shook hands before the time control. Perhaps Fabiano will be wishing he had tried for a bit more in this game at the end of round nine — time will tell.
In complete contrast to this game, two of the players chasing Caruana got into a real punisher of a tussle. These were, namely, Shakhriyar Mamedyarov and Magnus Carlsen. It was a topsy-turvy game, in which Carlsen didn't have the best opening as Black in the Fianchetto Grunfeld and Mamedyarov obtained the better stance. Shakh pushed, but went slightly awry and then had to suffer for the second half of the game.
The problem with looking through this game, is that it is difficult to say where exactly White went wrong. This is even the case with the 'benefit' of an engine, because it is often not only the place where plus turns into minus. White's 20.Rac1, however, seems quite significant.
What this move does, is take the cover off of the Ba3 and this came into play, later. Carlsen decided to get the Queen's off, with 20…Qxc4, which is very sensible considering Mamedyarov's was quite active. After 21.Rxc4 b5 22.Rc6 (Rxe4 would just be met by …b5-b4 and then …Nc5) Ra8, 23.Rfc1 was another little slip. And this allows Black to take advantage of the hanging Ba3 with 23…Nb8(!). And now, things are starting to swing. The diagram, below, shows the situation.
With the bishop hanging, 24.Rc8 was the only thing that saves White. Here, Mamedyarov perhaps expected 24…Nd7 25.Rxe8+ Rxe8 26.Bb2 Kf8 when 27.Rc7 sees White the more active. However, Carlsen would surprise him and play …Kf8 immediately! After all, with a bishop hanging, why threaten a pawn? With the greatest of respect to him, I suspect that Shakh took his eyes off this, otherwise it makes no sense for him to have gone down this route.
This is especially so when one compares this position with the one had Shakh opted for 20.Rfc1 instead of Rac1. The natural 20…Qxc4 21.Rxc4 b5 22.Rc6 Ra8 23.Bc5(!) Nxc5 24.Rxa8 Rxa8 25.Rxc5 Rb8 sees White retaining his edge …
What might have been …
As it was, after 25.Bb4 Na6 26.Rxa8 Rxa8 27.Ba5 Ke8, Black's problems are solved and he is actually in a rather nice stance now. It is by no means winning, not even advantageous to be fair, but he is in a position where he is playing for something. It is the kind of situation that gets Magnus Carlsen rolling his sleeves up and settling in for the grind.
And this he did. By contrast, Shakhriyar Mamedyarov had to dig deep and fight for survival for the rest of the game. It was a test not only of skill, but also spirit. In the end there was nothing to separate them and the point was split. Kudos to both players, they showed chess at its most fighting best and competition at its rawest.
The other games saw Vachier-Lagrave and Aronian debating a Berlin Defence. The debate was quite brief and saw any tension in the position evaporate as quickly as it appeared. The other games saw Alexander Grischuk turning up late for his game against Wesley So and then opening 1.f4 (Bird's Opening). So had absolutely no problems with it and actually ended up better. He didn't really make of it what he could, however and let the Russian get away with half a point.
It was tournament arbiter, Chris Bird, who got the most out of Grischuk's opening choice …
So I says to Grischuk "Listen Sasha, if you're late again tomorrow I'm going to make you play an opening that will make you think of me all day long…" #SinquefieldCup
📷@LennartOotes pic.twitter.com/8XS4MTh7cp

— Chris Bird (@ChrisBirdIA) August 26, 2018
There was good news for Hikaru Nakamura, however, whose draw with Sergey Karjakin assured him of a place at the finals of the Chess Grand Tour. These will take place at London Chess –in London, believe it or not– which begins on December 9th 2018 (more about that over the coming days). All that remains is to decide the three players who will join him.
And one could be Fabiano Caruana, who would secure his place if he wins this tournament. Unfortunately, he still has that to do. And to that end, he is in no position to take anything for granted. Carlsen, Mamedyarov, Grischuk and Aronian are snapping at his tail just half a point behind and should he lose to countryman Wesley So in the final round, and Vachier-Lagrave and/or Vishy Anand would win, then it could end up very crowded at the top.
In short, Fabiano could do with a stonker against Wesley if he wants to be sure of contesting the Grand Chess Tour Final. Of course, all of his thoughts could well be towards a certain other chess match taking place in London.
Standings after Round 8:
Caruana — 5.0
Carlsen, Mamedyarov, Grischuk, Aronian — 4.5
Vachier-Lagrave, Anand — 4.0
So — 3.5
Nakamura — 3.0
Karjakin — 2.5
Final Round Nine (Monday 27th August, 13:00 local time): Aronian vs Grischuk, So vs Caruana, Anand vs Mamedyarov, Carlsen vs Nakamura, Karjakin vs Vachier-Lagrave.